Mr. Steven Ralph Leach

Cullum: 26055


Class: 1965


Cadet Company: I1


Date of Birth: January 26, 1943


Date of Death: May 21, 2017


Died in: New Market, TN


Interred: TBD - View or Post a Eulogy

---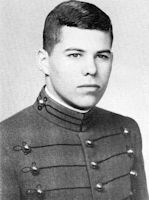 Steven Ralph Leach was born January 26, 1943 in San Diego, CA to Colonel Ralph D. Leach and Elizabeth Townsend Leach. In 1950, the family relocated from an avocado farm in El Cajon, CA to Richmond, VA. Steve's father was a full colonel in the U.S. Marine Corps, which likely encouraged Steve's career choice after college, as noted later. Steve had two siblings, Glenn and Mimi. Steven attended The Bullis School in Potomac, MD, a preparatory high school renowned for preparing students for higher education institutions. He excelled in athletics, particularly football, for which he was an All-Conference running back.
Steve received a congressional appointment to the United States Military Academy at West Point, entering July 5, 1961 and graduating June 9, 1965 with a Bachelor of Science degree. At West Point, Steve was active in the Astronomy Club, Rugby Club, and Ski Club. Steve was also a proud member of the Century Club, an elite group of cadets who walked more than 100 hours in Central Area as discipline for infractions of cadet rules! He often told friends that he served 180 hours, almost double the Century Club minimum! This experience affirmed Steve's penchant for seeking his own path, blazing new trails and winking at the rules imposed by others. A West Point tradition was the annual Goats–Engineer Football Game, featuring cadet cows (juniors) from the top one-third in academic standing (the Engineers) against classmates from the lowest one-third in academic standings (the Goats). Steve played for the Goats, scored four rushing touchdowns, and led the Goats to victory!
A few West Point graduates were permitted to be commissioned in the Air Force, Navy and Marine Corps. Like his father, Steve chose a commission of second lieutenant in the United States Marine Corps. Steve's roommate and best friend at West Point, Reggie Dryzga, was also commissioned in the Marine Corps. They attended the Basic School, six months of infantry training at Marine Corps Base Quantico, VA. Reggie had figured out that a short distance away in Fredericksburg was the University of Mary Washington with a couple thousand comely young women enrolled. Reggie introduced Steve to Sue Anne Pennington, and they were married four years later, August 23, 1969 after Steve's return from Vietnam.
Following Marine Aviation training at NAS Pensacola, FL, Steve was assigned to VMA (AW) 242, Marine All-Weather Attack Squadron 242, in Vietnam, based in Da Nang in 1967-68. He was a Marine A-6 Intruder pilot and bombardier/navigator and rose to the rank of captain. Steve was singled out for his engineering, radar and navigation skills, and transferred to Marine Air Group 12, operating out of Chu Lai, Vietnam to equip Army Special Forces (SF) teams with radar beacon systems. These systems enabled SF teams to direct A-6 Intruder support during enemy engagements. This direct beacon support substantially improved the traditional multi-layered air support system and saved many lives. He flew 181 missions in Vietnam and won several medals for his service.
Throughout his life, Steven lived by the West Point Code of Duty, Honor, Country in all his dealings. Steven joined the private sector in 1970 and worked at American Can Company in Metuchen, NJ as a supervisor and as a quality engineer at the Dixie Cup Division in Fort Smith, AR in 1979. While living in New Jersey, his children, Brian and Rebecca, were born. Steve subsequently worked in quality control for Honeywell in California and Square D in North Carolina before retiring to his dream job as a tree farmer in Virginia.
Steve enjoyed living in different places, enjoying new experiences. At various times in his life he lived in California, Virginia, New Jersey, Arkansas, North Carolina, and Tennessee. His greatest love was for his tree farm in Manquin, VA, where he lived from the mid-90s until 2005. Steven also has many relatives in this part of Virginia and for these reasons it is his final resting place.
Steve married Anne Dunlap in 1996. He was able to retire early from Square D in 1998 and live his dream with Anne in a log cabin at Pipingtree, the family farm near Manquin, VA. Anne's son, John Leggett, who with wife Lori lives in Richmond, was a Marine veteran. John thoroughly enjoyed discussing with Steve and Anne their mutual passion, "Love of Country." Steve was elected president of the Virginia Tree Farm Foundation, part of the American Tree Farm System dedicated to sustainable forestry. Steve greatly appreciated the life of a tree farmer and assisting other members of the Foundation. In 2005, Steven and Anne moved to New Market, TN and retired from the tree farming business.
Steven had many interests, including fishing, hunting, camping, landscaping, and especially golf. He enjoyed playing in golf outings organized by his West Point classmates and is fondly remembered by them as a lively personality who brought a lot of fun to the outings. In his later years he discovered a love for RVing. He enjoyed many day trips around the Great Smoky Mountains not far from New Market, and longer trips to Fort Smith, AR. Ever the engineer, Steve also enjoyed understanding the securities markets. He became a successful day trader using his home computer, especially of energy companies' stocks.
Steve passed away suddenly on May 21, 2017 in Knoxville, TN of a heart attack. He will always be remembered for his kindness and generosity, his love of life, and his fondness for a cold beer and cigar.
—
Brian Leach, Rebecca Leach Sanders and classmates