Michael H. Thompson

Cullum: 26048




Class: 1965




Cadet Company: B1




Date of Birth: July 11, 1942




Date of Death: January 16, 1999




Died in Brewster, MA




Interred: Cape Cod National Cemetery, Bourne, MA - View or Post a Eulogy



---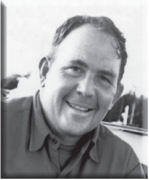 Michael Hall Thompson's life was one of challenges and accomplishments. He was a man of deep character, integrity, and dedication to country, family, and friends. Mike was a vibrant man of congenial personal qualities, infectious humor and wit, and passion for life. He was thoughtful and loved the solitude of the windswept coasts of Cape Cod and the big lake they call "Gitche Gummi"--Lake Superior in his native Minnesota. He was also vigorous, exciting, and excitable, someone who loved the rough and tumble of competition. But above all, Mike was a loyal friend and a loving and dedicated father, who was fiercely proud of his beautiful children: Catharine, Robert, Jessica, Erik, and David.
Mike was born in Duluth, MN, to Robert Barbo and Ellen Hall Thompson. Growing up in the wilds of northern Minnesota, his closest friend and companion in his early years was his older brother, David. During his teenage years, the family moved up the north shore to the Norwegian family homestead on Lake Superior in Larsmont. It was there that Mike developed his love for the outdoors, water, and hockey. As lore of the north has it, the legendary hockey exploits of the Thompson boys turned the Two Harbors hockey program around and drew the attention of hockey scouts from colleges around the country, including West Point.
At the Academy, Mike was a world-class hockey player of unparalleled skills. An unselfish playmaker, he could also put the puck in the net like no one before and became the highest scorer in West Point's history, both as a freshman and as a three-year varsity letter winner. He captained the team as a senior. Academics were never Mike's top priority and, as a cow, he was turned out in Mechanics. He later redeemed himself by successfully pursuing a master's degree in mechanical engineering at the University of Texas-El Paso.
Following graduation, a whirlwind tour of the country on graduation leave, the Air Defense Artillery Basic Course, and Airborne school, Mike rejoined classmates at Ranger School. It was here the "Legend of Ranger Thompson" was founded. Rangers will remember the night the Navy goat mysteriously died tied behind Thompson's tent and his clandestine confrontation with the company tactical officer. The TAC, a former Navy submariner, did not fancy the esprit de corps of the Class of '65 and, one day at noon formation, challenged classmates to step forward and fight. No one broke ranks. That evening, however, Ranger Thompson paid a social call on the tactical officer, and it was apparent at the next morning's formation that Norwegian justice had been administered.
Mike's first Army assignment was to a Hawk unit in Key West, FL, before being called to Viet Nam. While there, he was wounded, decorated, and promoted, but recovered from all three. Following Viet Nam, Mike returned to his native Minnesota to command a Nike Hercules battery. It was here that Mike met and married Susan. Subsequent tours of duty took him to Texas, Korea, California, and Kansas. By this time, the family had grown to four with the addition of Katie and Robert John. When Mike's marriage to Susan ended, he remained as close to the children as the separation of assignments would allow.
An assignment to the Recruiting Command found Mike returning to the Northeast and the call of the sea. In Boston, he undertook the challenge of sailing and living aboard his 32-foot sailboat, the Sea Witch. During the next several years, Mike mastered sailing, often single-handedly sailing his 17-ton Westsail on hundred-mile, blue water voyages.
Following a tour of duty at TRADOC headquarters in Virginia, Mike was off to Norway to learn about his heritage and serve in the Embassy. He returned to marry Joan in 1983,and before completing their Norwegian assignment, baby Jesi was born. Mike's final duty assignment was ROTC at Fordham University, where Erik was born, followed by retirement after 24 years of service to his country.
Upon retirement, Mike returned to Cape Cod. The following years produced a growing family with the birth of David, new friends, and a new way of life. Mike was always a dreamer and explored many second career entrepreneurial opportunities, to include a driving range, bike rentals, horse walkers, commercial fishing charters, and summer rentals, before joining Laidlaw Transit. Within five years, he was promoted to Cape Cod terminal manager and East Coast safety director. Friends marveled at Mike's stamina, as he often rose at 0430 hours, played golf, put in a full day's work, coached youth sports in the evening, and then occasionally returned to the links. He became a scratch golfer and often shot in the low 70s. In spite of all his education, military experience, and world travel, Mike's favorite role in life was that of being a dad.
On 16 Jan 1999, at the pinnacle of life's enjoyment, Mike tragically lost his life in a house fire. Numerous family members, classmates, and many friends attended his funeral. An honor guard of Laidlaw buses, full of coworkers, employees, and Mike's peewee hockey players in uniform, were in attendance.
Mike's life-long dream was to someday return to the family homestead on the north shore of Lake Superior. To this end, family, friends, and classmates contributed funds to erect the Michael Hall Thompson Memorial near his boyhood home, overlooking Lake Superior in the town of Two Harbors, MN. In addition, the Thompson trophy is given annually to the high school scholar-athlete who best exemplifies leadership, sportsmanship, and team play.
Mike, we all miss you, buddy!
And may there be no sadness of farewell...--Alfred Tennyson
Classmates and best friends,
Asplund and Barry