Robert John Zonne

Cullum: 26046




Class: 1965




Cadet Company: G1




Date of Birth: May 28, 1942




Date of Death: April 20, 1970 -- in Vietnam from a military accident.




Age: 27 years, 11 months and 23 days young. - View or Post a Eulogy




Interred: West Point Cemetery, West Point, NY




Location: Sect XXXIV, Row D, Grave 176




---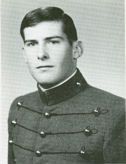 THE WORLD WAS at war on 28 May 1942 when Robert Zonne was born in Los Angeles. With his father and cousin on active duty, world events during these formative years probably had as much influence on later career decisions as any subsequent events in his life.
Bob's parents, Robert and Louise Zonne, along with his brother William moved to Midland, Texas when Bob was seven years old. The remainder of his boyhood was spent on the plains of west Texas where he attended and graduated from Midland High School. Playing on various athletic teams as a teenager, Bob developed two formidable and outstanding qualities: loyalty and the competitive drive that are signs of an outstanding soldier. Among his companions, Bob was known as one who "gave 100% of his inherent ability and energy" in any endeavor he undertook. He could always be counted upon for he possessed "intense loyalty to his friends."
In high school, Bob made known his burning ambition to attend a service academy. His father had served as a commissioned officer in the Navy, so when Bob graduated in 1960, he joined the Naval Reserve and entered Bullis Prep in Maryland. During that year of maturation, Bob achieved a lifelong goal of nomination and appointment to West Point.
July of 1961 saw Bob stride into plebe year as an easy-going, lanky west Texan. Living across from the orderly room as a plebe, and also being one of the tallest fourth classmen in his company, made him truly a "stand-out" cadet. The refrain of, "Mr. Zonne, drive over here," frequently echoed throughout the company area. Bob endured the attention and continued to exhibit to his classmates his intense friendship and loyalty. His competitiveness was always evident when we played together on intercollegiate and intramural athletic fields. Active in the church, Bob served as an acolyte in the Cadet Chapel, as he had in Midland as a teenager. Those who observed Bob from outside of the Academy's walls during those four years saw a dramatic change from boy to a man.
The country was at war when Bob graduated in June of 1965. Commissioned as an Infantry officer, he completed Airborne, Ranger and Basic Infantry courses before reporting to the 101st Airborne Division. Recognizing the road to a successful career, Bob volunteered for Viet Nam. During the months of preparation for that first tour, and the many courses that go with it, Bob found time to spend his leave with Patricia McDougal. He returned to Geneva, Switzerland which is where they first met while he was on leave as a cadet. Pat was a cousin of Bob's plebe year roommate, and following that first meeting, they had corresponded and dated during subsequent years. Bob and Pat were married in Cincinnati, Ohio on 14 February 1967. They only had a few months together before Bob began his first overseas tour of duty as an advisor to several South Vietnamese ranger battalions. The entire tour of duty was spent in the field, much of it in Tay Ninh province near the Cambodian border. In striking similarity to his cadet years, Bob stood head and shoulders above his South Vietnamese counterparts. He was very moved by his experiences and truly loved the South Vietnamese people.
Returning to the States, Bob and Pat had almost a full year to spend together before Bob volunteered for his second tour in Viet Nam, this time as a company commander with the 25th Infantry Division. His service in the field in that position was outstanding, and six months later he became the commanding general's representative to the field force commander. The assignment involved shuttling on a daily basis between Cu Chi and Long Binh.
On 20 April 1970, Bob Zonne was at war. With less than two months remaining in his tour before he was scheduled to rotate stateside, Bob boarded a helicopter for the return shuttle flight back to his base camp at Cu Chi. As the helicopter crossed the Dong Nai River north of Saigon, it crashed and sank, taking with it an outstanding soldier, loving husband, devoted son and friend of many.
Bob was buried on 1 May 1970 at West Point, but his gift to others will always live on. He was a "big, quiet, shy man who kept most of his thoughts to himself, did what he was asked, honored, obeyed and respected his superior officers."
A Classmate