Robert Omer Gagne

Cullum: 26038




Class: 1965




Cadet Company: D2




Date of Birth: November 27, 1942




Date of Death: July 28, 1967 -- in Vietnam from hostile action.




Age: 24 years, 8 months and 30 days young.




Interred: Rose De Lima Cemetery, Chicopee, MA - View or Post a Eulogy




---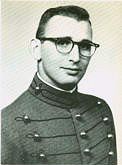 FIRST LIEUTENANT ROBERT 0. GAGNE died from wounds received in action as a member of Advisory Team No. 98 in the Republic of Vietnam.
Robert lived his short life dedicated to the Army, his Country and his God. Born 27 November 1942 in Chicopee, Massachusetts, he was the only son of two children born to Mr. and Mrs. Omer A. Gagne. He attended elementary school at St. George's Parochial School where he graduated first in his class. He participated in the Boy Scouts, played baseball, and was President of his Class. He then attended Chicopee High School where he excelled in football and tennis. Upon graduation he was honored by the American Legion Post 452 for his excellence in sports and high academic rating. He received his appointment to the Academy through a competitive examination given by Congressman Boland of the 3d Congressional District.
Robert had an outgoing personality. He formed lasting friendships but had strong likes and dislikes and was ready to argue the pros and cons of issues with anyone. The following quotation from the HOWITZER sums up his personality, "While he spent his time at West Point in search of Academic excellence, this search was often interrupted by a bridge game, or anything else that seemed like fun at the time." This was true, but while fun loving and a believer in the comforts of life, his "easy going" ways covered a seriousness and determination of mind that was not easily detected by persons who did not know him well. His completion of Airborne and Ranger training, for example, surprised many of his classmates who thought he would not make it, but Bob was not one to give up easily.
After attending branch school at Fort Bliss, Texas, and completing Airborne and Ranger School he was assigned to Battery A, 5th Artillery (Air Defense), at Windsor Locks, Connecticut, where he served for one year. The missile site being only a few miles from home, Bob's family were fortunate to have him live at home, for which they thank God. It was a happy year, one in which Bob and his Dad grew closer together and exchanged ideas about the Army, as his Dad is Sergeant Major of the 104th Infantry, Massachusetts National Guard, Springfield Armory. Father and son had much in common.
After receiving his assignment to Vietnam, he went to Fort Bragg for six weeks training and then to language school at the Defense Language Institute Support Command, Biggs Field, Texas.
Bob arrived in Saigon on 29 June 1967 and was assigned to the 98th Advisory Team in Tan Uyan. He quickly won the respect and friendship of his fellow team members and the Vietnamese with whom he worked and was able to influence and assist them in many ways. He unhesitatingly accepted the dangers inherent in combat operations. Wounded on 18 July 1967 in a search and destroy mission, he died on 28 July 1967.
Robert was a devoted son. This was apparent in his every act. His family have suffered a great loss. He will forever hold a respected place in the memory of all those who knew him no matter how briefly.
First Lieutenant Robert 0. Gagne was awarded posthumously the following decorations: Bronze Star Medal with "V" Device, the Purple Heart, the Combat Infantryman Badge, the Government of the Republic of Vietnam National Order of Vietnam, Fifth Class, and the Gallantry Cross with Palm.