Mr. John B. Seymour

Cullum: 26036




Class: 1965




Cadet Company: H2




Date of Birth: 2/6/1943




Date of Death: 10/21/2016




Died in: Mission Hospital in Mission Viejo, California




Interred: - View or Post a Eulogy



---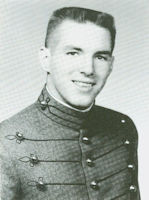 JOHN BARTHOLOMEW SEYMOUR was born on February 6, 1943 in Detroit, Michigan to his parents, Bart and Jane Seymour. He was the oldest of six children. He had four brothers, Rick, Jim, Paul and Mark, and one sister, Mary. They moved to Royal Oak, Michigan where he attended Shrine Catholic elementary school and Shrine High School, until his appointment to West Point in 1961 where he graduated in 1965.
John was larger than life. He had the most natural and likable personality. Because he was such a good listener, there was a quiet charm about him, and yet he was so funny at the same time. He was an extraordinary story teller and world class prankster: he was the "gotcha king" of all time. With that little twinkle in his eye and sly smile, he kept you guessing at every turn. He was a man of incredible character. Anyone who knew John loved him. He was your friend for life. He made an extra effort to keep in touch through the years and organized mini-reunions with his classmates and dear friends. One such event was the annual Super Bowl gathering in Las Vegas. The usual participants were all John's brothers, Rollie Stichweh, Dave Kuhn, Chuck Shaw, Don Parcells, Bob Jones, Dave La Rochelle, Ray Paske, Bill Zadel and Dennis Lewis. Through the years as their own sons became young men, they would also be included in the annual event! John knew how to have fun!
John excelled as an all-around athlete. He was competitive in all sports but his passion was football. The most memorable game in his football career was Army's 11-8 win in the game against Roger Staubach and his Navy team in 1964! With help from Army quarterback Rollie Stichweh and other teammates, John gained 103 yards rushing in that game, which was more than any team had gained against Navy's defense that entire year. To his many West Point classmates and former football teammates, John was always the "Go To" guy. During the challenging Plebe year, it was John one would seek out to get your spirits lifted, to get your spine stiffened, to get your resolve fortified or simply to have some laughs and relax a little. He personified the Army philosophy of "Follow me--I'll take care of you". He was the adult in the room--mature, accessible and caring. He always put the needs of others ahead of his own. Indeed, he was a very special friend and, for many, the brother they never had.
In November 1965, after returning from Airborne/Ranger training, John married his high school sweetheart, Donna Patricia Link, at Shrine of the Little Flower Catholic Church in Michigan. Their first assignment as a married couple was in Germany. On return he was assigned to Ft Lewis, Washington, where his first child, Matt, was born. In July 1967 he was called to Vietnam and served as an Artillery Captain in the 1st Air Cavalry Division. John's last assignment was the Aberdeen Proving Grounds in Maryland, where his daughter Heather was born. After his service he returned home to Michigan for six years where two more children, Dan and Scott, were born. In 1976 the family moved to Southern California and lived there for the remainder of John's life. He was married to the love of his life for 50 years. John was a man of many talents, but his greatest achievement in life was to be a dad and a grandpa, "Papa" to eleven grandkids whom he loved beyond everything else in life. He was always present and supportive in their lives. He took great pleasure in watching his kids and grandkids grow and achieve their own goals. John and Donna loved to golf together and with friends. They joined a local country club and spent much of their free time golfing or taking golf trips. One of their most memorable trips was with classmates Dennis and Marie Lewis and Bill and Betty Zadel to Scotland to play St. Andrews.
John had many successful endeavors as a businessman. He began as an Industrial Sales Manager for Imperial Oil & Grease. In 1980, he started up his own jewelry manufacturing company in California and in three years he and his partner built a $15 million annual sales organization of eight sales reps and an 8,000 square foot facility. He sold his interest in Pacific Gold in 1986 and continued in sales as a manufacturers' representative for several jewelry importers. In 1991, John and Dave Kuhn invested in a startup venture in the golf industry, naming the company ProShot Golf. With Dave as President and John as Executive Vice President the company became very successful. He continued to work with Dave for the remainder of his life. In 1992 John formed a Limited Partnership with Don Parcells and Dennis Lewis and successfully developed multiple properties in Chula Vista, California.
At the West Point memorial service on May 11, 2017, John's urn was placed in the beautiful columbarium wall at the West Point Cemetery. The Class of 1965 graduates in attendance sang the Alma Mater. It was a beautiful tribute to John.
John Seymour will be missed dearly by all who knew him, but he will never be forgotten. He lived life bigger than most, and was happy. The world is a smaller place without him in it. He was a loved man. There will be "C'mo, gotcha" stories for years to come.
God Bless a truly great man. Rest in peace John Seymour.