John Timothy Thomasson

Cullum: 26032




Class: 1965




Cadet Company: K1




Date of Birth: September 24, 1942




Date of Death: October 3, 2019




Died in: Pinehurst, NC




Interred: Pinehurst, NC - View or Post a Eulogy



---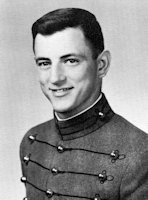 John Timothy Thomasson, fondly known as Jack, was born in Baltimore, MD to the late Timothy and Evelyn Smith Thomasson. Jack graduated from high school at City College of Baltimore, where he was an outstanding athlete, specializing in football and lacrosse. Upon graduation, Jack received an appointment to the United States Military Academy at West Point. While there he continued his athletic prowess and earned several varsity letters in lacrosse and 150-pound football. He quickly established himself as a well-known character among his fellow cadets, known for his happy smile and positive attitude, as well as his distinctive laugh. Bob Radcliffe was talking with Sandy Hallenbeck (both classmates) about Jack and Sandy said, "If he is not smiling, he is laughing." How true. Jack was a man who loved life and enjoyed it with gusto. Bob shared:"I was honored to know Jack as a classmate, a teammate and a friend. I count myself as a better man from our times together."
Jack played lacrosse and truly loved the game. Coming to West Point from the Baltimore area, he arrived with a strong knowledge of the game and great skills with the stick. He, Tim "Bird" Vogel, and Jimmie Tillman quickly became the midfielders for the Class of 1965. Bob Radcliffe imparted another story about lacrosse: "Coach Ace Adams put great emphasis on securing loose balls. There was a drill where coach would throw a ball and two of us would work against an opponent to get the ball. We would shout, 'I got the man,' or 'I have the ball.' Guess what Jack was most likely to say? When a ball was loose Jack was always very happy to take the man. We called a hit a '-Dupa-,' the origin of this word I have no idea. Bob Selkis and Jack would argue well into their later lives as to who had the most -Dupas-. They never resolved the final count, but Jack definitely got his fair share!"
After graduation from West Point, Jack was commissioned a second lieutenant in the Infantry and after Airborne and Ranger schools at Fort Benning, GA, was assigned to duty in Germany. He next went to Vietnam, where he served with distinction as a company commander. He earned the Silver Star for heroic action in the Quang Ngai province and also received the Bronze Star Medal and Purple Heart. Upon return Stateside, he was assigned as an ROTC instructor at Howard University in Washington, DC. Although Jack chose to leave the service, he never left West Point, and he loved his classmates throughout his life.
He was a regular at the bi-annual West Point Class of 1965 golf outings, and he regularly won the "best dressed" award. He also won the "last to arrive at the course" prize on most occasions. Bob admitted: "My life as an organizer of class events was often complicated as I had to keep track of the single malt scotch often hidden by Jack from his classmates. Jack loved our golf get-to-gathers. He loved the poker, the cigars, the sharing of stories and the time together. Our outings were always more fun when he was in the house."
Following his honorable discharge, Jack returned home to the Baltimore area and joined the family business at Columbia Rubber, Inc. Throughout his career, Jack led the sales effort and served customers in the greater Washington and Baltimore metropolitan areas. Jack retired in 2009 as the owner and operator and turned over Columbia Rubber to his son Adam, the third generation of Thomassons to run the business.
Jack was so much more than scotch and cigars, he was cultured. He was an avid supporter of the arts and the stage. Jack loved music and taught all his grandchildren to sing lots of Beatle songs and all the verses to "Oh My Darling, Clementine." He was well read and studied all of the world's religions with refreshing open-mindedness. He was a kind and gentle man. Jack honored and cared for his parents for as long as they lived not as an obligation but out of love and respect. Jack was an avid reader and had accumulated an impressive library full of books that spanned a range from history to science fiction to poetry.
Jack married his wife, Ann ("Annie"), in 1996. They shared a home in Severna Park, MD and eventually moved to Pinehurst full time in 2013. Jack loved her deeply and was always bragging about his "bride." Even after 24 years, that's the way he always introduced her: "Please meet my bride, Annie."
Jack and Annie enjoyed golf together. In fact, at one of the West Point golf outings, they were short one man and Annie was asked to play. Well, needless to say, Bob Selkis wanted Annie disqualified and was not happy when she won the bucks for the longest drive and their team won the overall team prize. Annie wasn't invited back, and Jack loved telling this story. The two of them enjoyed travelling all around the United States and around the world. Jack was a long-time member of the Chartwell Golf & Country Club in Severna Park and later the Pinehurst Country Club.
Jack is survived by his wife of 24 years, Annie Thomasson. He was the father of five children: Jill Suing, Megan Runk (husband Tim), Adam Thomasson (wife Kelly), Julie Horton (husband Neil McGinn) and Terry Horton (wife Kristin). He is also survived by 10 grandchildren and one great-grandchild.
Jack had a full life and was loved by many. We were all so fortunate to have known him. He served his country and his fellow man. He will be missed.
— The Thomasson family and 1965 classmates