Patrick J. Donovan

Cullum: 26021




Class: 1965




Cadet Company: D2




Date of Birth: August 26, 1941




Date of Death: June 4, 2004




Died in Pembroke, MA




Interred: Center Cemetery, Pembroke, MA - View or Post a Eulogy



---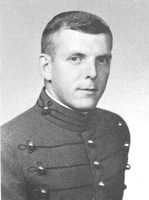 Patrick Joseph 'Paddy' Donovan joined the Class of 1965 after receiving his appointment from then Senator John F. Kennedy of Massachusetts. Paddy graduated from Boston Latin Academy and spent one year at Northeastern University prior to entering West Point.
Pat was the oldest of eight children. The family lived in Dorchester, MA. His father died when Pat was only fifteen years old, and it fell to him to help his mother, Anna, raise his seven siblings. It was a typical Irish Catholic family in Boston with never a dull moment.
To Pat, therefore, the rigors of plebe year must have seemed like a break, especially since he joined Company L-2, aptly nicknamed the Loose Deuce. Classmate Tom Kelly recalls that Pat was "always able to boost my spirits when winter blues or an upperclassman's harassment was affecting my spirits." After class reorganization in 1963, Paddy joined Company D-2.
Academics did not come easy for Mr. Donovan. Paddy struggled with some of his courses but always managed to stay one step ahead of the Dean. For a time he flirted with the idea of achieving Class Goat status, the guy at the bottom of the graduating class who earns a dollar from every classmate, but in the end decided the risk was not worth taking and finished a comfortable sixty files above the last man.
Paddy's classmates at West Point remember him as a joyful and humorous cadet, always looking on the bright side of every obstacle. Some recall occasions where his patriotism showed through, while others mention his dedication to sports, pointing to his long-time management of the soccer team. Pat was never one to shy from a chance to outwit the Tactical Department; many an Officer in Charge would have loved to find out the source of the 1964 evening renditions of the Beatle's "Yeah, Yeah, Yeah" refrain sung for the benefit of the Corps from the second floor of a Central Barracks room.
In the summer of '64, he was assigned to the cadre of Beast Barracks, supervising a group of plebes including one David Jones from Long Island, NY. While inspecting Jones' room, Pat noted a family picture that included Dave's sister Julianne. When the Jones family visited the Thayer Hotel a few weeks later, Pat just "happened" to be there and convinced Dave to introduce his sister to him. Engaged on Easter 1965, Pat and Julianne married in the Catholic Chapel at West Point in July and were together for the following 40 happy years.
After their marriage, Paddy and Julianne spent the next two years at Fort Benning, GA. Pat was a Battery Commander in the 2/10th Artillery, 197th Infantry Brigade, firing support missions for the Infantry School. By all accounts, Pat was an outstanding Commanding Officer. Lieutenant General (Retired) Charles Hall, then the Battalion Commander, recalls Pat as "the best and most experienced BC, having assumed command as a second lieutenant."
At Fort Benning, they greeted their first daughter, Anne, in July of 1966. Pat left for Vietnam in November 1967 and again commanded an artillery unit, Bravo Battery of the 2/9th Arty. He was awarded the Bronze Star Medal for his service there. While he was overseas, their second daughter, Jeanne, was born in December 1967; she was ten months old before Pat returned from Vietnam in November of 1968 and finally met his youngest daughter.
Resigning his commission in 1970, Pat and family moved in with his mom in Dorchester, MA. (Just what Pat's mom needed--four more people in an already crowded house!)
Pat worked nights, and Julie was happy for the company after so many years of being alone with the girls while he was away. Shortly thereafter Pat, Julie and the girls moved to the small town of Pembroke, MA, where they built their first (and current) house.
Pat changed jobs often, never seeming to settle into something he liked. He became involved in Pembroke town government, serving on the Planning Board and the Board of Selectmen, as well as being Pembroke's first Town Planner. Pat was instrumental in bringing the replica Vietnam Wall memorial to the town of Pembroke. He finally found a job he truly loved, Town Planner for Hanover, MA. It was a job he was passionate about, putting in many hours above and beyond the call of duty.
He loved his grandchildren; Michael, Jessica, Ellen and Meg; sharing with them his love of trains and everything Christmas. His Department 56 Christmas village took up the entire dining room of their home, and his Christmas light display, both inside and out, caused their electric bill to triple over the holidays. He was the happiest that anyone could remember, finally holding down a job he enjoyed and surrounded by family he loved.
On June 4, 2004, Pat left for work as usual. That afternoon, the family got a phone call from Pat's secretary saying that he was at the South Shore Hospital in Weymouth, MA being operated on for an abdominal aneurism. He died that evening. His wake, held in the funeral home in the center of Pembroke, was well attended by family, friends and coworkers. The line stretched out the door and down the street, a fitting tribute to the amount of love and respect people had for Pat. The funeral mass was held the following day in the church his family had always attended while spending summers at their family cottage on Monponsett Lake in Halifax, MA. Pat was laid to rest at the Pembroke Center Cemetery with the sound of bagpipes filling the air and a military gun salute. A distinguished son of Massachusetts, Paddy had come home.
-- Family and classmates