Spotswood De Witt

Cullum: 26018




Class: 1965




Cadet Company: I1




Date of Birth: January 24, 1942




Date of Death: December 21, 1966 -- in Vietnam from hostile action.




Age: 24 years, 11 months and 26 days.




Interred: Saint James Episcopal Churchyard, Boydton, VA - View or Post a Eulogy




---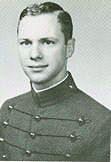 FIRST LIEUTENANT SPOTSWOOD DE Witt, USA, of Richmond, Virginia, a member of The Holland Society of New York since 1964, died in action at the age of 24 while serving with the U.S. Army in Vietnam on Wednesday, 21 December 1966.
Descended from Tierck Claessen de Witt who came to this country before 1656 from Grootholdt, Holland, and settled near Wiltwyck (Kingston, New York), he was born at Macon, Georgia, 24 January 1942, son of Cornelius de Witt Jr., and Catherine Newton Cogbill. A Regular Army officer since graduating as a 2d lieutenant from the U.S. Military Academy with the class of 1965, he attended Thomas Jefferson High School, Richmond, and the USMA Preparatory School at Fort Belvoir, Virginia. Assigned to the artillery when commissioned, he took Ranger training at Fort Benning, Georgia, and was promoted to 1st lieutenant on 15 June 1966, three months before beginning his duty in Vietnam.
At the time of his death while leading a seek-and-destroy patrol, he was executive officer of Battery C, 6th Battalion, 29th Artillery, 4th Infantry Division. Besides the Purple Heart, awarded posthumously, he had received the Bronze Star and service medals, and two decorations from the Vietnamese government.
The 14th member of his family to attend West Point, and a great-great-grandson of General Henry Brewerton, Academy Superintendent in 1845-52, he qualified for selection as a cadet while serving an Army enlistment which commenced in 1960 upon his graduation from high school. While at the Point he became an officer in the Corps of Cadets, took part in athletics and, among other activities, the Cadet Chapel Choir and Glee Club, taught in the Church School, made an outstanding record in tactics, and, as noted in the Howitzer, cadet yearbook, was one of the most popular members of his Class.
A third-generation member of The Holland Society, he had been prominently identified with the Episcopal Youth of Virginia and the Boy Scouts. He is survived by his parents and two brothers, Alexander B. de Witt and Cornelius de Witt III, of Richmond. Funeral services conducted in St. Paul's Episcopal Church, Richmond, on 30 December, were followed by interment with full military honors at St. James Episcopal Churchyard, Boydton, Virginia.
Reprinted from De Halve Maen, April 1967, quarterly publication of The Holland Society of New York.