Kenneth Dickson McArthur

Cullum: 26017




Class: 1965




Cadet Company: C2




Date of Birth: September 26, 1943




Date of Death: August 3, 1973




Died in Louisville, KY




Interred: Roanoke, VA


- View or Post a Eulogy
---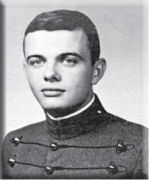 Kenneth Dickson McArthur was born in Charlottesville, VA, to Henry Luther and Ruth Dixie McArthur. Known better as "Pete" to family, friends, and classmates, he grew up in Roanoke, VA, where he attended local schools and graduated in June 1961 from William Fleming High School. He was competitively nominated to attend the United States Military Academy by Senator A. Willis Robertson of Virginia and reported to West Point on 5 Jul 1961.
It became immediately obvious that as a cadet in Beast barracks, Pete and his initial roommates had no idea what they were getting into, but he persevered and became a close friend to all whom he met. During Plebe Christmas, when only the plebes were confined to West Point, Pete was recruited for the broom hockey team. The only qualification was that you had to have never been on skates. Pete survived but was able to move only a few feet in any direction before falling. During Plebe year, he sang in the Cadet Chapel Choir and played in the Cadet Band. He also played intramural tennis and had the best win-loss record in Second Regiment. First Class year, he broadened his interests and joined the French Language Club. In the realm of academics, Pete was certainly not a "hive," but he took some of the best class notes. Whenever there was a "writ," his classmates would study with him (and his notes!) and ask him the hard questions. Unfortunately for Pete, most of them went out and got better grades than he did, leaving him closer to the bottom of the class. Pete was an easy going and wonderful person. His classmates remember him as the only cadet who actually blushed when locker room talk got a bit raunchy. A little naive and totally innocent, Pete was one of the most likable and decent people his classmates knew. He was rapidly "adopted" by his classmates and their families who lived close to the Academy.
Pete, Mike Shaver, and Ron Wells were close roommates in C-2 during Cow and Firstie years. Pete taught Ron to play the guitar but was unsuccessful in teaching Mike. Pete was part of a group of classmates including Ron Wells, Dean Loftin, Tommy Ferguson, John Funk, Mike Shaver, and several others who perpetrated the prank of painting "BEAT NAVY" on the stern of one of the ships of the mothball fleet moored in the Hudson. Pete was the one who expressed reluctance when we commandeered the rowboat to paint "BEAT NAVY" on the mothball fleet, but he took as much pride as any of us when it showed up in the New York Times. Throughout his four years at West Point, his girl back home, Carolyn, remained his "One and Only."
Upon graduation, Pete was commissioned in the Field Artillery. After graduation, Pete married Carolyn in Roanoke, VA, with Ron Wells and Ed Knauf serving in the wedding and holding the swords. Pete's father was the best man. Keeping with Southern tradition, after the reception Ron and Ed led a clandestine mission to follow the bride and groom's car to their first night hotel. We had already received classified information that they were switching cars (and we knew where!) and were able to convince them they had given us the slip, but we persevered and found their motel. Being good classmates, however, we did not interrupt, but merely decorated their car for the morning ride.
Pete went through Ranger and Airborne Schools after graduation and proved to be a lot tougher than many thought. Pete and Carolyn were first stationed in Gelnhausen, Germany, and classmate Mike Shaver and his wife were also stationed there. The two couples were close friends. Initially, they had apartments off-post and the wives grew close as they went through pregnancy together. Mike remembers the night they all attended Lamaze classes together and Pete came close to fainting at the movie. Pete's son, Kenneth D. McArthur, Jr., was born during this first assignment. Ken is now a lawyer with Durrette and Bradshaw in Richmond, VA. Pete and Carolyn had a second child, their daughter, Krista, after he left the service. Krista worked as a high school counselor until the birth of her first child.
In 1969, Pete served in the 25th Division in Viet Nam. He received the Bronze Star for Valor, two additional Bronze Stars, and an Air Medal.
In 1970, Pete left the service to work at Norfolk and Western Railroad. On 3 Aug 1973, he passed away while on a business trip. He is survived by his wife Carolyn Barrett, his son Kenneth McArthur, and his daughter Krista Davis.
Pete was a wonderful man, cadet, and soldier. He served his country in peace and war with distinction. He is missed by all.
Classmate A. Edward Knauf