Chester Arthur Myers

Cullum: 26011




Class: 1965




Cadet Company: G1




Date of Birth: April 15, 1940




Date of Death: March 10, 1967 -- in Vietnam from hostile action.




Age: 26 years, 11 months and 24 days young. - View or Post a Eulogy




Interred: West Point Cemetery, West Point, NY




Location: Sect XXXIV, Row D, Grave 150




---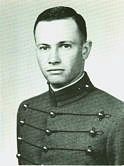 CHET WAS BORN IN EAGLE RIVER, Wisconsin, on 15 April 1940. After completing elementary and high schools there, he attended Northland College at Ashland, Wisconsin, and Northwestern Preparatory School at Minneapolis prior to entering West Point. Although he loved all sports and was an active participant, Chet excelled in music and forensics during his school years. He will perhaps best be remembered as a cadet for his singing with the Glee Club and the Chapel Choir, where he was often the featured soloist.
After graduating from West Point in 1965, Chet attended "jump school" and subsequently became a member of the 101st Airborne Division. He was assigned to duty in Vietnam in November of 1966 as an advisor. It was there, on 10 March 1967, that he gave his life for his ideals and the cause in which he believed.
Chet was always a happy person with an instinctive knack for lending a helping hand or providing a word of encouragement. The citation accompanying the Purple Heart and the Silver Star he received for gallantry in action, reads in part: "His courageous action, unswerving devotion to duty, and personal example while under hostile fire, provided inspiration for his Vietnamese comrades and was a contributing factor in the prevention of heavy friendly casualties and in forcing a strong and determined enemy force to withdraw."
More characteristic of Chet, however, are these excerpts from the letter written after his death by his commanding officer in Vietnam, Major Robert D. Wiegand, USMA 1955:
"For the past four months it has been my rewarding pleasure to know and serve with Chet on the 45th Regimental Advisory team. As his commanding officer, I knew Chet to be one of the most professionally competent and courageous young officers that I have ever known. His duties as the assistant battalion advisor were challenging and frequently frustrating ones, but his sound judgement and the enthusiasm with which he approached each task enabled him to solve most problems with apparent ease. He was never satisfied with doing only what was required of him but continually searched for new areas where he might be of assistance not only to the Vietnamese commanders and soldiers but also to their families as well.
"Chet was one of the exceptional few in life Who give of themselves rather than take from others. He was always sympathetic and understanding of others and felt a deep compassion for everyone he met. On many operations he had a right to be more tired than anyone else because of the exertion of his continuous movement back and forth along the columns in order to see everything and to be of the greatest assistance. Yet, he always had a cheerful word of encouragement to offer others to strengthen their spirits.
"This morning at eleven o'clock we held a memorial service for Chet. It was gratifying for me to see the large number of people who found a means to be present. There were not only his fellow officers and enlisted men who knew him so well, but also a great number of Vietnamese who desired to show their respect for someone who cared so much for them. Chet's courage has been an inspiration to us all, and I assure you that we will never fail to remember our gallant comrade and friend."
Memorials to Chet have been established at the Memorial Hospital and the First Congregational Church in his home town of Eagle River. A living memorial in the form of a veterinary clinic is now being developed by Chet's sister, Dr. Margo Myers, on her farm in northern Minnesota among the lakes and woods that Chet loved so well. It will be known as the Forest View Memorial Veterinary Clinic.
The 1965 HOWITZER says of Chet:
"Throughout his four years with us he has continued to display the courage, determination, and the will to win that will always serve him and our country well." Also in the HOWITZER: "Pledged to more important values than life, they shared a common devotion to that which is greater than self." We are proud that our son, Lieutenant Chet Myers Jr., exemplified these ideals of the "Long Gray Line."