Charles Clingman Dickey

Cullum: 26009




Class: 1965




Cadet Company: K1




Date of Birth: February 21, 1943




Date of Death: March 31, 1967 -- in Vietnam from hostile action.




Age: 24 years, 2 months and 7 days young.




Interred: Wauchula Cemetery, Wauchula, FL - View or Post a Eulogy




---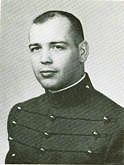 WE WROTE OF Charles C. Dickey, Jr., in the 1965 HOWITZER, that he was, indeed, a "man for all seasons." And while his untimely death leaves all of us who knew and loved him forever saddened, the beauty that was his life warms our hearts with gratitude for each precious moment he was with us. For Chuck was truly an extraordinary human being whose greatest joy was the unselfish giving of himself for others. He faced life squarely — with the trust and conviction borne of a deep faith in God and in the goodness of Man, with the enthusiasm, courage and fairness of a true and noble warrior, with a boundless sense of humor that tested the world and placed everything in its proper perspective, and with a sure sense of values that could find no flaw in a life of dedication to the ideals of "Duty, Honor and Country." And so, on that tragic day, 31 March 1967, when, on a battlefield half-a-world away, Chuck was killed in action, we all knew, in our sorrow, that he had faced death as squarely and unselfishly as he did life, and did what he had to do, whatever the cost. Throughout all of Chuck's 24 years, there was something special about him, something that revealed true worthiness and potential greatness. Though always ready to march to the sound of guns, he was ever gentle and kind. Though quick to laugh or unmask the inane, he was incapable of maliciously or capriciously hurting another's feelings. Chuck never let being a man prevent him from being a gentleman.
He was born in North Carolina on 21 February 1943, the second of five children to Charles and Mary Dickey, and after several moves, the family settled in Wauchula, Florida. It was in Wauchula — Chuck would tell you it's "the Cucumber Capital of the World" — that Chuck demonstrated the essence of the man he would be. At Hardee High School he excelled in academics as well as sports. He won varsity letters in baseball, basketball, track, and football; and captained the football team while winning all-conference honors in his senior year. He was a member or officer of the Letterman's Club, Key Club, Student Council, Choraliers, Latin Club, and the school newspaper staff. In addition to his school activities, Chuck worked part time, was extremely active in his church, and took part in numerous community affairs. His high school record, his football talent, and his fine character and leadership ability were recognized by West Point and, after graduation from high school, he was appointed to the Corps of Cadets to enter with the Class of 1965.
It wasn't long after reporting to Beast Barracks that Chuck's classmates realized that he was someone special, and a lot of us would never have graduated if he hadn't been there to share and lighten the burden as only he could. It's impossible to forget that first shower formation during which Chuck, sweating profusely, looking as ludicrous as all of us in beachrobe and wrinkles, and never smiling, explained to an enthralled group of upperclassmen that the ugly wound on his leg was a result of hand-to-hand combat with an alligator met and conquered outside of Wauchula, "the Cucumber Capital of the World." Chuck committed himself to life at West Point with his usual zest. He was outstanding on the plebe football team until a series of injuries required him to drop the sport, but his love for competition drove him to excel in rugby, and intramural boxing, lacrosse and soccer. His extracurricular activities at USMA were as diverse as his interests and accomplishments. He was a member of the Spanish Club, Rugby Club, Bridge Club, Chess Club, Bowling Club, Outdoor Sportsmen Club, Pistol Club, Scout-masters Council, Skin Diving Club, Baptist Student Union, and was a Cadet Sunday School teacher for four years. When he decided that he would become a paratrooper, he joined the Sky Diving Club and jumped as often as he could. Chuck was consistently Chuck — loved and respected by everyone who knew him well. He was a free-spirit, and this sometimes got him into opposition with the local Establishment; but he would return from his tours of Central Area, his turn-out exams, and his often legendary encounters with the Tactical Department, always with great elan and ever uniquely Chuck.
Upon his graduation, of which he and his family and everyone in his hometown were so wonderfully proud, Chuck did exactly what he wanted to do. Commissioned in the Infantry, Chuck completed airborne and ranger training, selected the 101st Airborne Division as his first assignment and became a platoon leader in B/1/506. His enthusiasm and outstanding performance earned him in rapid succession jumpmaster status, company executive officer, and the honor of returning to West Point with his platoon to train Cadets at Camp Buckner. While excelling as an officer, Chuck still managed to coach the battalion boxing team, earn his private pilot's license, and put thousands of miles on his Corvette visiting his family, classmates, friends, and his fiancee, the former Kathy Brauneck of East Rockaway, New York.
In December 1966, Chuck received orders to Viet Nam, sold his Corvette at Fort Campbell, and took a couple of weeks leave to spend some quiet time with his family in Wauchula and with Kathy. On his way to San Francisco, Chuck fulfilled one of his dreams by spending four days winning at baccarat in Las Vegas.
Arriving in Viet Nam, Chuck was assigned to be the recon platoon leader, 1st Battalion (Mech), 5th Infantry, 25th Division. He spent about two days in Cu Chi, and until his death was steadily in the field in Tay Ninh Province on Operation Junction City. On his second day with his platoon, Chuck's coolness and leadership in his first action resuited in his being recommended for the Bronze Star for Valor. His letters from that day on expressed his concern and respect for his men, his grudging admiration for his enemy, and his distaste for war — all of them ended with "P.S. Pray for me and my men." He loved the Academy and all it stands for, he took deep pride in having been permitted a role in the brotherhood of arms and in service to his nation, and he showed his men in combat the same loyalty and devotion he had always shown his fellow cadets.
In-country for two months, ten days after his 24th birthday, Chuck was killed by enemy fire. The Saturday morning they buried Chuck, all of Wauchula paid honor to their "West Pointer," the boy and man that they loved and admired. Hundreds of townspeople and his family and friends from all over the country filled the First Baptist Church and the steps and street outside, and police from all over the state blocked the roads and highways to ease his last formation. Laid to rest in the Wauchula Cemetery with full military honors, next to his brother, Bill, who was killed in a skydiving accident at The Citadel in 1963, survived by his mother, his father (now passed away), his sister Carolyn, his brothers John and George, Chuck was gone. But, after the last volley, after the last note of Taps, as I asked Mrs. Dickey to accept that neatly folded Flag on behalf of a grateful nation, I knew he would live on in our memories and in our hearts forever.
M.E.S. '65