COL Zigmund J. Roebuck USA (Retired)

Cullum: 26002




Class: 1965




Cadet Company: F2




Date of Birth: May 20, 1943




Date of Death: November 30, 2017




Died in: Huntsville, AL




Interred: Creamated - View or Post a Eulogy



---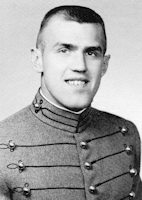 Zig Roebuck was born in May 1943 to Josephine and Zigmund Roebuck, Sr. and raised in Wilkes-Barre, PA. His mother worked as a waitress, raising her three sons with no other financial assistance. His father was in a VA hospital for seventeen years. Zig met him for the first time when Zig was a freshman at West Point.
In high school, Zig played basketball and ran track; but, his first love was football. He played right linebacker, punted, and was a bruising All State fullback called in his yearbook, "Mr. Football". He was also President of the Student Council, President of the Letterman Club, and Vice President of the Key Club. He was recruited to West Point for football by head coach Dale Hall and entered West Point in 1961 as a member of the Class of 1965.
Zig's football career at West Point was cut short in his freshman year by a serious leg injury. He continued at the Academy, played intramural sports, participated in extracurricular activities including singing in the choir, and was a cadet leader. Although a member of the Class of '65, Zig often joked that, academically, he finished near the top of the Class of '66.
Zig married Linda Claire Moseley of Augusta, GA in 1967. They were engaged on a Tuesday and he received orders for Vietnam that next Friday. Zig wanted to get married before Vietnam. Linda wanted to wait until he got back. They waited. They were married a week after he returned home. Zig and Linda have one daughter, Lindsey, who tragically died in a car accident in 1999 at age 30.
Zig graduated from the United States Military Academy in 1965 and spent the next twenty six years as an Army Officer in Air Defense Artillery. He was stationed at various posts in the United States, Germany, Korea, and one year in Vietnam. He was selected early to the ranks of major, lieutenant colonel, and colonel. His duties centered around command, operations, and force development. His highest command was a Brigade at Fort Lewis, WA. He served two tours in the Pentagon, both in Force Development. His second tour included leading an effort to produce an Air Defense Artillery Modernization Plan, which charted and documented weapon development over the ensuing twenty years. A three year tour in the mid-seventies found him back at West Point when he was Plans and Operations Officer for Cadet Basic Training (the first eight weeks of being a cadet). One of those years, 1976, was the first year that women entered the Academy. His performance assured the transition of women cadets to the Academy was successful. In addition to various Army schools, including Airborne, Ranger and Air Assault, Zig graduated from the Army Command and Staff College in 1974 and the Army War College in 1984. He received a MS in Management from the University of Arkansas in 1973, at night school while stationed in Germany. He loved the Army and got to do a lot of different jobs. "I stayed as close to troops as I could, because I thought that was really what the Army was all about. I had a two-fold duty with troops. One was to make sure we were ready to do what the Army needed, the other was to ensure the Army took care of its soldiers."
In 1990 Zig, as a colonel, and Linda left the Army and moved to Huntsville, AL. Zig was never stationed in Huntsville, but traveled there from the Pentagon frequently and quickly realized it was a great place to live. Zig remained in "the defense business" for ten years, working for Raytheon, Sigmatech, and Coleman Research. He continued to do Army operations work and never lost his respect and love for "his" Army. He retired in 2000.
Zig and Linda are members of the United Church of Huntsville where he served on the Finance Board for two years and was also Chair of Discipleship. Zig would say, "My religious beliefs are very inclusive. I believe that all people who believe in a loving God are welcomed by God."
Also, in Huntsville, Zig served as President of the local West Point Alumni Association for twelve years, and was Vice President of Membership for the Redstone-Huntsville Chapter of the Association of the U.S. Army (AUSA) for ten years. His work helped build Redstone-Huntsville into an award winning AUSA "Best Chapter" for those years. He also volunteered his time to the annual golf tournament and to the chapter's very successful annual trips to the national conference in Washington, D.C. Additionally, when the Vietnam travelling wall visited Huntsville, Zig would volunteer and was there nearly 24/7 escorting groups of visitors and giving them lessons about that time in American history that most had forgotten or did not know. On a number of occasions, Zig was known to bring a hundred, or so, cheeseburgers to the soldiers and volunteers that were there.
Zig loved to talk about the fact that any successes he had, and there were many, could be traced back to a solid start in Wilkes-Barre, with his mother's love, and later in life to the support, spirit, and love of Linda and Lindsey.
Zig Roebuck died on November 30, 2017. His ashes are buried next to Lindsey's in Maple Hill Cemetery in Huntsville, Alabama.
Family, friends, and classmates
Sidebar:
"Quick to smile, Zig had bottomless energy and enthusiasm for building teams, motivating his Soldiers, and developing their combat skills."
LTG (Ret) Bob Lennox