Roderick Wetherill

Cullum: 25999




Class: 1965




Cadet Company: F2




Date of Birth: January 20, 1942




Date of Death: September 9, 1996




Died in Fairfax, VA




Interred: Arlington National Cemetery, Arlington, VA




Location: Section 11, Grave 494-1 - View or Post a Eulogy



---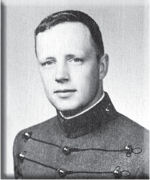 Roderick "Rick" Wetherill, Jr., was bred for the U.S. Army and West Point. Born at Ft. Bragg, NC, to Roderick Wetherill, an "Army brat" and career Army officer who eventually became a major general, and his wife, Josephine Bolling Wetherill, also the child of a career Army officer, Rick grew up as an "Army brat." With one minor taint (his maternal grandfather started at Annapolis, dropped out, joined the Army, and retired as a lieutenant general), Rick's blood ran gray. West Pointers included his father '40, great-grandfather 1874, maternal and paternal uncles (Jun '43 and '28, respectively), brother '70, and father-in-law '40.
Rick was precocious, becoming an Eagle Scout at 14. His scout troop leader described him as a "hell raiser" whose regard for family honor induced him to act the gentleman. He played guard on the post junior league football team (1955 Georgia 3A interbase champs) and graduated from Highland Falls High School in 1960. He enlisted in the Army, graduated from the USMA preparatory school, and received both presidential and reserve component Academy nominations.
Rick was in companies H-2 and F-2. He was a member of the plebe and junior varsity lacrosse teams and co-coached the post boys' lacrosse team his last two years. Despite his enthusiasm for West Point, Rick charted an idiosyncratic course through USMA's plebe and academic systems. Rick's modest class rank was not indicative of his intelligence. No one who knew his droll wit thought him a dullard! Never imperiled by West Point academics, he did not view high grades as furthering his goal of being an Infantry officer. Gaining an MBA from the University of Arizona and graduating from the Command and General Staff School received his full attention because he thought these to be relevant to competence as an Army officer.
His sister Pat remembers Rick's musical talents and that he played by ear-listening to a song once, then turning immediately to an instrument and playing it. Pat said Rick played at least five instruments and could "rock a boogie-woogie piano like nobody and make a set of oversized trash cans sound like the finest timpani." Rick played West Point the same way -- by ear, on a variety of instruments, and always with finesse.
Art Hester, fellow plebe company member, recalls, "Rick was so aware of the 'system' that he had a calming effect on his classmates, particularly those who came to West Point with no real appreciation of the difficulties of Plebe year. Rick just didn't let that stuff get to him. Many upperclassmen thought he was cocky and irreverent, but he made the rest of us a little less scared and, therefore, more aware that we could deal with it. Although it cost him dearly at times, his confident attitude made it easier for the rest of us. In many respects, he was a local folk hero."
A typical event was Rick's efforts to cut a dessert pie that ended disastrously with pieces of widely divergent sizes. Rick gazed at the result for a few seconds, then took the knife, churned the pie into a mixed clump, and calmly lifted the mess. "Sir, the dessert for today is apple cobbler. Would anyone care for apple cobbler, Sir?" he asked the stunned table commandant.
Rick's fondest Army memories were of leading soldiers in the field, and, despite his successes in staff positions, assignments that permitted him to do so were the ones he liked best. His popular reputation was as a soldier's soldier who always put his troops' needs before his own. After Ranger and Airborne schools, Rick was assigned for three years in Germany with mechanized infantry and then was a combat advisor during 1968-69 in Viet Nam, for which he earned a Bronze Star and the RVN Cross of Gallantry. While with ROTC at the University of Arizona (1969-73), Rick earned his MBA. He then served in Panmunjon, South Korea, during 1973-74, with U.S. Army Support Group, Joint Security Area. His next posting was with the 1st Cavalry Division, Ft. Hood, during 1975-77, serving as the S-3 and XO for 1st Battalion, 5th Infantry. Following CGSC in 1979, Rick served at the Pentagon for three years with the Army Individual Training Division, earning a Meritorious Service Medal. He remained at the Pentagon with the Office of the Secretary of Defense, earning the Defense Superior Service Medal, until his retirement in l987 as a lieutenant colonel. Rick continued with the DOD after retirement, finishing as the principal director for planning and resources.
His family remembers Rick as a tireless worker dedicated to his profession, who was respected for his ability to grasp and accommodate the dynamic global-political environment within which his country operated. Serious when seriousness was called for, he was quick to see the humorous side of life. His passions were love of family, friends, country, the Army, music, the outdoors, and literature.
Rick died of cancer in Fairfax, VA. He is survived by his wife and high school sweetheart, Mary-Ann (Larkin) Wetherill, whom he married at West Point in 1965; and two children: Joann Larkin Wetherill Williams, who is currently enrolled in Virginia Tech's MBA program, and Mark Thomas Wetherill, a VMI graduate and former Marine Corps officer, who was sworn in by his proud father. Mary-Ann describes how meaningful it was for her and Rick to pin the second lieutenant bars on their son at his commissioning. Siblings Robert Stanley Wetherill and Patricia Wetherill Monaco also survive Rick.
We who knew him miss him and mourn his passing. He loved West Point and the Army and served both of them faithfully. In Mary-Ann's words, "'Duty, Honor, Country' was indelibly engraved on his heart."
Greg Letterman