LTC John V. Olson USA (Retired)

Cullum: 25997




Class: 1965




Cadet Company: F1




Date of Birth: November 17, 1942




Date of Death: November 29, 2020




Died in: Beaverton, OR




Interred: Arlington National Cemetery, Arlington, VA - View or Post a Eulogy



---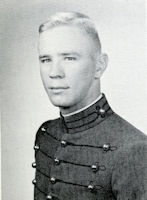 John Vincent Olson, the son of Beatrice Genovese Johnson and Lieutenant Colonel Morris Vincent Olson, was born in Fort Oglethorpe, GA. His father's Army assignments took the family to Tokyo, New York and all points in between. Prior to attending West Point, his family settled in Schenectady, NY, where John graduated from Draper High School. John excelled in the classroom and in extracurricular activities. He was president of his graduating class of 1961; voted "most likely to succeed"; was a varsity football, basketball, baseball, and track athlete; and was an Eagle Scout. With his many accomplishments and ambition to join the military, John was thrilled to accept an invitation to the Academy.
Academics were John's primary focus at West Point. He quickly realized that if he wanted success in the classroom, on the athletic fields, and in military training, it would require him to put in significant studying. He could often be found reviewing lessons in the library or barracks. His roommate recalls that even though John took his studies seriously, he could easily be coaxed from his room to come wrestle other cadets in the hallway. While John had a quiet personality, he was a friend to all.
The 1965 Howitzer yearbook remarked, "His quiet sense of subtle humor, terrific personality and determination to do every job well, have made life in the barracks a lot more bearable. There can be nothing but success in John's future." And Bob Frank, his yearling year roommate, said, "John was a gentleman and caring brother. I am honored to have shared time with him."
In June 1965, following graduation with an engineering degree, John was assigned to the Infantry School and completed the Ranger and Airborne courses at Fort Benning, GA. He was a platoon leader in the 2nd Brigade, 7th Infantry Division in Korea. After is his 12-month tour, John returned to Fort Bliss, TX for a six-month Vietnamese Language course in preparation for a 19-month tour in Bien Hoa, Vietnam, where he served as a battalion advisor to the 5th ARVN Airborne.
In 1969 John was assigned to a second tour of duty with 46th Special Forces Company in Lopburi, Thailand. He assisted the Thai military in resisting Communist activity along the Laotian border, among the hill tribes in the north, and on the Malaysian peninsula in the south. Lopburi is also where John met the love of his life, Phaga. Their paths crossed in the office as she also worked with the 46th Special Forces Company. He would often say that it was love at first sight. They lived happily together for 50 years.
After returning from Thailand, John was stationed at Fort Douglas, UT. John and Phaga settled in Utah and married in 1971 in Salt Lake City. They welcomed their first child, Chris. A few years later, John accepted a position at the 6th unit HHC Presidio and moved to San Francisco in 1974, where they welcomed their second child, Marisa. In 1977 John transitioned to civilian life and stayed active in the Reserve. His job in the tech industry moved his young family from Bay Area to Beaverton, OR. He called Oregon home and established long lasting roots in Beaverton. He retired from the Reserve in 1991 as a lieutenant colonel with his last assignment at HHC 364 Civil Affairs Brigade. His military awards include the Army Commendation Medal with two oak leaf clusters, Bronze Star Medal, Purple Heart, National Defense Service Medal, and Expert Infantryman Badge and Ranger Tab.
John's love of learning followed him beyond West Point. He earned two master's degrees: an MBA from the University of Utah and another master's in public administration from Golden Gate University in San Francisco. John was an avid history reader, lover of the arts, movies, and classical music. He also enjoyed Spanish language class that he attended into his 70s. He was a gifted student throughout his life, kept his thirst for learning, and achieved success in both his military and civilian careers.
While being stationed at Fort Douglas, John discovered his love for skiing. He shared this passion with his family, having many ski adventures in the Oregon Cascade mountains. John enjoyed being physically fit and adjusted his activities over time. When running proved to be difficult on his feet, tennis was his new sport. When his tennis elbow acted up, he transitioned to racquetball. And when racquetball became too demanding, swimming was his outlet.
John could often be found with a camera and tripod set up at his children's sporting events. He enjoyed photography and sometimes found that the family pets were the most cooperative subjects. In the summer months, he enjoyed cultivating his backyard garden and flower beds. With sunflowers and tomatoes being his favorite.
John relished retirement with his wife of 50 years, Phaga. They enjoyed extensive travel. One of their favorite destinations was Argentina, where they would take dance lessons. Together they would practice the tango, and, off the dance floor, John could practice his Spanish. They also enjoyed domestic travel, visiting friends in Florida, and attending several West Point reunions.
John remained close to his children: son Chris, daughter-in-law Monica, daughter Marisa and son-in-law Mark. He cherished his four grandchildren: Davis, Madeline, Hudson and Juliette. Many visits and vacations were shared with his family, including travel to Thailand, multiple cruises, and countless trips to the Black Butte Ranch in Oregon.
There are no words to express the immense love his family had for John. He was a beloved husband, devoted father, loyal friend, loving son and brother, and a treasured grandfather.
— Olson Family