George Patrick O'Toole

Cullum: 25990




Class: 1965




Cadet Company: A2




Date of Birth: December 24, 1943




Date of Death: December 12, 1967 -- in Vietnam from hostile action.




Age: 23 years, 11 months and 19 days young.




Interred: Calvary Cemetery, Mankato, MN - View or Post a Eulogy




---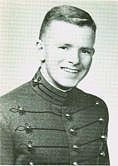 MANY PEOPLE, PARTICULARLY PROFESSIONAL SOLDIERS, will fondly remember Pat; but memories of this magnetic Irishman will be held not only by his comrades in arms. Ask the people of Mankato, Minnesota — they'll remember him as a member of Boy Scout Troop No. 24, a loyal alumnus of Loyola High School, a sportsman, a friend. Those who played football opposite him or tried to catch him running the mile won't forget the aggressive young man who didn't know how to play second best. The librarians at Loyola will remember him, surely, as a voracious reader; and the Drama Club and Glee Club were sorry to see Pat O'Toole graduate. The regulars down at Pappy's Bar surely remember the fellow who sang Irish songs and enjoyed boilermakers when he was home on leave. Pat was a professional Irishman —and determined to let everyone know it. It was well worth buying him a drink to hear his yarns and join enthusiastically in "Galway Bay."
Entering West Point as a member of the Class of 1965 widened Pat's sphere of influence. Quick-witted, personable, energetic, and enthusiastic, he thrived at West Point as a cadet and leader, but encountered difficulty in the academics. It reflects Pat's dauntless attitude that in spite of four turnout stars, he finished that Plebe year. Classmates and faculty alike were drawn by Cadet O'Toole's dynamic and animated character. Numerous girls across the country were no doubt impressed by the cadet captain's stripes that he sported during his First Class year.
There was never any doubt that Pat would be an Infantryman. Airborne and Ranger schools were natural and fitting for this professional soldier. His ever-present sense of humor, inspiring leadership and steadfastness were even more appreciated by his classmates during those physically and mentally difficult times. Ranger Class #65-3 was perhaps best known for its ability to break into a song — usually started by Ranger O'Toole — when the going got roughest.
Pat arrived in Fairbanks, Alaska, in December 1965 after an arduous drive up the Alaskan highway. He was assigned as 4.2 inch mortar platoon leader for the 1st Battalion, 47th Infantry, 171st Infantry Brigade. He soon demonstrated his leadership and won the respect of officers and men who knew him directly and by reputation. His off duty time was spent in making friends and introducing fellow lieutenants to the camaraderie of the songs of Ireland. He enjoyed Alaska's outdoor resources immensely, particularly skiing. Pat's Alaska scrapbooks record his participation in the Biathlon cross country ski competition; the 26-mile Equinox Marathon, and the 12-mile Gold Discovery race — each of which he tackled with his usual stamina and enthusiasm.
Pat's memory will be carried by the people who knew him in Alaska from the men of the Heavy Mortar Platoon to the Indians of remote Allakaket, Alaska; by the girls of the University of Alaska, and by the young men whom Pat encouraged to enter West Point.
Pat's decision to volunteer for the Special Forces was no surprise. He requested duty in Vietnam with the confidence and assurance of a well-trained soldier. Pat found the fit of the Green Beret exactly to his liking and confidently went off to war.
As an A Team executive officer at Moc Hoa for six months, his proficiency in administration, supply, and finance contributed significantly to the successful operation of the unit. Such work, however, was tedious for this man who chaffed at inaction. His letters reflected his concern for the children and orphans in his area, his satisfaction in the job that the Army was doing, and the comradeship he enjoyed with American and Vietnamese Special Forces soldiers.
Following his promotion to captain, Pat commanded Detachment A411 at My Phouc Tay in November 1967. His last letters indicate his acceptance of an extremely challenging and difficult job — but one to which he looked forward. Pat was killed on 12 December 1967 when ambushed by an estimated enemy battalion as he led a search and clear operation, looking for a reported weapons cache.
Those who never knew Pat are unfortunate. Those who knew only the carefree Irishman saw, like an iceberg, just a small part of his character. There were things Pat seldom talked about — his love and respect for his family; his devotion to moral principles and the soldier's code of ethics; and his tenderness and affection, especially for children. For all his bravado and swagger, these are the qualities that will be remembered of Pat by those who knew and loved him.