John "Jack" Kingsland Terry USA (Retired)

Cullum: 25986




Class: 1965




Cadet Company: M1




Date of Birth: February 2, 1943




Date of Death: February 19, 2015




Died in Newburgh, NY




Interred: Inurned, West Point Cemetery, West Point, NY




Location: Colu 2-1A, Row 6, Niche B - View or Post a Eulogy



---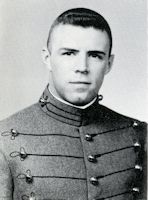 On the Plain on July 5, 1961, John Kingsland 'Jack' Terry joined the Class of 1965. He left behind his life as a teenage legend in Allentown, PA. Jack was a descendant of Ambrose Cornelius Kingsland, a former New York City mayor. A 1961 graduate of William Allen High School in Allentown, Jack was class president, captain of his football team, leading scorer on that team, and a Golden Gloves heavyweight boxing champion. He had planned to attend Cornell University on a football scholarship when his acceptance to West Point arrived and his life changed. He was offered a chance to play football for Army and took it, entering the world of the unknown at West Point.
Following the life-changing experience of Beast Barracks, Jack joined Company F-1 and met a roommate who would become a lifetime blood brother. Regardless of what others had in mind for him, Jack had his own prescription for surviving plebe year. It included a sense of humor, an endless sense of competitiveness, football, and boxing. Upperclassmen were not going to ruin his freshman year of college. Jack couldn't accept that he couldn't beat his roommate at their first wrestling gym class (who didn't tell him he was a wrestler). Then, at their first boxing gym class, Jack couldn't wait to pulverize his roommate (and he didn't tell his roommate that he was a Golden Gloves champ). Those were the first of many competitions between the two, from arm wrestling to one-arm pushups, chest bumps, and several other categories. Jack played football, was a two-time Corps heavyweight boxing champion, and played rugby. Jack enjoyed his cadet life, particularly the many friends he made. He never met a classmate he wouldn't call "friend." He was looking forward to becoming an Army officer, and everyone knew he would be a good one. Most of all, Jack was proud to be a graduate of West Point.
Jim 'Swick' Tomaswick and Jack spent some time together in Ranger School. They met up again at CBR school in Vilseck, Germany, where they enjoyed dinners at the Officers' Club and reliving humorous times at West Point. His first duty assignment was with the 1/7 Infantry in Aschaffenburg, Germany, where one of his subordinates remembers him as a great mentor and leader. Jack reported to 1/35 Infantry, 4th Infantry Division, in Vietnam in 1967. In March of 1968, Swick heard that Jack's unit was nearby, and he contacted him to set up a meeting. When Swick arrived at the site, Jack's XO informed him that Jack had been badly injured that day and had been airlifted with an apparent loss of his leg.
Jack healed, obtained a master's degree in education from Lehigh University, and began a career in public service. He married Sue Carberry Smith in 1979. Jack had a daughter, Michelle, from a previous marriage, and Sue brought three sons: Rob, Kyle, and Ryan. Together, Jack and Sue had two daughters: Cynthia and Karen. They also came to have three grandchildren: Robbie, Samantha, and Serene. Jack's civilian career included coaching football at Liberty High School in Bethlehem, PA and in social restoration programs. This led to a directorship of the Weaversville Intensive Treatment Unit in Weaversville, PA. He was then chosen to be the director of the Woodstock Job Corp Center in Baltimore County.
While there, Jack and his former roommate managed to get together, and guess who challenged whom to a racquetball game? Jack insisted, despite having only one leg, and he won. Always seeking a competitive win, Jack never used his leg as an excuse. He ran several marathons, including the New York City Marathon in 1979.
In 1986, the Terry family returned to Sullivan County, NY, where Jack held probation and training positions and was the director of the Youth Advocacy Program in Liberty, NY. In the early 2000s, Jack's health began to diminish. There was always some question as to what enemy of medical science was afflicting Jack. Never once between the loss of his leg and his demise in February 2015 did Jack feel self-pity, anger, or accept that he was limited. There was no quit or surrender in Jack Terry.
During this decelerating period, there were several events in Jack's life that made him very happy and were memories that he and Sue will always cherish. In 2012, Jack made it to an Army football game. Classmates provided him with special VIP seats and parking. He was escorted by Swick and his former roommate. Another event was his 45th class reunion. Jack was at Castle Point VA Hospital. Volunteers from the hospital cleared the way with medical escort and transportation and made the day possible. Classmates who loved him and cared about him surrounded Jack all evening. It was yet another once-in-a-lifetime memory for all. Then there was the wedding of his daughter Karen. Jack was not very mobile at the time, yet he found the courage and strength to walk her down the aisle, holding her hand. When he rose to leave the table at the reception and was asked about it, Jack said emphatically that he was going to dance with his daughter. He did. Then he danced with his wife, Sue. Jack Terry was a man of courage, faith, and love. He loved his family, loved his classmates, and he loved West Point.
-- Sue Terry and Thomas Abraham, loyal friend and roomate