LTC Louis L. Wheeler USAR (Retired)

Cullum: 25984




Class: 1965




Cadet Company: E2




Date of Birth: December 14, 1942




Date of Death: September 28, 2021




Died in: Ocala, FL




Interred: Bay Pines National Cemetery, St. Petersburg, FL 33708 - View or Post a Eulogy



---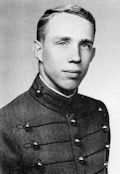 Louis Lamborn "Duke" Wheeler was born into an Army family on December 14, 1942 in St. Petersburg, FL. He was the eldest son of Brigadier General Lester Lewes Wheeler (USMA '35) and Dorothy Hutchin Wheeler. Lester was stationed at Schofield Barracks, HI during the attack on Pearl Harbor. Soon after, Dorothy and Duke's elder sister, Helen, were evacuated on the last evacuation ship to St. Petersburg, where Duke was born. Duke always considered himself a son of St. Petersburg, and throughout his many travels and stops St. Petersburg remained his home base.
Growing up, Duke lived on various Army posts. He graduated from Washington and Lee High School in Arlington, VA in 1960. While Duke's family was stationed at Fort Wainwright, AK, Duke attended one year of college at the University of Alaska in Fairbanks, where he was a crack shot on the rifle team. That spring, he received a congressional appointment to West Point from Representative William Cramer, 8th District of Florida.
At West Point, Duke was a proud member of Company E-2. Following his father's lead, Duke participated on many sports teams and in several clubs, including Lacrosse, Rifle, Rocket Club, Camera Club and Ski Club. During summer leave after his yearling year, Duke met the love of his life, Sally Weihe, at a garden party in St. Petersburg. They were married in the summer of 1965, ten days after graduation.
After Ranger and Airborne schools at Fort Benning, GA, Duke and Sally were stationed in Nuremburg, West Germany with the 3-17th Field Artillery Regiment. Along with many others, his tour to Germany was cut short. His wife Sally exclaimed, "But the household goods from the States have just arrived!" Duke deployed to Vietnam with the 1-77th Field Artillery Regiment, 1st Cavalry Division in August 1967. During this deployment, Duke served with honor and distinction. He was awarded two Bronze Stars (one for valor) and six Air Medals and experienced close enemy contact during the relief of the U.S. Marines during the siege of Khe Sanh. Many years later, at a reunion of the battalion, one of the NCOs confided to Sally that Duke was the finest officer he had ever worked beside.
While awaiting Duke's return, Sally gave birth to their first son, Gregory Louis, in St. Petersburg.
Duke next attended the Field Artillery Officer Advanced Course at Fort Sill, OK. The young Wheeler family was then stationed in Baumholder, West Germany with the 7-16th Field Artillery Regiment. In late 1970, the Wheelers welcomed the arrival of their second son, Geoffrey Thomas.
In 1971, Duke successfully completed Rotary Wing Aviation School as an honor graduate. This allowed for his true professional passion to shine by piloting the first generation of AH-1 Cobra attack helicopters.
In 1972, he was deployed to Vietnam for a second combat tour. There he served as the executive officer of the 57th Aviation Company. During this tour Duke was awarded the Distinguished Flying Cross, Bronze Star Medal, Air Medal with valor, and nine other Air Medals.
After a tour at Fort Knox, KY, Duke resigned from the Army but remained active in the U.S. Army Reserve and retired with the rank of lieutenant colonel.
Duke and the family then moved to Pocatello, ID, where he worked as a nuclear engineer for Westinghouse at the Idaho National Engineering Laboratory. In 1981 he joined the Nuclear Regulatory Commission (NRC) in Rockville, MD as a senior nuclear engineer and project manager. His responsibilities included conducting public meetings regarding environmental impact studies and the decommissioning of nuclear power plants. He always felt that one of his proudest awards was the "Plain Language Award." This award highlighted Duke's ability to effectively take difficult technology and engineering concepts and communicate them at an understandable level. He retired from the NRC after 23 years of additional service to his country.
While with the NRC, Duke and his family lived in Vienna, VA. There Duke continued serving his community. Being an Eagle Scout, Duke was heavily involved in the Boy Scouts of America. He was a mentor and role model within the Bethlehem Lutheran Church youth program. He was also an active participant with the U.S. Power Squadron.
Duke and Sally fulfilled a lifelong dream to move to St. Petersburg in 2004. He continued his involvement the U.S. Power Squadron, Coast Guard Auxiliary, St. Petersburg Yacht Club, and many church activities.
Duke was a supremely devoted husband, father, and grandfather. He was a devout Christian who lived his faith and touched the lives of multitudes of people. Duke was a great listener and had a true gift for making everyone around him better. Young people sought his wise counsel. His family and friends will feel forever fortunate to have had him in their lives. He was brilliant, thoughtful, generous, sincere, and known for his margaritas and the most wonderful smile.
With his health declining from Agent Orange-related Parkinson's disease, he and Sally moved to Ocala, FL to be near family. Many of Duke's caregivers and medical professionals relayed to the family that Duke fought this terrible disease with extreme courage and fortitude, giving honor to the tradition, spirit, and strength of the Long Gray Line.
Duke and Sally were blessed to be married 56 years. He is also survived by sons Gregory and Geoffrey, daughters-in-law Donna and Hollen, grandchildren Dana, Reagan and Hutchin, and sister Helen Buckley.
Duke was laid to rest with his brothers in uniform at the Bay Pines National VA Cemetery in St. Petersburg.
You fought the good fight Duke. Be Thou at Peace.
Your loving family.