Charles Lynn Hemmingway

Cullum: 25981




Class: 1965




Cadet Company: C1




Date of Birth: February 25, 1943




Date of Death: June 13, 1967 -- in Vietnam from hostile action.




Age: 24 years, 4 months and 17 days young. - View or Post a Eulogy




Interred: West Point Cemetery, West Point, NY




Location: Sect XXXIV, Row D, Grave 148




---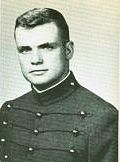 "But the bravest and surely those who have the clearest vision of what is before them, glory and danger alike, and yet notwithstanding go out to meet it."
These words of Thucydides from the funeral oration of Pericles are used today to honor the memory of Charles Lynn Hemmingway who was killed in action in Vietnam on 13 June 1967.
"THE COUNTRYSIDE HERE IS VERY BEAUTIFUL.
The skies are clear, pearlescent blue. The air is crisp and dry, seemingly filling the body with renewed power and energy. Everywhere the eyes survey, water sparkles, back and along the canals the greenery has a peculiar lushness to it. The rice paddy dikes give an organized grace to the landscape."
In such a style and with such appreciation did Chuck Hemmingway describe the Vietnam countryside. He loved his work, he loved helping the Vietnamese, indeed, he loved the Vietnamese. And this was returned a thousand-fold. On learning of his death, Major Tran Quoc Lich, Commanding Officer, 3d Airborne Battalion, Airborne Division, wrote a poem expressing his grief and desolation. The poem entitled, "Memory to a Friend," hangs as a memorial to Chuck in the Headquarters of the Airborne Division. It reads in part:
"You lost your life, why did it end?
I will remember you, my friend
I'll write your name in our history
A courageous soldier died for liberty."
And a boyhood friend wrote me: "Chuck was always genuinely interested in people and their problems. It was certainly a dark day in our lives when we were notified that Chuck had been killed in action. I had lost a true friend, our town had lost a 'son,' and our nation had lost a great young man. The only consolation was that Chuck's death was consistent with his life. He did not lose his life; he gave it, with honor, dignity, and for a cause in which he truly believed."
Chuck Hemmingway belonged to the main, to the whole. He was not in Donne's phrase "an island." Life concerned Chuck Hemmingway. People certainly were important to him. He wrote not long before his death: "I want to get out into the world, charging right ahead, never looking back with regret, looking back a little wiser, and glad for the experience."
Chuck was born in Wichita, Kansas, on 25 February 1943. A former teacher and dear friend who did so much to help Chuck in his formative years remembers that he accepted every challenge she sent his way, and grew a little with each.
One of Chuck's classmates through junior and senior high school in Dodge City, Kansas, recalls: "During our years in junior high school many of our interests were parallel. At that age we were primarily concerned with excelling in athletics and scholastics. It was here that Chuck developed the reputation of being extremely intelligent, confident, proud, honest, sincere, sensitive, and polite. This is the reputation that followed him through his life in Dodge City.
"In our freshman year, Chuck was badly injured in a football game with our chief rival—Great Bend, Kansas. He dislocated his knee so severely that he was told he could never participate in football again. This became one of his greatest challenges at that time. I shall never forget how diligently he worked with weights to strengthen his knee so that he might participate again. He exercised religiously three days a week for two years. Finally, he was allowed to try out his senior year and quickly won a starting position. I cite this example to illustrate the courage that Chuck possessed. I do not recall anyone else that would have sacrificed as did Chuck.
"Chuck was admired and respected both by the students and parents. He made every attempt to 'fit' into every group and was very successful at it. Our senior year, the high school newspaper published a list of students in our class designating them as 'The Most Talented Boy,' etc. . . . Chuck was awarded the title of 'The Most Likely to Succeed.' This was the honest feeling of both student and faculty. Of course, when Chuck was selected to attend West Point, the students, faculty, and parents were proud, not only of Chuck, but of themselves for having one of their classmates, students, and 'sons' receive this honor. Everyone felt certain that Chuck would be a General Officer...."
Chuck entered West Point in July 1961, as a member of the Class of 1965. One of his classmates writes: "Chuck was passionately interested in being a fine soldier. Though not too interested in academic subjects, he was devoted to preparing himself both physically and tactically for the job of meeting and defeating the enemy in combat. He enjoyed the hard hitting punishing sports like boxing and rugby. Yet he devoted his free time to teaching children as a Sunday School teacher. He enjoyed playing bridge, which is a game that requires mental concentration, teamwork, and which has its own highly developed tactics that invite calculated risk, after a careful analysis of the opponents disposition."
That Chuck indeed was well trained, dedicated, and motivated is borne out by a family friend and sports writer who in previous days watched Chuck play high school football. This family friend wrote me: "I had the opportunity to make several interviews with Chuck before he went to Vietnam. He seemed eager to go and to do what he could. He gave me the impression that he had been trained especially for this type of job and was real eager to go."
Teachers are not always the most perceptive of humans regardless of what misconceptions of themselves they may entertain. As one of Chuck's teachers during those four years at West Point, it would be presumptuous of me to comment on how well I did my job or how effectively Chuck responded in his various classes. It is truly irrelevant. The record which Chuck left us as his legacy speaks for itself. Rather it would be more appropriate I believe, and far nearer the mark for me to comment on what a gladsome, singular, happy, earnest, sincere, and Christian man Chuck was. It was a pleasure to have him as a student. The memories I hold of Chuck Hemmingway as a Cadet, and later as an Officer in Vietnam, when our paths crossed many times, are among my most cherished. With a spirit and a smile which would light the world, he endeared himself forever to the South Vietnamese who knew him, and to all of us who loved him.
One of his classmates addresses Chuck's service in Vietnam : "I arrived in Vietnam about three months before Chuck (he went to DLI) and was delighted when Chuck was assigned to the detachment. My delight turned to wonderment. Since I had been in the field for two and one-half months prior to his arrival, he thought I might have some useful information. The character spent five solid days picking my brains (and everyone else's too) for tidbits on fire support coordination, artillery procedures, calling tac air, the use of chopsticks, and such a myriad of other subjects that we were all convinced he wanted to be a walking encyclopedia. That is exactly what he became. When he joined his battalion in the field, the Vietnamese accepted him as a long lost brother. His professional competence was unquestionable, and his affability, combined with his command of the language, gave him a reputation throughout the entire division.
"We went opposite directions for a few weeks and the next time I saw Chuck, he had come in for treatment of an ear fungus. It seems he had carried an entire platoon across a canal on his back (it was too deep for them, but not for him), and in the process had infected his ears. His people said he was always doing such things.
"Shortly before his death, Chuck was recovering from a bout of amoebic dysentery and was assigned with a company in static defense around my artillery battery. We spent a great deal of time playing cribbage and talking. This time at a place called Boa My Road, and these conversations convinced me of the eclectic nature of this man. In one fifteen minute period he could discuss the relative dogmas of two denominations, the writings of Gibran, the Green Bay Packers, and the odds of drawing to an inside straight. During this same fifteen minutes he could prepare a good spaghetti dinner, much to the amusement of both of our counterparts.
"The day Chuck was killed was not much different from other days. His battalion was on a search and destroy mission along 'The street without joy' (very near where Bernard Fall was killed). My battery was set up about five kilometers from the operation firing occasional rounds in support. I was writing to my wife when the mine went off. I remember a black plume of smoke rising from the spot followed by Chuck's call to Van Forepaugh. With letter perfect radio procedure he reported to his senior advisor what had happened and asked to be medevacuated. An hour later word came back from Phy Bai that he had died."
Another friend of Chuck's wrote on learning of his death: "Chuck Hemmingway's death remains as the saddest experience of my life. I lost many friends and a brother-in-law in Vietnam, and nothing has depressed me more. I didn't know him very well at the Academy, but I think I was very close to him in the Airborne Division. He was a rare combination of enthusiasm and talent. Chuck was one of the few advisors that the Vietnamese really loved."
Chuck himself said in a letter to his parents: "Don't get me wrong; I don't feel like freedom's great crusader, but I would much rather be representing my ideals here in Vietnam than elsewhere. . . . There are probably one hundred men my age in the United States today who could do the same job I am doing with equal ability and skill and energy, but I am proud I was chosen the one to do the job as I'm sure you are."
Chuck Hemmingway would have it no other way. It was not in his spirit or nature to have it any other way. He was one of God's noblemen—forever in the vanguard. As Samual Longfellow writes:
"God's trumpet wakes the slumbering world:
Now each man to his post!
The Red Cross banner is unfurled:
Who joins the glorious host?
He who, in fealty to the truth,
And counting all the cost,
Doth consecrate his generous youth,—
He joins the noble host!"
—R. E. L.