Mr. Jay F. Stevison

Cullum: 25976




Class: 1965




Cadet Company: C1




Date of Birth: August 19, 1943




Date of Death: February 21, 2008




Died in Charlotte, NC




Interred: Inurned, West Point Cemetery, West Point, NY - View or Post a Eulogy




Location: Colu 1-25, Row A, Niche BL



---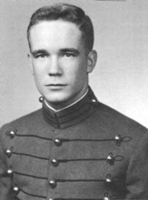 Jay Francis Stevison was born at West Point, where his father was stationed as an enlisted man, on Aug 21, 1943. After two years the family returned to their home in Baxter Springs, KS, where Jay completed elementary and high school. In high school Jay was an outstanding trumpet player and golfer and received college scholarships in both, but he wanted to go to the Academy and received an appointment his senior year. His high school classmates remembered him as the slim, blonde, "looker" who always had a smile on his face and a greeting for all he met. He always looked on the bright side of whatever might befall him. In later life, and especially at West Point, this trait helped him through many trials.
While at West Point, Jay was known as "The Duke," more for his swagger than his physical stature. He partook in all types of activities, some constructive and some nefarious. Luckily, he was not caught in the nefarious ones and spent little time walking the Area. He was an accomplished athlete who starred on many of the C-1 intramural teams. During a visit to the home of a classmate (Ron Floto), he was introduced to Leslie Floto. Romance blossomed for them and eventually led to their marriage in 1967.
After graduating in 1965, Jay went into the Artillery and served with the 101st Airborne Division. Two months prior to starting his Vietnam tour, Jay married Leslie. In Vietnam from 1967 to 1968 as a forward observer, Jay was awarded the Bronze Star for Valor and three Air Medals. Coming home right after the Tet Offensive, Jay and Leslie moved to Oklahoma for the Artillery Officer Advanced Course.
He and Leslie then spent four wonderful years in Germany with the 2nd Battalion, 78th Artillery. During his time in Germany, Jay was the S-1 and a battery commandeer. Later he moved to Headquarters, U.S. Army Europe as the Protocol Officer. A highlight of that duty was handling headquarters matters during the 1972 Munich Olympics and the Israeli hostage tragedy. An even greater thrill for Jay and Leslie was the birth of their first two children. Kathleen was the first born and is now a medical doctor, practicing and residing in the Washington, DC, area. Jeffrey was born two years later and now works in metal fabrication.
Upon returning from Germany in 1973, Jay resigned his commission in order to attend the Master of Business Administration program at the Harvard School of Business, graduating in 1975. Jay and Leslie then moved to Philadelphia, were Jay worked for Insurance Company of North America in their re-insurance division. Two years later, a promotion had Jay move to Atlanta, GA, to head up the re-insurance branch of the same company. While in Atlanta, Jay and Leslie welcomed their third child, Natalie (aka "Nat the Bat"), who is now a practicing Certified Public Accountant. Success again followed and after ten fulfilling years, Jay accepted a stock broker position with a brokerage firm in Boca Raton, FL. Unfortunately, the brokerage firm did not survive, but Jay's spirit saw him through this time. He used his entrepreneurial spirit to try his hand in a multitude of businesses, including starting a mushroom farm, until health issues forced him to cease his hard work. He and Leslie were divorced in 1993 but remained in contact until his death. He spent the last years of his life fighting heart problems, and finally succumbing in 2008. In the spring following his death, Jay's ashes were returned to West Point for a military ceremony and placed in the Columbarium in the Old Cadet Chapel.
Jay's life was too short but came full circle back to West Point, a place that he loved. His children continue his legacy, and he was extremely proud of their accomplishments; Kathleen, a doctor; Jeff, a successful craftsman; and Natalie, an accountant. Jay fought the good fight until the end and always will be remembered by his classmates, family and friends as a person who epitomized "Strength and Drive." He will be missed but will be forever with us in spirit.
— Natalie Stevison Henley