William Thomas McCreary

Cullum: 25963




Class: 1965




Cadet Company: H1




Date of Birth: May 2, 1943




Date of Death: April 6, 2018




Died in: Palm City, FL




Interred: Cremated - View or Post a Eulogy



---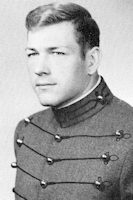 William Thomas "Bill" McCreary was born May 2, 1943 in Bellaire, OH, the oldest child of William and Helen McCreary. Bill's father was a World War II veteran. After the war, he worked in a glass factory while Helen stayed home to raise Bill and his two younger sisters, Mary and Donna. Bill's parents and 12 years of Catholic education formed his personal ethos, which guided him the rest of his life. Described by classmates as a real "go-getter," Bill earned money on his paper route to buy his own bicycle. He excelled in academics and athletics and graduated near the top of his class of 125. He was the student council president, and a star athlete in football and basketball, and he still found time to hunt and fish with his friends. He was an exceptionally strong and quick tackle who helped lead his team to the conference title. Recruited by several universities, he chose to go to West Point.
At West Point, Bill played football until sidelined with a career ending ankle injury. Close friends remembered him as a "gentle giant," while those across the line from him would have trouble with the "gentle" description. As the ankle healed, he was able to join the Rugby Club. The end of his collegiate football career put Bill into the doldrums until he met Roberta Seibert, a young West Virginia lady who lived across the Ohio River from his hometown. Roberta turned his life around, became his best friend, and was his loyal and fun-loving partner through two and a half years of his West Point days, followed by 52 years of marriage. Their life together was God centered, family oriented, and a spiritual journey of exploring pathways to grow closer to their Lord and Savior.
Bill began his West Point days in B-1 and ended them in H-1. Roommates remember him as a steady and quiet guy and the best of the best as a friend and roommate. He never spoke ill of anyone and was a loyal and true friend. Quiet and humble, he was also fun loving with a great sense of humor. He would be right in the midst of pranks such as stuffing an upperclassman's room with crumpled up newspapers and would often lead the charge to throw a firstie in the showers on his birthday. What you saw with Bill was what you got, as authentic a human being as there is. He inspired others to be better just by knowing him. And he loved to eat. Tony Livic brought Bill to his New Jersey home for Croatian home cooking, where he became a favored guest because of his sincerely quiet and respectful demeanor and because he always came back for seconds.
Bill completed airborne and Ranger training, despite a bout of dysentery, in time for his and Roberta's wedding in December 1965. Their initial assignment was Fort Lewis, WA, where Bill became interested in flying and applied for and was accepted into flight school. He flew Huey gunships in Vietnam for the 9th Aviation Battalion of the 9th Infantry Division. His passion for flying stayed with him for the rest of his life.
Bill and Roberta separated from the Army in 1970 and moved their growing family of two boys (Michael and Tim) from Fort Gordon, GA to Miami, where two more sons (Scott and Tom) were born. Following a stint as a commercial pilot, Bill began working for an insurance services company while attending law school at the University of Miami where he earned a Juris Doctor degree. The family then moved to Stuart, FL, where Bill formed his own highly successful insurance services company. Thanks to his intelligence, hard work, integrity, savvy, and caring attitude, he was highly regarded by his employees and clients. Most of all, he loved to fly. He flew his company's fixed-wing aircraft to visit far-flung clients and eventually also had his own helicopter. He taught his sons to fly, and later he and Roberta bought a home on a private airstrip, flew friends and family for the fun of it, and willingly donated time and funds to fly veterans and other patients to hospitals as far away as Texas.
Faith and family defined Bill's life. Their sons regarded themselves as winners of the parent lottery for having Bill and Roberta as parents. Bill's sons were his best pals, and he was happiest when doing things with them, such as flying, hunting, fishing, diving, tennis, shooting hoops, or just hanging out. Indicative of Bill's sense of service was his prison ministry with his friend, Bill Fries (USNA '65). Known as "Navy Bill" and "Army Bill," they visited the maximum-security prison at Okeechobee, FL to guide small group inmate seminars about leadership and character. Bill shared with them what it meant to live a life of faith. Testimonials from these incarcerated men spoke to the impact Bill had on them through his caring presence and inspirational messages.
Bill died as the result of a form of blood cancer. A brief period of remission gave him the opportunity to say goodbye to his family and for some final helicopter flights over his favorite locations. He died peacefully, the cancer having not yet spread to his brain. His Celebration of Life filled his church with family, friends, former clients, employees, and classmates. All who know him mourn the loss. His exceptional and inspirational life is precious in our memories.