Stephen Clark Darrah

Cullum: 25953




Class: 1965




Cadet Company: A1




Date of Birth: February 25, 1943




Date of Death: August 10, 2019




Died in: Powhatan, VA




Interred: Arlington National Cemetery, Arlington, VA - View or Post a Eulogy



---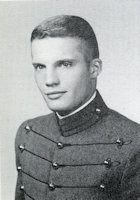 Stephen Clark Darrah was born in Providence, RI on February 25, 1943. He was the younger of two sons born to Dr. and Mrs. Harry E. Darrah. Steve, an outstanding student athlete, excelled at both Moses Brown School and Providence Country Day schools. His athletic abilities and his extreme competitive nature led to recognition as a two-time All-Prep First Team basketball recipient and two years as the Rhode Island state champion in both singles and doubles tennis. Upon graduation from Providence Country Day School, Steve entered the United States Military Academy with the Class of 1965.
Steve continued to excel athletically at West Point, lettering in both squash and tennis. His teams beat Navy in all matches his sophomore through senior year, and in his junior year he was ranked No. 8 nationally in squash. He was a devoted classmate and friend meeting the daily pressures of the Academy with humor and perseverance.
In 1965 Steve graduated and was commissioned a second lieutenant in Infantry. That year he also married Phyllis Blair of Barrington, RI, beginning a marriage of 33 years, which included the births of two sons, Stephen Clark Darrah Jr. and Gregory Blair Darrah.
After Airborne and Ranger schools and an initial assignment with the 101st Airborne Division at Fort Campbell, KY, and with the war in Vietnam ramping up, Steve made the decision to be trained as an Army aviator. Steve confided in moments of introspection and frankness that learning to fly helicopters was very difficult for him. This was surprising since, throughout his life, he had a tremendous love for cars and speed, and he had exceptional driving skills.
Nonetheless, Steve persevered and qualified in the UH-1 Huey and in the AH-1 Cobra. In short order, he was assigned to D Company, 229th Assault Helicopter Battalion of the 1st Cavalry Division. He flew UH-1C gunships with distinction on his first tour in Vietnam, returning to the United States as one of the most decorated Army aviators at that time. Steve's heroism was recognized by the awarding of a Silver Star, five Distinguished Flying Crosses, and three Air Medals with "V" for valor, 43 Air Medals and an Army Commendation Medal with "V" for valor.
After assignments at Fort Rucker, AL and Fort Benning, GA, Steve returned to Vietnam for a second tour flying AH-1 Cobra gunships, again with the 1st Cavalry Division. Steve again served with distinction in the very dangerous I Corps area known for its formidable air defense. At the end of this tour Steve returned to the Infantry School at Fort Benning, where he earned an MBA from Georgia State University.
In the mid-70s the Army made the decision to make Aviation a separate branch versus a specialty. Sadly, Steve recognized that with multiple tours in aviation he was no longer qualified in the Infantry branch, since he had not commanded an Infantry company. In December 1974, Steve made the difficult decision to resign from the Army he loved.
Steve quickly began his second career with Philip Morris, where his intellect and leadership were immediately recognized. His was a successful 20-year career in operations and manufacturing positions in both Philip Morris USA and Philip Morris International. Steve's career with Philip Morris culminated in his appointment as Senior Vice President of Manufacturing for Philip Morris USA.
In 1995, Steve was recruited as Director of Worldwide Tobacco Operations by Rothmans in London, UK. In 1999, Rothmans was unexpectedly acquired by British American Tobacco and, after a transitional period with British American Tobacco, Steve retired and returned to the United States. In 2000 Steve married Wanda Walton, and they established their retirement home in Powhatan, VA.
Steve was one of those rare people who was known to be a truly charismatic leader. He possessed the worldliness of international living and appreciated the finer things in life. He was fluent in French and enjoyed travel and experiencing other cultures. Steve was a generous man who took pleasure in sharing his life with friends and those he loved. That love was never more apparent than when Steve was with his sons. Their relationship, grounded in pride, love and respect, was truly rare. Steve was "the Great Santini" to his sons, and it was a joy to see their genuine love for one another.
Steve led an active retirement life. His love of automobiles continued: collecting, racing and showing modern day sports cars, including his three Ferraris. He maintained contact with his fellow Vietnam-era pilots and crew chiefs, hosting annual get-to-gathers at his beach home in Corolla, NC. He was a dedicated member of the Vietnam Helicopter Pilots Association and the Vietnam Crew Members Association. Steve also served on several charitable non-profit boards in the Richmond, VA area.
Steve loved West Point and maintained contact with his classmates throughout his life, both in and out of the Army. For years he hosted a very special golf event for his classmates at the Foundry Golf Club, where he was a charter member. Steve also loved the Army and the soldiers with whom he served. As Steve approached death, fighting pancreatic cancer, he made it very clear that he wanted to be laid to rest at Arlington National Cemetery with the soldiers that he always loved and respected. He lived his life following the ideals of West Point, and we are proud to call him father and friend.
— Bob Radcliffe, his sons, and his classmates