Mr. Leo Peter Allen

Cullum: 25920




Class: 1965




Cadet Company: F-2




Date of Birth: December 11, 1941




Date of Death: July 22, 2004




Died in Detroit, MI




Interred: St. Patrick Cemetery, Palms, MI - View or Post a Eulogy



---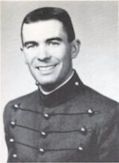 Leo Peter Allen (nee Rose) was born on 11 Dee 1941 in Michigan. He lost his father when he was five years old, but from early childhood West Point had always been Leo's dream. Little did he know the great obstacles he would face to realize that dream. He graduated from Deckerville High School and was accepted into the West Point Class of 1963. He was a big booster of the state of Michigan and fiercely proud of his Irish background. Leo's entire life, not only in the military, but as a civilian, husband, and father was centered on dedication, honor and duty, grounded with great love.
Leo was a proud member of the Class of 1963, but while on vacation in Europe, following Army Orientation Training, he and a couple other cadets were involved in an accident. The accident caused Leo life-threatening injuries and put him in a coma. This closed-head injury did have residual effects that became more prominent over his lifetime, eventually resulting in early dementia- type symptoms, which robbed him of much of his confidence. Through that time, Leo hung on to his West Point accomplishments as a sort of life raft. As a result of his injuries, he took some time off from West Point, attended classes at the University of Michigan but rejoined the Corps as a member of the Class of 1965 in his Cow year. It was a bit ironic, in that he had been on the Beast detail for the class he later joined. His new classmates remember him in Beast Barracks asking who he was with the hint that his name was the that of a flower.
He brought his new classmates a strong sense of duty, gentleness, tenacity and drive. Even as a second classman, Leo came flying out of his bed at the sound of the reveille cannon, clearly six to eight minutes before any self respecting Cow would lift an eyelid. After all, we had ten minutes to be dressed and in formation. Leo was driven to make sure he met every requirement and served as an example to others.
Leo was a very pleasant person, who enjoyed sharing many a joke, but was somewhat excitable when things did not go as planned, i.e., a point against him in a handball match (handball was his favorite sport). He easily could have given up on his dream of being a graduate of West Point, but he did not. Life was not easy for Leo as a cadet because of his injuries, but he put out 100% effort and graduated in June 1965.
Following graduation, he was assigned to air defense artillery. He was airborne qualified, and while with the 1st Cavalry Division in Vietnam in 1968-69, he earned a Bronze Star. Leo died from lymphoma, which was caused by the Agent Orange he was exposed to while on reconnaissance in Vietnam. In true Leo form, in the days leading to his death, he was whole-heartedly praising his country for the amazing free medical care he received from the Veterans Administration. Leo was never bitter, always full of forgiveness and love. Leo was honored with the order of the Silver Rose (the medal given in lieu of the Purple Heart to those who were affected by Agent Orange), "for military merit in the defense of the USA while serving in the Republic of Vietnam" on 21 Jul 2004, the day before his death. He is also part of the Vietnam Veterans Memorial Fund's In Memory program, which honors those who died as a result of the Vietnam War but whose deaths do not fit the Department of Defense criteria for inclusion upon the Vietnam Veterans Memorial in Washington, DC, with a certificate that states "His name is not inscribed here, but his spirit is ever present."
Leo changed his name back to Allen (to honor his birth father) following graduation. He married the former Edna Mary Lemanski in May of 1966 in Point Huron, MI, and they had four children: Michael, Maureen, Mark, and Marilyn. West Point's superior academia was always known in the Allen household, hence it is no surprise that his children have college educations and three have master's degrees. Leo left behind a loving family and 13 grandchildren.
After leaving the Army, he earned a master's degree in public administration from Central Michigan University (August 1977). Leo spent eight years as a claims examiner for the Veterans Administration and over 16 years with the Tank Automotive Command as an engineer in weapons systems development.
He wore West Point as a badge of honor, and his time there often helped to validate him. In the last days just before 1965 was graduated, one of the professors made a few comments about the class, as it was his last time with us. He then said that he wished to congratulate Leo on behalf of the entire academic staff on his upcoming graduation. His tenacity was just sensational. One by one the class stood and gave Leo a standing ovation. West Point's respect and commitment to fellow classmates/graduates was always important to Leo.
Leo epitomized the motto of the Class of 1965, "Strength and Drive." Many in the Class of 1965 thought that the class motto came at least partly from Leo, who never gave up. He will be remembered for his tenacity in life-A proud member of the Long Gray Line. It can be said of Leo, "Well done. Be thou at peace."