LTC James Harry Hall USAF (Retired)

Cullum: 25910




Class: 1965




Cadet Company: M1




Date of Birth: November 26, 1942




Date of Death: June 3, 2011




Died in Beach Haven, NJ




Interred: Arlington National Cemetery, Arlington, VA




Location: Court N70 Sec OO Col 20 Niche 2 - View or Post a Eulogy



---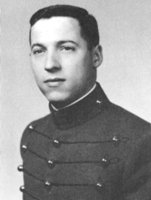 James Harry Hall was born in Trout Run, PA. In high school, he was a star athlete on the basketball and track team, where he set a pole vaulting record that stood almost 20 years—until the advent of fiber glass poles. He was a great baseball player, but his school didn't have a team, so he played semi-pro ball during the summer.
Growing up in north central Pennsylvania, Jim, family, and friends were avid deer hunters and had a hunting camp where they spent every minute they could from Thanksgiving until mid-December, hunting and enjoying the camaraderie. Jim's love for hunting and the outdoors would continue for his entire life.
Jim was also a high school honor student and senior class president. His athletic records, his class office, and his appointment to West Point only added to his all-American image. Jim entered West Point on Jul 5, 1961 as a member of the class of 1965—"Strength and Drive." After surviving two months of "Beast Barracks" as it was known, Jim went to Company I-1. "Inquisition 1" was rumored to he the toughest of all 24 companies in the Corps, especially on new plebes. Jim was undaunted and readily accepted the challenge. He and his roommate, Nate Kantor, overcame the obstacles and excelled as fourth classmen. Nate and Jim would be together as roommates for all four years—a very unusual occurrence at West Point. Their lives seemed to be tied even years later when they were diagnosed with similar diseases and tragically passed away within a few months of each other.
Jim played baseball as a plebe and was good at all sports. He quietly made friends throughout the Corps and was always ready to lend a helping hand to anyone who needed it. He had a no-nonsense attitude about getting the job done and doing it right. He was very popular and as a first classman was chosen to be part of the "Rabble Rousers," riding the Army mule mascots at football games and other events.
Jim wanted to fly jets, so he chose the Air Force at graduation. Because his pilot training class didn't start until early September, Jim had over three months of graduation leave instead of the normal two. Those were three glorious months spent as a lifeguard on the Jersey Shore with a brand new GTO, Air Force pay, and $55 a week as a lifeguard. Life was good!
In September 1965 Jim went to Laughlin, AFB in Del Rio, TX, for pilot training. He excelled and was given an F-4 Phantom assignment at graduation. From Del Rio, Jim went to the 4th Tractical Fighter Squadron at Eglin AFB, FL, to check out in the F-4. Vietnam was in full swing, so Jim's squadron deployed to Ubon, Thailand, in July 1967 as part of the 8th Tactical Fighter Wing, or "Wolf Pack;" commanded by Robin Olds, '43 graduate and WW II ace. At Ubon, Jim flew 100 combat missions over North Vietnam and was awarded the Air Force Cross, America's second-highest decoration, for heroism; the Distinguished Flying Cross; 13 Air Medals; and many others. After Vietnam, Jim was promoted to captain and flew the F-4 with the 9th Tactical Fighter Squadron at Holloman AFB, NM, from July 1968 until he left active duty on Sep 12, 1970.
He eventually moved to Beach Haven, NJ, where he began his second career as a high school math teacher at Southern Regional High School in Manahawkin, NJ. It was a perfect fit for Jim, who was able to bring the traits of honesty and integrity that he learned at home and at West Point into the classroom. He often said that teaching math was secondary to teaching his students to be good people and become responsible adults and citizens with honor and integrity. A mentor and role model for many students, he was named teacher of the year in 1993: Several students followed Jim to West Point and many others became teachers because of his inspiration. Jim was a very humble man who never talked about his fighter pilot experiences, but they all recognized that he was the epitome of "Duty, Honor, Country."
In 1988, Jim met Lonny, another teacher, who became the love of his life. They were married in August 1991 and both continued at Southern Regional until they retired in 1997- After retirement, Jim spent his time playing golf, surf fishing, and hunting at his beloved camp in Pennsylvania, where he was known as one of the best turkey callers and hunters in the area. He and Lonny loved taking trips and cruises, but their life at home in Beach Haven was like being on vacation.
As time went by, Jim depended on Lonny more and more. He lost most of his hearing and then was diagnosed with the terrible disease that took him from us. Lonny was always there, patient, caring, loving, and providing for Jim's every need. Jim died on Jun 3, 2011 in Beach Haven. He was predeceased by his parents, Jack and Rhoda Hall, and a brother John Thomas Hall, Jr. He is survived by his wife Lonny, stepdaughter Kelley Clayton, sister Susan Ayers, brother Steven Joseph Hall, and many nieces and nephews. A memorial service was held at Holy Innocents Episcopal Church in Beach Haven on Jun 14, 2011, and Jim was finally laid to rest with full military honors at Arlington National Cemetery on Oct 17, 2011.
Besides being a warrior, fighter pilot, and true patriot, Jim was a loving husband, stepfather, teacher, mentor and dear friend. He will truly be missed by all who knew him.
Well done, Jim. Be thou at peace.
—A classmate