Marvin Alvis Jeffcoat

Cullum: 25902




Class: 1965




Cadet Company: A2




Date of Birth: April 18, 1943




Date of Death: December 12, 1985




Died in Gander, Newfoundland




Interred: West Point Cemetery, West Point, NY - View or Post a Eulogy




Location: Sect XXXV, Row H, Grave 137



---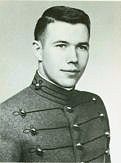 ON 12 DECEMBER 1985, Marvin Alvis Jeffcoat, Jr., along with 247 of his soldiers, died in an airplane crash in Gander, Newfoundland, Canada. He was returning to the 101st Airborne Division at Fort Campbell, Kentucky after a six-month deployment of his battalion task force to the Sinai as part of the United Nations Middle East Peacekeeping Force.
His body was returned to West Point where full military honors and funeral services were held on 27 December 1985 at the Cadet Chapel. The services were conducted by Chaplain John E. Folk, who was assisted by Lieutenant Colonel Jeffcoat's uncle Dr. Ivy and Chaplain (Retired) Carl R. Stephens, a close personal friend. Commanders' tributes were given by Colonel John P. Herrling and Major General Burton D. Patrick of the 101st Airborne Division. The eulogy was given by Brigadier General James W. Crysel, a long-time friend and former commander.
Marvin was born in Salina, Kansas on 18 April 1943, the son of Marvin Alvis, Sr. and Jewell Evelyn Jeffcoat. He was born in military surroundings while his father was stationed at Camp Phillips, Kansas. He lived on or near several Army installations as he grew up, and his father served in various assignments overseas and in the United States. Marvin was active in sports and the Boy Scouts. In 1958 he became an Eagle Scout in Aberdeen, Maryland.
After graduating from high school in 1961 at Junction City, Kansas, he was appointed to the United States Military Academy by Congressman W. R. Poage from the 11th District of Texas. West Point was his first choice and he enthusiastically joined the Class of 1965 shortly after his 18th birthday. When he graduated in June 1965, he was commissioned in the Infantry and reported to Fort Benning, Georgia for Airborne and Ranger training.
His first unit assignment was with the 20th Infantry Battalion at Fort Clayton, Panama Canal Zone, as a platoon leader. He also served as an instructor in the Noncommissioned Officers Academy. It was during this first assignment that he met and married Nancy Morency on 9 July 1966. In November 1966, he reported to Vietnam for duty with the 173rd Airborne Brigade. As an infantry platoon leader, company executive officer, and assistant operations officer, he was twice wounded and received the Silver Star for valor and Purple Heart with Oak Leaf Cluster. Before leaving Vietnam, he was selected to be the aide-de-camp to the brigade commander, Brigadier General L. II. Schweiter. When he returned home, he saw his newly born daughter, Wendy Ann, for the first time.
The next year was spent as a training company commander at Fort Bragg, North Carolina. A second tour to Vietnam began in November 1969 and he was assigned to the 3rd Brigade, 101st Airborne Division. He commanded Company C, 2nd Battalion, 506th Infantry for six months and performed as the brigade S3 air officer for the remaining six months of this tour. He returned to Fort Benning once again and attended the Infantry Officers Advanced Course. He was then selected to attend graduate school at Tulane University where he was awarded a Master's degree in Operations Research and Systems Analysis. His degree utilization tour was at Fort Benning as a project officer for the design and development of the Army's modern anti-tank weapons system. Three years later (1975) he was early selected to attend the Army Command and General Staff College at Fort Leavenworth, Kansas.
Following graduation from C&GSC in June 1976, he once again reported to the 101st Airborne Division, now located at Fort Campbell, Kentucky. He served first as the operations officer (S3) of the 1st Battalion, 506th Infantry and later on the division staff as the operations officer for the G3, and director for plans and training. It was during this assignment that he was directly responsible for planning and preparing the units of the 101st Airborne Division for rapid deployment in support of various contingency plans.
From late 1978 until November 1981, Marvin was assigned to the Army Staff in the Pentagon. In December 1981, he was reassigned as the executive officer for the 3rd Brigade, 2nd Infantry Division in the Republic of Korea. He remained in this position for 18 months and extended for an additional year in Korea in order to serve as the G1 of the 2nd Infantry Division. He was everything and more that a brigade commander could have asked for in an executive officer. He carried the same outstanding performance into the division G1 assignment. He next returned to the 101st Airborne Division to assume command of the 3rd Battalion, 502nd Infantry in October 1984. He had been in command for 15 months and was returning from the Middle East with a part of his battalion task force when the air tragedy occurred.
In the eulogy given by Brigadier General Crysel, he stated that "Lieutenant Colonel Jeffcoat was full of life and he lived every day to be all he could be. He loved his soldiers and his officers. Their welfare, success and professional development were always his primary concern. He loved his friends and gave so much of himself to express his appreciation for their friendship.
"He was truly a soldier's soldier who was tireless, demanding, had high standards, was a firm disciplinarian; and yet he was filled with compassion, concern and sympathy. He was a great leader who was a loyal, dedicated and faithful friend who never let any of us down or backed away from any tough job or heavy pressure. Simply said, he was a winner.
"We miss him terribly. He cannot be replaced. We are all better men and women for having known him. We also know that he was doing exactly what he wanted to be doing and was at the place for a commander to be, as tragic as it was. He was with his troops, his staff, his commanders, his command sergeant major and his battalion colors.
"We pray that he will rest in peace as we dedicate ourselves to carry on in his memory and strive to live up to his high standards in all that we may ever do."
Lieutenant Colonel Jeffcoat is survived by his daughter Wendy, a student at Florida State University; and his former wife, Nancy, who resides in St. Petersburg, Florida. His parents, Master Sergeant (Retired) and Mrs. Marvin A. Jeffcoat, Sr., reside in Waco, Texas.