Jerry Furman Clark

Cullum: 25901




Class: 19'65




Cadet Company: A1




Date of Birth: November 13, 1942




Date of Death: June 21, 1967 -- in Vietnam from hostile action.




Age: 24 years, 8 months and 7 days young. - View or Post a Eulogy




Interred: West Point Cemetery, West Point, NY




Location: Sect XXXIV, Row D, Grave 152




---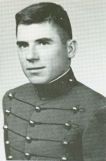 JERRY SPENT HIS BOYHOOD on a dairy farm in northern New York. An ardent hunter and outdoorsman, he spent as much time as possible in the surrounding mountains and valleys of the Adirondack range.
It was from Congressman Clarence E. Killburn's district that Jerry received his appointment to the Class of 1965. The faculty and classmates of Chateaugay Central, where Jerry was an honor student, were extremely proud of their first West Point appointee. The townspeople were greatly interested in their West Pointer and followed his progress through West Point and short service. They mourned his death and were overwhelming in their sympathy to Jerry's family.
The years at West Point were attacked with Jerry's usual zeal, and his pride at graduating from there knew no bounds. It might even be said he enjoyed the rugged Ranger and Airborne training that followed.
After a short leave at home for the hunting season in the autumn of 1966, and a fling at his new found sport, motorized snow sleds, he left for Vietnam.
He was assigned to the 25th Infantry, but spent a great deal of time with other outfits training patrol units. In Vietnam, Jerry saw the action he was always looking for, on reconnaissance patrols and search and destroy missions. Of his men he wrote, "They seem so young and are so willing, that it is my concern that they are suitably recognized for their bravery."
Jerry was fatally wounded 21 June 1967, on a search and destroy mission in the booby-trapped tunnels of Duc Pho. He was brought back to the rolling hills of West Point to be buried beside others of his class, who with unselfish dedication, gave their lives for mans unending search for peace.
Survivors are his parents, Mr. and Mrs. Walter H. Clark; three sisters, Beverly, Diane, and Marlene; one brother, Thomas.
The posthumously awarded decorations were the Bronze Star Medal with "V" device for valor, the Purple Heart, the order of Vietnam and the Gallantry Cross of Vietnam with Palm. A plaque was sent from the officers of the "Cacti Blue" 2d Battalion, 35th Infantry with whom Jerry was serving at the time of his last patrol. At the dedication of a new American Legion home, on the St. Regis Indian reservation near his home, his parents received Jerry's New York State Conspicuous Service Decorations.