MG Richard E. Coleman USA (Retired)

Cullum: 25893




Class: 1965




Cadet Company: G2




Date of Birth: January 7, 1944




Date of Death: April 16, 2018




Died in: Vicksburg, MS




Interred: West Point Cemetery, West Point, NY - View or Post a Eulogy



---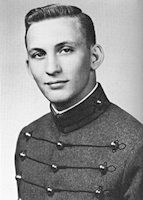 Richard Eldridge "Dick" Coleman Sr., the son of Eva Pauline Simonin and Hugo Eldridge Coleman, was born in Nevada, MO. At age 12, his family moved to Pine Bluff, AR, where he attended Dollarway High School and played on both the football and baseball teams. In ninth grade, with the guidance of his teacher, Mrs. Anne McClaran, Dick began his preparation for West Point. Upon graduating in 1961, he received a congressional appointment to the Academy from Senator J. William Fulbright.
As his bio in the Howitzer notes, "With a smile on his lips and song in his heart…," Dick came trooping out of the backwoods of his beloved Arkansas bound for glory. One classmate opined that Dick was a great roommate, never thinking of himself but always ready to help others. Imbued with "country smarts," he was an average "book" academic who participated in several sports, including wrestling and rugby. But Dick had a beautiful voice and loved to sing, and it was singing with the Glee Club that gave him his greatest pleasure.
On a Glee Club trip to Washington, DC during his cow year, Dick met his future wife, Charlbeth "Beth" Ergood. At their first meeting, he was so taken with Beth that he fell right off his chair. On many occasions, Dick would visit Beth and her friend, Candace Mosconi, the daughter of famed pool player Willy Mosconi, and spend time playing pool in the Mosconi basement. He had the notion that his skills would improve if he chose Willy's favorite cue stick from the rack, a theory that was never proven.
Although his intelligence, capacity for learning, and knowledge would be amply demonstrated over the years following his graduation, Dick favored having fun and just being friends with his classmates. His disdain for the disciplinary system would make him almost a "double-century" man, as was documented years later by his having the greatest number of hours walked among all Glee Clubbers at the 2007 reunion.
Classmate Terry Ryan muses how, on several occasions, when Beth visited Dick at the Academy, he would have to take over as her escort as Dick was doing Area tours, walking off demerits. Fortunately, this did not dissuade Beth, and the two were married in 1966. They had four children (Richard Jr., Robert, Missy, and Carol) and eight granddaughters (Laura, Rachel, Ellie, Rebecca, Sarah Grace, Charlotte, Caroline, and Anastasia) in their 51 years together.
Upon graduating in 1965, Dick journeyed across the country with classmate and fellow Company G-2 member Kala Kukea to their first assignment with the 25th Infantry Division in Hawaii. Although both were looking forward to a tropical tour—Dick even had his white dress uniform in hand to wear while enjoying the tropical evenings on formal occasions—upon arriving they were notified that the division was to deploy to Vietnam, where Dick served in the Central Highlands as a platoon leader in Company A, 1-35th Infantry. During this deployment, he was wounded in action and received a Purple Heart. Following another tour to Vietnam in 1969, he briefly left the Army as a captain in 1971.
An avid fisherman, Dick received a master's degree in fish and wildlife ecology from Mississippi State University in 1974 and was selected as executive director of the Bass Research Foundation by its founder, Ray Scott. Along with other anglers, Dick was a major contributor in the establishment of the Foundation. He then became an extension wildlife and fisheries agent for the Mississippi State University Cooperative Extension Service and provided technical advice and assistance to Mississippi catfish farmers and wildlife managers. One of his eldest daughter's fondest memories is of all the kids piling into his old Ford pickup truck and riding to the catfish ponds to collect water samples. While on the way, Dick's love for singing was never more evident than when he would sing with his children the "Lemon Drop Song" and "Goober Peas."
Dick returned to military service in 1976 with the Mississippi Army National Guard, while also serving as a private consultant to the catfish industry with Delta Catfish Services. He accepted a civilian position as a civil engineer with the U.S. Army Corps of Engineers (USACE), Vicksburg District in 1980 and simultaneously transitioned to the Army Reserve. In 1985, he transferred to the USACE Waterways Experiment Station (WES) in Vicksburg as a civilian research engineer and subsequently retired from WES in 1998.
Throughout his military career, Dick served in all components of the Army: active Duty, National Guard, and Army Reserve. He commanded at the platoon, company, battalion, group, and brigade level, culminating in 38 years of service before retiring in 2004 at the rank of major general as the Commander of the 412th Theater Engineer Command in Vicksburg, MS.
During retirement, Dick enjoyed splitting his time between hunting, fishing, and attending southeastern conference football and baseball games. Although he was a "True Maroon Bulldog" and still knew how to call the "Hogs" of Arkansas, his love for Army football never wavered, and he was always ready with a resounding "Beat Navy!"
Dick was a faithful Christian who strived to be an example for others to follow. He served as a deacon at Goodrum Baptist Church in Vicksburg, where he was an active member. He was a devoted husband and family man and continued to live the values he learned at West Point with a commitment to Duty, Honor, Country. He was a true patriot in every sense of the word and a dedicated soldier, husband, father, mentor, and PawPaw.
— Family and classmates