MAJ Richard E. Kramer USA (Retired)

Cullum: 25891




Class: 1965




Cadet Company: I2




Date of Birth: September 26, 1942




Date of Death: November 3, 2018




Died in: Tallahassee, FL




Interred: Arlington National Cemetary - View or Post a Eulogy



---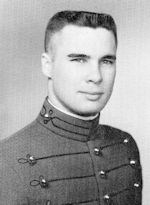 Richard Earl "Dick" Kramer joined the Class of 1965 on July 5, 1961 straight from the orange groves of Largo, FL, where he was the pride of Largo High School. The middle son of Charles and Mildred Kramer, Dick excelled in the classroom and on the football field. His appointment to West Point, therefore, came as no surprise to the citizens of Largo.
Dick moved through his four years at the Academy with a tempo as relaxed as his Florida drawl, which earned from his roommates the sobriquet "Flash." Although he would never be labeled an extrovert, his stress-free manner and disarming wit won him many lifelong friends among his classmates. His penetrating gaze and broad shoulders projected an almost foreboding image that belied his easy manner and calm disposition. He supplied his companymates with fresh oranges from his family grove in Largo as well as fresh perspectives from the world, according to Flash.
Upon graduation, Dick chose the Air Force over the Army, a decision he would reverse three years later. His first two years with the Air Force were filled with schools, including the Base Civil Engineering Course, the Nuclear Defense Engineering Course, the Network Planning Course, and the Facility Management Analysis Course. Between courses in 1966, Dick married Margie Cassidy of Philadelphia, a flight attendant with American Airlines. Their marriage completed a roommate trifecta, in which two of Dick's West Point roommates married two of Margie's roommates. In June 1968, Margie and Dick welcomed their daughter, Coleen, into the world.
By the time he was eventually assigned to an Air Force unit, the Vietnam War was in full swing. Dick felt he needed to do his part and knew that meant a transfer. So, on June 25, 1968, he went from a first lieutenant in the Air Force to a captain in the Armor branch of the Army. After attending the Armor basic and advanced courses, Dick was sent to Vietnam in April 1969 to command an air cavalry troop in the 11th Armored Cavalry Regiment. He was wounded on September 7, 1969 but remained in country until April 1970. In addition to the Purple Heart, Dick was awarded three Bronze Stars, the Vietnam Service Medal, the Air Medal with "V" device, the Army Commendation Medal, and the Vietnam Cross of Gallantry with palm.
Although a decorated officer, Dick's time in Vietnam had a significantly adverse effect on his physical and mental health, as with many combat veterans. PTSD was not a frequent diagnosis in the early 1970s, but those close to Dick noticed a marked change in his demeanor upon his return from Vietnam. He and Margie divorced in 1973 and two years later he married Pat Carbin, a longtime friend and classmate at Largo High School. At the time, Pat had two daughters, Trina and Mindy, both of whom Dick adopted. Their third daughter, Stacy, arrived eight years after Pat and Dick were married.
Dick was honorably discharged from the Regular Army in 1976 and served as an officer in the Army Reserve until 1992. Most of his time with the Reserve was spent as a recruiter for the ROTC. After leaving the Army Reserve, despite Dick's battle with PTSD, he twice demonstrated his intellect and resolve: first, by getting his pilot's license and becoming a certified flight instructor; and, second, by graduating from Stetson Law School and passing the Florida bar exam at his first sitting. However, his successes in these areas did not translate to success in his marriage, and he and Pat divorced in 2001.
Dick spent a few years as a public defender in Clearwater, FL, but his mental and physical condition eventually caused him to leave that position. As his health worsened to the point of requiring hospitalization, Dick was admitted to the Bay Pines Veterans Hospital near Clearwater, FL. In an effort to give Dick family support, Pat had him moved from Bay Pines to a nursing home, where she and her daughters could visit him. For his last five years, even though Pat and Dick had been divorced for over a decade, she and her daughters provided daily visits to the nursing home. Though it was a strain on the family, the visits provided a much-needed lift for Dick, especially when Pat would bring him her homemade cookies and Stacy would bring her son Tre. The sacrifice Pat and the daughters made during those waning years brought comfort and joy to Dick and was a testimony to their character and their devotion to family. Their care for Dick deserves a long and respectful salute.
Dick leaves behind two brothers, Charles and James Kramer; four daughters: Coleen Hechenberger, Trina Kramer, Mindy Perkins, and Stacy Thompson; and six grandsons: Ryan Fitzpatrick, Tyler and Andrew Perkins, Tre Thompson, and Daniel and Eric Hechenberger. Dick's first wife, Margie, lives in Philadelphia and his second wife, Pat, in Tallahassee. He also leaves behind classmates who knew him as Flash, the slow-talking easy rider with whom they shared many great memories, memories that reflected his true personality and commitment to friends, family, and country. Be Thou at Peace, Flash.