Mr. Arthur Roth Jr.

Cullum: 25885




Class: '65




Cadet Company: A2




Date of Birth: June 9, 1941




Date of Death: October 14, 2013




Died in Santa Fe, NM




Interred: Ashes scattered at Crystal Lake in Beulah, MI - View or Post a Eulogy



---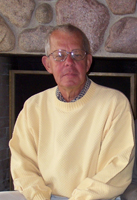 Arthur Roth Jr. began his life story in Newport News, VA, the son of Arthur Roth '27 and Ruth Griffin Roth. His maternal grandfather was also a West Point graduate in the Class of 1914. As a child, Art lived on numerous Army posts, including three years in Oberammergau, Germany, where he honed his German and skiing skills. He attended the University of California at Berkley for one year before being appointed to West Point.
Art entered West Point with the Class of 1964 and graduated with the Class of 1965. Art's German language proficiency acquired while living in Oberammergau precipitated an interesting chain of events before the academic year began. His advisor felt that Art already displayed proficiency in German and placed him in the Russian language course as his "elected language." Although Art protested this assignment as much as a plebe just out of Beast Barracks is capable when faced with an officer from the Academic Department, it was to no avail. After doing battle for two years with the Language Department, and despite the fact that Art was in good standing in all other subjects, he took a sabbatical and studied Russian for a year. He was readmitted to West Point a year later as a member of the Class of 1965, much invigorated and as committed as when he first entered West Point. During his last two years at the Academy, he continued his exemplary performance as he tutored other cadets in both German and Russian. He was noted in the Howitzer as being conscientious, having a strong streak of optimism and spreading his contagious sense of humor. These qualities, along with his quiet and reflective demeanor, defined Art in all endeavors for the rest of his life.
Art received a commission in the Infantry. After graduating from Airborne and Ranger Schools, he was assigned as a platoon leader to the 25th Infantry Division, which was in the midst of a deployment to Vietnam. Art was awarded two Bronze Stars for Valor, a Bronze Star for Meritorious Service, the Combat Infantryman Badge and two Purple Hearts before he was medically evacuated. After a short respite as an instructor at Ranger School from 1967 to early 1969, for which he received an Army Commendation Medal, Art transferred to the Finance Corps and again deployed to Vietnam with the 176th Finance Company. He was awarded a Bronze Star for Meritorious Service for this assignment.
Art resigned his commission in 1970 at the rank of captain and entered the private sector with Milliken & Company. In 1985, he became president of Bigelow-Heugo, and in 1990 assumed the position of Chief Operating Officer of Balta Group. In 1992 he became president of Lawrin Group and, because of his performance and strong leadership abilities, then became CEO of Cookson Fibers in 1993. In 2003 he was selected to be Chairman of Universal Fibers, an international leader in the production of high-quality, solution-dyed synthetic filament-based fabric. Art retired in 2008 and left behind an inspirational legacy for those who followed him.
Art's noteworthy achievements in the civilian world are particularly remarkable when one considers that his entry into the fiber and textile industry coincided with the beginning of a decline in textile manufacturing in the United States. The struggling industry required management ability, leadership and strong personal values to survive—all attributes Art posessed. He successfully navigated the treacherous waters of the market while drawing the admiration of everyone with whom he came in contact. At his memorial service in Bristol, VA, numerous colleagues lauded Art's personal qualities. His example led many who knew him to ask themselves when they confronted a particularly onerous and vexing problem, "What would Art do?"
Throughout his business career, Art maintained a quite reserved demeanor while inspiring those around him to rise to levels of performance that they themselves had not believed possible. Never compromising his inherent optimism, humility and integrity, Art became a remarkable role model as a businessman, friend, leader, and humanitarian. His concern for employees at all levels gave him the moniker, "The man who spoke for people who were not in the room." He displayed a knack for examining all facets of a corporate problem and considering the interests of all the various stakeholders. He understood and valued the unique role of each individual in the corporate structure and was concerned about how they would be affected by decisions made within the boardroom.
Art's innate character of caring for others was not confined to the world of business: he committed himself personally to support charitable agencies and set an example that encouraged employees to participate in charitable endeavors, not just with money but also with personal service. Through these efforts, the corporate image became one of genuine caring for those less fortunate. From this experience, employees developed a collective sense of altruistic accomplishment that manifested itself in pride in themselves as well as their corporation.
Art embodied every aspect of an honorable life. He passed away on October 14, 2013, and his ashes were spread at Crystal Lake in Beulah, MI, a place that he had come to love for its tranquility and natural beauty. He left behind a loving wife, Cheryl; a devoted son, Stephen; three adoring stepchildren: Rob Neely, Chris Hall and Rick Neely; and five grandsons. He will be missed by all who knew him and by many who didn't know him but whose lives were enhanced because he spoke for them when they were "not in the room."
— Sonny Ray, Stephen Roth and Cheryl Roth