LTC Francis W. O'Brien Jr. USA (Retired)

Cullum: 25881




Class: 1965




Cadet Company: I1




Date of Birth: September 21, 1942




Date of Death: June 4, 2011




Died in Leesburg, VA




Interred: Arlington National Cemetery, Arlington, VA




Location: Section 59, Grave 4617 - View or Post a Eulogy



---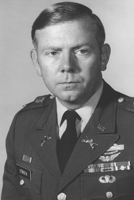 Francis William O'Brien, Jr., was born in Winchester, MA, on Sept 21, 1942. His father was a colonel in the Army and a Tactical Officer at West Point during 1946-1950, after returning from service in World War II. He taught at the Academy where Frank lived for part of his childhood. With his father in the Army, Frank moved a lot and had to change schools every year, which he really disliked. He graduated high school in Ireland and then attended Boston College for one year before entering West Point in 1961 to graduate with the class of 1965. He had two tours to Vietnam and also was stationed in Germany, Maryland, Washington DC, Georgia, Southeast Asia, and Kansas. After his first tour in Vietnam, he attended flight school, which kept him stateside for almost four years.
After graduate school at Georgia Tech, where he earned a master's degree in industrial management, Frank was assigned to Ft. Leavenworth, KS, for three years and had the opportunity of seeing many of his classmates as they came through the college. Obie, as he was known by his classmates, received numerous medals and decorations during the 22 years he was in the active Army, including the Bronze Star Medal, Bronze Star Medal for Valor, Purple Heart, Meritorious Service Medal, Air Medal, Army Commendation Medal, Meritorious Unit Commendation, National Defense Service Medal, five Vietnam Service Medals, the Army Service Ribbon, Overseas Service Ribbon, Vietnam Campaign Medal, Republic of Vietnam Gallantry Cross, Unit Citation with Palm, Combat Infantryman Badge, Parachutist badge, Ranger tab, Army Aviator badge, General Staff Identification badge, and three Overseas Service Bars. Frank served as the independent evaluator while assigned to the U.S. Army Operational Test and Evaluation Agency, now the Army Test and Evaluation Command, for the testing and evaluation of a number of major weapon systems. In particular, he was the evaluator for the Initial Operational Test and Evaluation for the High Mobility Multipurpose Wheeled Vehicle (Humvee) and the MIAI Abrams Tank operational testing.
After retiring from the Army, he started working for BDM in the Operational Test and Evaluation Agency as a consultant. He continued working for BDM throughout the evolution of BDM, TRW Inc., and Northrop Grumman Corporation before his retirement in 2006.
Frank married Sandy in May 1994 after meeting her in 1991 at BDM. Sandy and Frank were married for 17 years and resided in Ashburn, VA, in the same house they bought when they first moved there in 1995. Both Sandy and Frank felt so blessed to have met each other and married.
His family includes: three daughters, Laura, Kathy and Bridie; one stepson, Drew; and one step-daughter, Kim; and nine grandchildren (six girls: Alyssa, Sophia, Sadie, Taylor, Tori and Ellie; and three boys, Tristan, Ben, and Reid). He also has two surviving sisters, Karen in Florida and Pat in Maryland; a niece and nephew from Maryland; two deceased sisters; and one deceased brother.
Frank enjoyed having family get-togethers and doing things with his three granddaughters, who lived just two blocks away. This included lots of sport activities of the girls (swimming, softball and running). He also enjoyed trips to visit his daughters in Charleston, SC; Greer, SC; and Cedar Park, TX; and his grandchildren, ages 11, 8, 10, 7, 4 and 4 months. All of his grandchildren were so much a part of his life.
Frank took up golf after retirement and played at least twice a week. He joined the West Point golf group, which planned a golf outing twice a year, and enjoyed his time with his classmates. He attended the class lunches with his classmates in the Washington, DC, area. He ran or walked every day of his life and kept in great shape. When he wasn't playing golf, he enjoyed visiting the Outer Banks with Sandy twice a year and trips to the Caribbean Islands as often as possible. They recently visited Puerto Rico and the Cayman Islands, which they enjoyed immensely.
Frank had a quiet and calming effect on people around him, and he was a strong, supportive and loving husband, father, step-father, grandfather, brother and friend. He is missed so much by all of us. The world was definitely a better place because of Frank, and he'll always be in our hearts. He was one in a million.