Robert Francis Berdan

Cullum: 25873




Class: 1965




Cadet Company: A2




Date of Birth: April 16, 1942




Date of Death: December 3, 1988




Died in Monte Sereno, CA




Interred: Body donated to the University of California at San Francisco Medical School - View or Post a Eulogy



---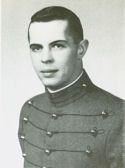 Robert Francis Berdan wanted to win. From the football field, to the battlefield, to the business world, he was a competitor. His Class of 1965 Howitzer says Bob "never liked to be second best-not in football scrimmages Plebe and Yearling years, in handball, or in grade averages with his roommate."
That roommate, Charlie Eckart, remembers it well. They played handball every chance they could. "He was the most intense, lousy handball player there was," laughs Eckart, who roomed with Bob for both of their final two years at West Point. "It was always life and death with Bob. He could not stand to lose."
It was no surprise then that Bob, when he was co-captain of the high school football team during his senior year, took it hard when the Golden Eagles lost their homecoming game. At the dance after the game, he brooded and refused to dance with the homecoming queen. His co-captain, Jim Weinzecl, did the honors. Bob obviously had no inkling that the queen, Ruth U'Ren, would become his wife five years later.
Bob and Ruth became reacquainted when he was at West Point and she was a flight attendant for United Airlines. They married in their hometown of Fairfax, MN, in June, just after Bob graduated with the "Strength and Drive" Class of 1965.
The oldest of four children, Bob grew up in Fairfax, MN, a small prairie farm town, where his father Alfred owned the John Deere farm implement dealership and his mother Charlotte was an elementary school teacher. From the time Bob was old enough to help clean a manure spreader and deliver a load of equipment, he worked at Berdan Implement. He excelled in sports and academics.
Weinzerl, Bob's lifelong buddy from grade school, remembers playing basketball in the driveway and says some of his fondest memories are of spending the night at the Berdan's. "I thought the Berdans had the biggest house in the world," Weinzerl says.
Bob wasn't like his high school classmates, Weinzecl says. "It seems, in retrospect, Bob always had a plan to succeed in life. He somehow knew things the rest of us didn't .... "
After high school, Bob attended St. Thomas College in St. Paul, MN, for a year, before he received his appointment to West Point. At West Point, track, football, debate council, and forum fed his competitive nature.
It didn't always come easy, says Eckart. At the beginning of Cow year, "we were kind of the same. We were both really 'goats' [and] weren't doing well academically." Eckart says he didn't have any "claims to fame," but he had started to improve academically, while Bob was still struggling. "I kind of adopted him, and he kind of adopted me," Eckart says.
When they weren't studying or on parade, and Bob wasn't at football practice, it was handball. "We religiously went to the gym and played handball to the last minute we could, six or seven days a week for two years."
When it came time to choose a combat branch, "[for] macho, football-playing, non star-man Bob Berdan, the only question was what part of the Infantry he would choose," Eckart says. When Bob chose Signal Corps, "everybody was dumbfounded."
"I did the same thing," he says. "I suppose I was following Bob Berdan."
Jose Sanchez didn't know Bob well at West Point, but they got to know one another in a big way at Airborne and Ranger Schools after graduation. "If you really want to know a person, under conditions like that, nine weeks of swamps and mountains at Ranger School, is where you really get to know them," Sanchez said.
Sanchez appreciated his "big and rugged" classmate, and not just for the fact that Bob would often get saddled with carrying the 52-pound machine gun on long mountain patrols. "He was just fun to be with," Sanchez says.
After graduating from Airborne and Ranger Schools in late 1965, Bob served with distinction as a Signal officer. His first posting was to Zell, Germany, where he and Ruth lived in a duplex and "partied and played bridge a lot" with classmates who lived in the same kasem.
In January 1967, Bob was posted to Viet Nam, where he served again with distinction with the 125th Signal Battalion, 25th Infantry Division, located near Cu Chi.
Bob returned to the States a year later and served out the remaining two years of his military commitment at the U.S. Army Signal School (then located at Ft. Monmouth, NJ). Bob was a graduate of the Army's Signal Officers Advanced Course and the Signal Instructor Training Course. For his service in Viet Nam, he received a Viet Nam Service Medal with two bronze service stars and a Viet Nam Combat Award with "60" device for overall conspicuous duty.
Following his active duty service in the Army, Bob earned a master's degree in industrial engineering from Rutgers University in 1970.
Bob's competitive nature kept him on the move during his career. In the early 1970s, he was a project engineer job for Continental Can in Augusta, GA. From 1972 to 1979, he worked for Measurex, and from 1979 to 1982, he worked for Hensway in Oregon, a startup company that designed and manufactured the first computerized incubator system for the poultry industry. He then worked as regional manager for Dorsey Bus until 1984. For one year, he worked for Accuflber, a new company that manufactured an optical fiber device, and from 1985 until the time of his death, he was sales account manager for Arix, a company that manufactured multiprocessor Unix systems in California.
Bob died while out on a jog near his home in Monte Sereno, CA, just before Christmas in 1988, at the age of 46.
He is survived by his widow Ruth Berdan, daughters Kristin Berdan Weissmann and Michele Berdan Fraley, two sons-in-law, a granddaughter, his mother, a brother, and two sisters.
Written by his sister Kathy,
with help from family, fiends and classmates