Dr. E. Graham Forrest III USA (Retired)

Cullum: 25871




Class: 1965




Cadet Company: H1




Date of Birth: August 1, 1943




Date of Death: April 6, 2014




Died in Pinehurst, NC




Interred: Inurned, West Point Cemetery, West Point, NY - View or Post a Eulogy




Location: Colu 2-1A, Row 5, Niche C



---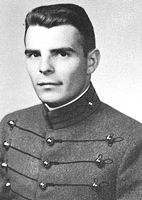 Dr. Ernest Graham 'Bo' Forrest III was the consummate southern gentleman. He was born on August 1, 1943 in Winston-Salem, NC to E.G. 'Red' and Hazel Plaster Forrest. Graham attended public schools in Winston-Salem, graduating in 1961 from R.J. Reynolds High School, where he excelled academically and was a star athlete in football, basketball, baseball, and tennis. As a fast and shifty wingback with superb pass-catching abilities, he was recruited to play football at West Point by head coach Paul Dietzel. He received a congressional appointment to West Point from Representative Ralph Scott from North Carolina's 5th District and headed north to play Army football. He was only able to play his plebe year due to a knee injury. After that, he focused his athletic talents on intercollegiate tennis and squash. During Bo's years on those squads, the Army tennis and squash teams enjoyed great success, including multiple victories over Navy.
Graham was nicknamed 'Bo' early in his plebe year by his instructor in Spanish, who referred to him as "Señor Bosque" (the Spanish word for "Forest"). To some of his friends, he let on that 'Bo' was short for 'Beauregard,' which was easily believed, given his distinctive North Carolina accent. His Army tennis doubles partner, Ross Wollen, said that his southern drawl would become even more pronounced when Bo slipped smoothly into charm mode for the coeds at the colleges they visited. It didn't hurt that he loved music and was an exceptionally good dancer. His classmates, especially his roommates, remember him for his optimism, sense of humor, dance lessons and instructions on how to speak southern. He could find humor in any situation, making him an entertaining and often hilarious guy to be around.
Upon graduation, Bo was commissioned in the U.S. Air Force, a choice motivated in part by his admiration for his cousin Larry Plaster, who had served as an Air Force pilot for over 17 years and flew combat missions during the Korean War, for which he earned the Distinguished Flying Cross. This choice of service was available to Bo because of his class standing, which he proudly announced as the "top man in the bottom third of the Class of 1965." Bo served six years in the Air Force, during which time he attained the rank of captain and earned an MPA from the University of Oklahoma. While in the Air Force, he also played tennis for the All-Air Force team.
Bo left the Air Force in 1971 to follow his true calling, dentistry. He received his DDS from the University of North Carolina School of Dentistry in 1976 and for the next 28 years was the only dentist in the little town of Grover, NC. He was beloved by everyone for his skill, generosity and kindness, often providing dental services for payment in kind. He sponsored the "Grover Molars" Little League team and was the "Tooth Fairy" in the annual Grover Christmas Parade, during which he handed out free toothbrushes.
During these years, he lived in nearby Shelby, NC, where he and his wife, Maxine Francis Forrest raised their two children, daughter Mary Graham and son Russell. He coached football and baseball, and continued to play competitive tennis. After Maxine passed away, his children became even more the light of his life. He was a devoted father who set an example for his children not only by the love and guidance he provided them, but also by demonstrating the importance of giving back to the community.
As a contract dentist for the North Carolina Department of Corrections, Bo later treated inmates for more than ten years. Once asked if he ever feared for his safety among these maximum security prisoners, he said, "I never felt threatened once. These guys loved me. They knew I was there to ease their pain."
Bo's great joy later in life was reconnecting with classmates and friends. He was a mainstay at annual classmate golf matches. He loved beach music and shag dancing, especially with his dear friend, Alyce Gaines. He loved to laugh and reminisce with friends and was famous for his rambling stories. A standing joke among his friends was to avoid making eye contact with him once he was launched on a story, lest he "lock on" and the story never end. He was humble, self-deprecating and always able to laugh at himself. Although Bo was intensely competitive in sports, he was a fundamentally gentle man, kind and genuinely interested in others. In any setting, he was the life of the party, funny, irreverent and the guy you wanted to be around. As one classmate put it, when any of his friends got together, the first question was, "Where's Bo?"
Bo suffered from congestive heart failure and was taken from us in his 70th year of life. Rest in peace Bo Forrest, a true Southern gentleman whose great talent was to make others happy by your presence. We will miss you.
— Classmates