COL Kendall McRae Lemley USA(Retired)

Cullum: 25860




Class: 1965




Cadet Company: M2




Date of Birth: March 28, 1943




Date of Death: February 7, 2008




Died in Williamsburg, VA




Interred: Rose Hill Cemetery, Hope, AR - View or Post a Eulogy



---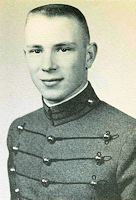 Kendall McRae Lemley was born on March 28, 1943, a mere ten months before his father, Kenneth McRae 'Mac' Lemley, USMA Class of 1940, shipped off to Europe to serve in World War II. Though he was born in Fort Sill, OK and spent his childhood living all over the United States and overseas, he always considered his father's hometown of Hope, AR to be his as well.
Ken was an excellent student, and by the end of high school he had a number of full scholarship offers to attend several of our Nation's most prestigious universities. According to family lore, however, the first inquiries into the possibility of Ken attending West Point were made by his politically connected grandfather well within the first year of his life. Thus, his sense of duty compelled him to eschew the various scholarship offers, and in 1961 he headed off for his plebe year with the Class of 1965.
Ken's classmates describe an upbeat, positive cadet, always happy to place others' needs above his own. Jack Blau recounts a roommate who was "ever optimistic and encouraging to others. He laughed a lot and we enjoyed bowling for our M-2 Company Team. He helped me get through my darkest days at West Point." Another roommate, Chuck Shaw, recalls, "Ken just knew the ropes and freely shared this information with the other plebes of K-2. He was an excellent student. I was constantly getting lower marks on written assignments, and a professor advised me to get help. Ken was the help that I needed. After a couple of months my grades went up due to Ken's patient assistance." Tommy Thompson's perspective was similar: "Since Ken was the smartest guy in the room, we depended on him a great deal to help us with our studies, which enabled a couple of jocks to get pointed in the right direction. Ken was a good friend and roommate who always did more than his fair share and was instrumental in keeping the TAC off our backs."
Ken's time at West Point culminated with a rare act of rebellion. Commissioning as an Armor Officer was a relatively minor act of defiance to the tradition of Lemley men serving in the Field Artillery. His first tour of duty in Vietnam with the 11th Armor Cavalry began within two years of his graduation from West Point. Then, after helicopter flight school, he returned for a second tour, flying the Huey with the 52nd Aviation Battalion. His family never heard much of his time in Vietnam. When pressed for details (which his family rarely did), he shrugged off the notion that he ever may have been in any danger. "Administrative duties, hauling VIPs around, that sort of thing," he would say.
One of his Bronze Star with "V" device for valor citations from that period, however, tells a very different story. An excerpt reads: "For heroism in connection with military operations against a hostile force…With complete disregard for his personal safety, Lieutenant Lemley ran 50 meters through intense hostile fire to lead a medical evacuation team to the (disabled) tank. He then pulled the casualties from the tank and led the evacuation team and casualties to the medivac helicopter. Lieutenant Lemley then returned to the battle area and continued to direct suppressive fire upon the Viet Cong until the insurgents were forced to retreat. The undaunted courage and bold initiative demonstrated by Lieutenant Lemley significantly contributed to the defeat of a large Vietcong force."
The next 20 or so years were a whirlwind of Army life. The promotions came quickly, and so did the amount of trust and responsibility the Army placed in Ken's hands. After earning his master's at UCLA, he taught the next generation of Army leaders as a West Point professor. In Germany, his unit was assigned to protect the Fulda Gap. He was selected to command the 5/33 Armor Battalion at Fort Knox, KY and from there attended the National War College in Washington, DC. Finally, after a series of assignments at the installation command level, he reached retirement in 1993. A subsequent ten-year career teaching at the Army Force Management School at Fort Belvoir, VA enabled him to continue to use his expertise to benefit future generations of officers well after his own retirement. Both of his children ultimately followed him into military service.
Such a career didn't allow for a lot of outside interests, but Ken had a few. Certainly classical music and pipe organs were at the top of the list. When he wasn't seeking out the best organ concerts wherever he may have been living at the time, he was doing everything he could to accurately recreate the sound and volume of a pipe organ on his home stereo. He particularly enjoyed jolting his teenage kids out of bed with the sounds of Bach, Handel or Mendelssohn on weekend mornings throughout their childhood. Ken's friends and family were all the beneficiaries, at one time or another, of an immaculately maintained, high-end piece of stereo equipment that had fallen, for whatever reason, out of his favor. That was just how he was.
Ken Lemley led a successful life by all the world's standards. But for those who knew him, his accolades and accomplishments tell only a partial story. At his core, he was brilliant, softhearted and intensely loyal. He was taken from us far too early, during a time when he had rediscovered true happiness and contentment. We, his family, miss him dearly.
— Kendall M. Lemley Jr.