John Hulsey Hays

Cullum: 25858




Class: 1965




Cadet Company: L1




Date of Birth: September 24, 1943




Date of Death: November 8, 1968 -- in Vietnam from hostile action.




Age: 25 years, 2 months and 14 days young.




Interred: Lakeside Memorial Park, Winter Haven, FL - View or Post a Eulogy




---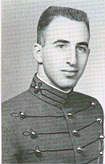 "As FOR DEATH, while it is inevitable it is not final.. . . I believe in God, the Father Almighty, and in Jesus Christ, His Son, our Lord . . .
Penning these words with characteristic maturity, John Hulsey Hays prepared a most fitting memorial only months before his untimely death. In word and in deed, in life and continuing in death, John exerted a profound influence on others. Life expected much of Johnny; he gave the ultimate.
John's leadership manifested itself through his unqualified concern for others and the gift of humility that he displayed early in life. At Winter Haven High School, which grants an annual scholarship in his honor, Johnny was elected both Student Council president and Florida State student governor. Also remembered are the times he returned to express thanks for the opportunities received and to assist others in their aspirations.
Cadet life was focused on preparing for a career in the Armor. Airborne and Ranger Schools were quickly followed with command of a troop in Germany (where he was recognized as the youngest, and most junior, tank commander in the Cavalry) and marriage to his college sweetheart Leslie.
Johnny's military career spiraled as he deployed to Vietnam, commanded a troop in the 11th Armored Cavalry Regiment under Colonel George S. Patton, became recognized as one of the finest troop commanders in the regiment, and was many times decorated for heroism -- including the Silver Star and the Purple Heart. One month before stateside reassignment and reunion with his wife and the daughter he had not yet seen, John accepted an urgent call to duty and rejoined his troops engaged in combat outside An Loc.
Captain Hays' valor (recounted in his Distinguished Service Cross citation and on his Fort Knox Memorial) included leading his platoons through enemy barrages of small arms, automatic weapons, and antitank rocket fire and being mortally wounded as he manned a machine gun against an attacking force. Johnny's leadership was characterized by concern for his men. A fellow soldier inspired this tribute: quiet, gentle, mature, compassionate of the men he led, he had a genuine understanding that makes the difference between a great leader and a merely efficient one.
"Regardless of what miracles you believe, regardless of what prayers you say,. . Jesus is the force which guides you over the threshold of immortality."
-------

A Letter from Roy Jones, USMA 1964 Re: friends John Hays '65 and John Hulsey, '65
Yesterday, I received an email from the widow of a friend from the West Point Class of '65, John H. Hays, Leslie, responding to my recent email to her. I wanted to share with you all a little about Johnny.
He and I were in junior high and high school together….and great friends….As a junior, Johnny was VP of the Student Council in our high school my senior year when I was President. He followed me to West Point in 1961. In 1966, before heading to Germany, he married his sweetheart from Vassar and was stationed in Germany where I visited them. His widow related to me that when she went to WP to make arrangements for their wedding, she and her mom were escorted around by another fellow high school friend, Richard Hood (WP Class of '66).
I spoke with Johnny by radio in the Spring of 1968 in Vietnam when I was in Quan Loi. He was in an Armored Cav unit with Col. George Patton. I left Vietnam in August of 1968. In November of 1968, Johnny was killed in operations near An Loc. When I learned of his death, I asked the Army if I could escort his casket home to Florida from California once it arrived from South Vietnam. Dept. of the Army approved. As I have related before to some of you, the toughest duty I ever had was turning Johnny over to his family underneath the aircraft at Tampa International Airport.
Richard Hood graduated from the same high school as Johnny and I did…and followed us to West Point. Johnny's dad was in Germany in early 1967….took me to dinner in Frankfurt and let me know about Richard having been killed in Vietnam a few days earlier. Richard's dad was a sergeant in WWII and replaced Audie Murphy when Audie was wounded severely. Later, both Richard's dad and I worked for our Congressman from Florida….me in DC and his dad in Florida.
Having lost both of these outstanding young men, wonderful friends and soldiers was devastating to me and survivors guilt remains with me today and will continue until I am no longer here. That is among the many tragedies of war as each of us knows.
At the services for Johnny, I read my eulogy to him. In connection with the recent loss of a great friend of Johnny's and mine…in our hometown, I reconnected with Johnny's widow by email. She responded and sent to me a copy of my eulogy (attached) that she has in a booklet she keeps about Johnny. I had not re-read this in a few years. She also sent to me a photo of a West Point music box that I had given to Johnny's mom after I affixed the class crests for Johnny's class (1965), Richard Hood's class (1966), and our class.
I explained to her that on a CD I have in my CD player in my car that I listen to as I run errands, I have in the song mix one of the most beautiful versions of the Civil War song for the North and the South, "When Johnny Comes Marching Home."
I am attaching that so you can listen to it too. I spoke with one of the singers who made the recording several years ago. He related that being in the middle of the chorus actually singing this song was so moving…thinking of those who died….those who came home from battle and those who did not make it home … like Johnny and Richard… and so many of our classmates and fellow West Pointers…who have passed over the years….he related that it was overwhelming to him and to the others in the chorus.
Some of you (Ted T., Cliff B., Joe Z.) I am sharing this with were in the same company as Johnny and Richard our firstie year. Many in my companies recognized those two when they were Plebes.
These bring back a flood of memories. These "wounds" never really heal…do they? Many similar ones are in the minds and memories I know of other members of our class. Such memories are further impetus to me for us to do what we can while still on Earth to help our country get it right to the extent we can when it comes to matters of war and peace.
Best to all,
Roy