Mr. Thomas F. Borkowski Jr

Cullum: 25856




Class: '65




Cadet Company: B2




Date of Birth: February 9, 1943




Date of Death: May 6, 2014




Died in Tybee Island, GA




Interred: Ashes scattered in Atlantic near Tybee Island, GA - View or Post a Eulogy



---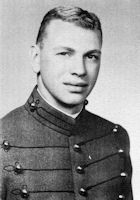 Dear Tom, You left us so suddenly, outside of your family, many of your friends and classmates didn't have the chance to say good bye. But, that was your style all your life, wasn't it? You never said much about yourself. It was never about you, but what you did for others. You accomplished a lot as a husband, father, Army officer, and leader in automotive marketing and sales at the highest level. You were the consummate "car guy".
Your parents, Thomas F. and Mary C. Borkowski, must have raised you and your sister, Victoria, with loving care. You were a standout student at Irwin High School near Pittsburgh, Pennsylvania. What prompted you to go to West Point? You never told your roommates, but you must have aspired to be a leader of character even as a high school student.
West Point years were at once challenging, confining, and hilarious years, weren't they? You took everything in stride with a nonchalance and a bit of bravado. We still remember you as a free spirit, or as a Tac would have said the one requiring little more guidance. You were simply brilliant in subjects you liked, but would not spend an extra second on subjects you did not care for. Remember, you even helped your star man roommate now and then, but barely managed to pass some courses. How did you manage after being eye-balled by the Tacs and yet never getting close to walking the Area?
We still remember your fun-loving style with that Mohair suit from a Hong Kong tailor and that gold cigarette case that many often borrowed in vain attempt to impress the fairer sex. We also remember you entertaining us with fashion shows, especially with that "Ascot" tie. Where in the world did you get that idea? And what about your penchant for the Beatles and the Drifters right after the Reveille formation, which drove your roommate nuts? Your clincher was the Corvette, wasn't it? What did you do with that monstrosity with one "glass pack" muffler to wake up the entire West Point Post? The kids on the Post knew and heard of the "Boris" with the 'Vette. We chuckled, but you looked good with those leather racing gloves and fly-boy scarf.
We parted briefly in June 1965 before reporting back to Fort Benning for Airborne and Ranger training. Remember how you caused a major fire and practically burned a national forest down from a bee sting? Holy smokes! Speaking of a wild party, imagine a bonfire that's as big as a mountain! You sure knew how to party!
Your first post was with the U.S. Petroleum Distribution Command in France. Upon your arrival, you made that indelible impression not only with exuberance and optimism, but also with professionalism and the "can do" attitude. You showed that uncanny "outside the box" thinking even as a young officer. Then you moved to West Germany and held a staff position, but soon you were given the mission to straighten out an under-performing company. You turned that company around and established yourself as a capable and dependable logistics officer with high potential for greater responsibility. But, it was not all work and grind, was it? It was then that you also somehow managed a raucous wedding party parade for your classmate, commandeering an armored personnel carrier with the wedding party on top through a German village. You must have used that irresistible charm on the burghermeister to pull that one off.
Your next post was Vietnam. You were assigned a company command at Vung Tau where your company performed outstandingly under your leadership. You even earned a Bronze Star with a V device for valor, an unusual accomplishment for a Quartermaster officer. You returned from Vietnam and were assigned as an instructor at the Petroleum Department of the Quartermaster School at Fort Lee. It was then that you lost your sister Victoria, your lifelong friend, in November 1969 which influenced you to resign from the Army.
But that devastating loss was followed by the best thing to ever happen to you when you met your future wife, Robin, at a party in June 1970. It must have been love at first sight for both you and Robin although you waited two months to gather enough courage to ask Robin for the first date. You didn't waste any time after that though, because you were married within two months on November 7, 1970.
You soon found your third love after Robin and cars. You still had your Corvette, but a landlubber like you got hooked on sailing. Robin's family had a lot to do with that, we think. Anyway, you covered a lot of area of the Chesapeake Bay that Fall of 1970.
You started your civilian career in your second love, cars. Your first job was working for Lincoln Mercury Marketing in St. Louis. You wholesaled cars from the factory to dealers in Missouri and Iowa. That job apparently motivated you to be involved in retail dealerships. You were transferred to Atlanta and after five years joined an Atlanta dealer. That was the beginning of lifelong career in automobile retailing. You would buy a struggling dealer, turn it around, and then move on to another dealer needing help. You and Robin moved often from Atlanta to Charlotte to Birmingham to Asheville to Newport News to Birmingham and finally to Savannah. That is why your son Matthew was born in Atlanta, your daughters Lauren in Charlotte and Katherine in Birmingham.
At Newport News, however, you and Robin were again located near the water. You and your father-in-law restored a 36 foot Morgan, and off you and your family and friends continued on sailing at every chance. You prospered as the general manager of a Pontiac dealer. Life was good as your three loves, family, cars, and sailing were all in overdrive. But the siren of challenge was irresistible, wasn't it? You moved back once again to Birmingham and then made another move to Savannah where you assumed the duty of general manager of a Ford dealership. There you bought a Catalina 36 sail boat and christened it "Nirvana". That was an apt name for, with a new sail boat, you and Robin enjoyed the time of your life on the water together. But Savannah was not close enough to the water. So you made the last move to Tybee Island and retired there in 2009.
Your retirement, though, was not spent sitting idly. You did become the chief cheerleader and supporter of Robin who was still working and a doting grandfather for your grandson Tucker. You also remained active in Rotary Club, volunteered for community events, such as Georgia Day and children's parade, and spent many hours at a local hospital. Nurseries were your favorite. You adored babies, you were a great baby rocker, and you had that sweet and tender love for children who returned your love with even more love. You were a fortunate man thriving in the love of your family, friends and community.
You earned the respect of fellow professionals who called you a great "car guy". You were a standout and caring professional who mentored many and revived many struggling businesses. Your Army commander described you as smart, capable, loyal, fun-loving, caring, determined, reliable, and patriotic. Above all you were a loving husband and father, a good man in every conceivable respect, and an exemplar of the Long Gray Line.
Well done, Tom, be thou at peace.
Family, Friends, and Classmates