Mr. Carl August Peterson, Jr.

Cullum: 25847




Class: 1965




Cadet Company: H1




Date of Birth: July 3, 1942




Date of Death: July 2, 2000




Died in Takoma Park, MD




Interred: West Point Cemetery, West Point, NY - View or Post a Eulogy




Location: Sect XXXVI, Row A, Grave 035



---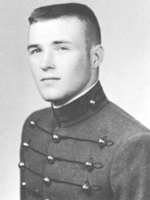 Carl August 'Pete' Peterson, Jr. arrived in the world in Bozeman, MT, on Jul 3, 1942, one of four sons of COL Carl A. Peterson and Helen L. Peterson. Pete came to West Point after a year of study at the University of Montana, joining the Class of 1965 and the U.S. Army.
Pete followed his father, a glider Infantry officer in World War II, with service in three major campaigns, including the Battle of the Bulge, into military service. Pete's dad completed his exemplary military career in 1969 after service as a senior advisor to the V Corps of the Korean Army and as an intelligence officer with the First U.S. Army.
Dick Smoak remembers meeting Pete and his younger brother at the War College in 1955, when both of their fathers were attending, not knowing at the time that he and Pete were to be classmates as their fathers had been. Dick and Pete again saw each other when Pete's dad was stationed in Hawaii in 1958 and the Smoaks landed on a navy transport on their return from Taiwan. Pete was a graduate of Punahou Academy in 1960.
After surviving Beast Barracks, Pete was one of the "lucky" ones who drew the I-1 straw for his first two years. With an easy-going manner, outspokenness, and the knack of not always taking the upperclassmen seriously, Pete had an eventful and not always pleasant plebe year. Perhaps that led to his participation in intramural boxing, despite his slight build. We are sure he gave more than he received, especially when facing an upperclassman opponent.
During his cadet days, Pete tried and participated in a cornucopia of clubs and activities, determined to enjoy cadet life to the fullest. His interests ranged from the Pistol and Rifle Clubs, Spanish language Club, Debate Forum, Camera Club and Models Club, as well as bowling and the Outdoorsman Club. He also found time for dating and, along with Smoak, dated Vassar girls along the way. He was always living life with a ready smile for all.
As the years at West Point progressed, Pete fended off attacks by the tactical and academic departments and spent his last two years in H-1, a collection of unusual characters that, to this day, 45 years plus after graduation, maintain strong contact with each other, keeping alive the memories of all our classmates, fallen and present.
Dick Chafler and Pete had some exciting adventures pre-AOT firstie summer in Europe, traveling from Germany to Italy via Eurailpass, meeting some lovely female companions, and, thanks to Pete's easy-going manner and friendliness and despite language barriers, had an enjoyable time prior to their assignments.
Firstie year saw Pete and the H-1 intramural lacrosse team competing and winning the regimental championship, a fitting end to his cadet days. After graduation Pete was married at Ft. Meade prior to Ranger and Airborne schools and his posting to the 3rd Squadron, 8th Cavalry, 8th Infantry Division, at Coleman Barracks, Mannheim Germany. His fi rst son, Carl A. Peterson III, was born in 1967 in Heidelberg, and his second son, Erik C., was born at Ft. Dix in 1969.
While assigned to the 8th Cavalry, classmates Bruce Clarke commanded A Troop, Keyes Hudson commanded B Troop, and Pete commanded C Troop. In Germany, Pete crossed paths with several classmates who had the "European Sports car bug:" Ono (Porsche), Strassner (Austin Healy), Locurcio (Alfa Romeo), Smoak (Alfa Romeo), and Pete (Alfa Romeo SS). Somehow all survived! Tad Ono commented, "It takes a slightly impractical car nut to drive any Alfa, but it took a special car nut to drive an Alfa SS."
Pete then went to Vietnam to command a troop of the 4th Infantry Division's 1st Squadron, 10th Cavalry, and later serve with distinction as an advisor to the Vietnamese Army in the Mekong Delta. His awards included the Bronze Star, Vietnamese Cross of Gallantry and the Combat Infantryman Badge.
He later served as aide-de-camp to MG Koster at Ft. Meade after Koster had served as Superintendent at West Point. While at Ft. Meade, Pete, Sanchez, Boohar, Westpheling, Letterie, and Kurtz met often at the Broadaxe to swap tall tales and were often joined by Abraham and Tomaswick, thus increasing the size of the tall tales.
Pete left the Army in 1971 and worked for many years in the engineering and construction fields, building pharmaceutical plants overseas as well as in the U.S. He was divorced from his first wife in the mid-eighties and married Roberta W. Brown in 1989. He lived in the Philadelphia area, later relocating to Delaware on the eastern shores of Chesapeake Bay.
Pete was an avid sailor and was able to enjoy this activity for many years. He was severely injured in a fall, however, suflering a severe skull fracture with major complications that eventually resulted in his passing away on Jul 2, 2000, a day short of his 58th birthday. Pete spent his recovery years being cared for by his father in Laurel, MD, visited and encouraged by Kurtz, Tomaswick, Sanchez, Boohar, Smoak and others at the hospital, rehab center, and at home.
Pete was buried at West Point with his classmates and friends who had preceded him. He was one of a kind: a caring, open, easy-going and friendly brother-in-arms who is sorely missed by those who knew and loved him, especially his two sons, Carl III and Erik, his three brothers, and two grandchildren.
Well Done, Be Thou at Peace.