MG Richard W. Tragemann USA (Retired)

Cullum: 25840




Class: 1965




Cadet Company: C1




Date of Birth: April 18, 1942




Date of Death: September 4, 2014




Died in Saint Augustine, Florida




Interred in Ashes scattered in St. Augustine Intracoastal Waters - View or Post a Eulogy



---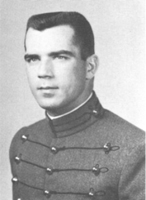 Richard Walter 'Dick' Tragemann was born in 1942 to Richard and Mildred Tragemann in Philadelphia, PA. He was raised in a small, three-bedroom home shared with his parents and three younger brothers (Steve and twins, Fred and Tom). Never one to remain idle, he delivered the newspaper and medicine for a local pharmacy.
During his LaSalle High School days, Dick played football and, his beloved sport, baseball. He achieved all-state recognition in both. After graduating from LaSalle High School in 1960, Dick applied to West Point but spent his first undergraduate year at LaSalle College. In the spring of 1961, Dick travelled to West Point and presented himself to Army Baseball head coach Eric 'Red' Tipton. In his usual self-confident way, Dick convinced Coach Tipton that he would be an asset to the baseball team while expressing his strong desire to attend West Point. Impressed after a training session, Coach Tipton secured an appointment along with a congressional nomination for Dick to enter the Academy with the Class of 1965.
At West Point, Dick quickly earned the respect of his fellow cadets. He continued his passion for baseball and excelled as a smooth fielding, hard-hitting first baseman, earning the admiration of both his teammates and opponents. Dick displayed his leadership potential as a cadet by being selected to serve on the 3rd, 2nd and 1st Class Committees, as well as on the regimental staff during his senior year. The only things Dick loved more than baseball during his time at West Point were his brown boy and his bed. At one point, his relationship with the brown boy earned him a few demerits when the C-1 Tac discovered tar marks on it, which came from Dick using it as a beach blanket on the roof of the C-1 barracks. Dick's love affair with the rack won him the affectionate nickname of 'Bagman' for his ability to hit the rack and be asleep in a flash.
Soon after graduation and prior to his first deployment to Vietnam, Dick met the beautiful Kathy Wills. What began as a short walk on the beach turned into a lifetime commitment. They were married on January 8, 1966 in Kathy's hometown of St. Clair, MI. Together, they raised three children: Rick, Bart and Brooke, who were blessed to be raised by loving parents who guided them through their formative years with a sense of pride in their achievements and individuality.
Dick and Kathy were a wonderful couple who achieved great success in the Army. Dick's dedication to his soldiers was matched only by Kathy's dedication to her husband, her children and the families of those who served under Dick's command. In spite of their achievements in the Army family, neither Dick nor Kathy ever lost their sense of humility or dedication to the many friends they made along the way.
After Dick's retirement from the Army, Dick and Kathy settled in St. Augustine, FL. Their home on the Intracoastal Waterway became the scene of many wonderful memories. Days were filled with Dick's challenges on the golf course and Kathy's fondness for spending time on the water. Most important to both of them were the good times spent with family and friends in the local area.
Kathy passed away in 2012 after a courageous battle with cancer. After 47 years together, in their final days, both Dick and Kathy faced their situations with courage and dignity that defies description. For those who were privileged to call Dick and Kathy "friends," the world will not be the same without them.
Dick's Army career spanned 31 illustrious years of ever-increasing responsibility. Dick entered the U.S. Army as a second lieutenant in the Field Artillery. His first assignment was with the 101st Airborne Division. He was then assigned to the 11th Armored Calvary Regiment in South Vietnam in 1969. From there, he was accepted into the University of Texas at El Paso, where he received his master's degree in operations research. He returned to Vietnam for his second tour with the 173rd Airborne Regiment. During his tours in Vietnam, he commanded four different Firing Batteries, a testament to his leadership and competence. From 1973 to 1975, Dick was a student at Command and General Staff College and worked in the Army's Operational Research Analysis Department. He was then selected for his assignment with the 25th Infantry Division in Schofield Barracks, HI, where he excelled as Battalion S3, Assistant Division Operations Officer and Division Training Officer. From 1978 to 1980, he served at MILPERCEN in Washington, DC as an Army Personnel Research Analyst. Dick then commanded the 3rd Cannon Training Battalion at Fort Sill, OK from 1980 to 1983. Dick was selected to be a resident student at the highly prestigious U.S. War College. After a year at the Pentagon, Dick took command of the 101st Airborne Division (AASLT) DIVARTY. From 1988 to 1990 he served with U.S. forces, Korea. His three subsequent positions were all general officer commands: 18th Airborne Corps Artillery at Fort Bragg, NC; Training Analysis Research Command at Fort Leavenworth, KS; and Army Test and Evaluation Command in 1996 at Aberdeen Proving Ground, MD.
He retired from active duty in 1996. His military decorations and badges included the Legion of Merit with Oak Leaf Cluster, Bronze Star Medal with "V" device and three Oak Leaf Clusters, Air Assault Badge, Senior Parachutist Badge and Ranger Tab.
Dick will be missed by all who knew him and will remain in our hearts always. Job well done father, friend, classmate and Soldier.