Charles Edgar Wuertenberger

Cullum: 25839




Class: 1965




Cadet Company: H2




Date of Birth: April 13, 1942




Date of Death: January 17, 1968 -- in Vietnam from hostile action.




Age: 25 years, 10 months and 5 days young. - View or Post a Eulogy




Interred: West Point Cemetery, West Point, NY




Location: Sect XXXIV, Row E, Grave 192




---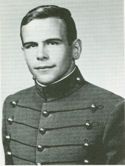 IN VIETNAM ON 17 January 1968, B Company, 2nd Battalion, 14th Infantry was ambushed by a large enemy force. Captain Charles E. "Chuck" Wuertenberger was killed in the ensuing action. For his gallant actions during this encounter he was awarded the Silver Star.
Chuck Wuertenberger was born on 13 April 1942, the first baby born at the Fort H. C. Wright Station Hospital, Fisher's Island, New York. He was raised in Geneva, New York where he excelled in sports and academics. He participated in football, wrestling and lacrosse, lettering three years in all of these sports and acting as co-captain in football and wrestling his senior year. He was also elected class president in his junior year in high school and student body president his senior year. He entered West Point in 1961 with the class of 1965. While there he participated in all sports and was recognized as the outstanding intramural athlete in 1963 and again in 1965. Upon graduation he attended Airborne and Ranger Schools and then was assigned to the 24th Division in Germany. As the operations officer of the V Corps Long Range Patrol Company, he worked closely with German units and helped train a German Long Range counterpart. In December 1966 he returned to Indiana to marry Tamera and in 1968 he was assigned to Vietnam where he was killed. Bradley Charles Wuertenberger was born to Tamera on 16 May 1968.
The chronicle above gives one a quick brush of an individual s life, but the memories of any loved one are never really tied to dates or achievements. To have known Chuck is to recall how he loved a challenge, either physical or mental. The sports he enjoyed were demanding both physically and mentally. In wrestling he never had trouble making weight. He would survive on salad and water for a week at a time and never consider that any great sacrifice. This mental toughness was evident even when he was 12 years old and took on a morning paper route, which he held all through high school. He would deliver his papers at 5:00 a.m. and then come home and religiously do his pushups before breakfast and school. This discipline and conditioning stood by him well as those who were with him at West Point, Airborne, and Ranger schools remember that the cadre were constantly frustrated in their attempts to break Chuck down with that old "drop and give me 20."
He loved a mental challenge and often went out of his way to engage in arguments about politics or religion (subjects that people usually say should never be argued). He could argue as a staunch Catholic against an atheist and then turn right around and argue as an atheist against a Catholic. This seeming irreverance poorly concealed his strong love of God and his fellow man.
Chuck was the most positive of individuals. He had the uncanny ability to find beauty or good in the bleakest situations. During a Hawaii vacation he came near drowning in an 8-10 foot surf. Pulled out beyond the pounding shore breakers and out of immediate danger, he commented to his rescuer that the rainbows made by the sun shining through the wind-whipped spray were the most beautiful he had ever seen. This ability to turn negatives into positives was admired by all who knew him.
Chuck's insight and thoughtfulness were often hard to see through his physical and mental toughness. It was frequently brought out in letters to his parents and others. During "Beast Barracks," a letter to his parents concerned an upperclassman's dismissal based upon a new plebe's testimony, He wrote, "What meaning does honor [have] if a plebe who busted out and an outraged mother command more respect of their honesty than a cadet who has conducted himself honorably for two years in the Academy?" His admiration for the dismissed upperclassman and the Military Academy was evident as he continued with, "If this is what the Academy can build, a man who, though smashed, can pick himself up and begin to strive to reach his goal ... a man who does not make excuses or look for sympathy, then I am happy I am going to be part of it." This insight was even more remarkable when one realizes that most plebes at this stage were concerned solely with their day-to-day existence.
To remember Chuck is to recall specific incidents that one may have shared with him. They may only last an instant but the sum of them make up a lifetime. In this way Chuck lives on in our hearts and minds.