Mr. Bruce R. Marshall

Cullum: 25838




Class: 1965




Cadet Company: M1




Date of Birth: May 25, 1943




Date of Death: April 27, 2021




Died in: Pheonix, MD




Interred: Arlington National Cemetery, Arlington, VA - View or Post a Eulogy



---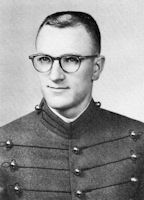 To date no one has volunteered to prepare the Memorial Article for Bruce Marshall. If you have remembrance of Bruce that may be included in his Memorial Article or if you wish to take on the task of memorializing him please contact Chuck McCloskey at ccmccloskey@yahoo.com.
Obituary
Bruce Roland Marshall, 77, of Cockeysville, Maryland died on April 27, 2021 from injuries sustained in a cycling accident. He was born May 25, 1943 in Hattiesburg, Mississippi to Lt. Col. George Lewis Marshall and Doris Young Marshall.
He graduated in 1965 from The United States Military Academy at West Point. He was a graduate of the US Army Ranger school and served as an American Advisor to a Vietnamese combat unit. He was awarded the Purple Heart, the Bronze Star, the Combat Infantryman Badge and the Vietnam Service medal. He furthered his studies and received a master's degree in Systems Management from the University of Southern California.
Bruce was an entrepreneur and a Certified Financial Planner who guided many clients with his motto of "Dream It, Plan It, Do It!" Once retired, he focused on his many passions including Toastmasters and the outdoors. He was an Eagle Scout who had the opportunity to go to Philmont Scout Ranch three times, first as a scout, then with his son, and finally with his grandson. He enjoyed mountain climbing and at the age of 73 summited Mt. Kilimanjaro.
Bruce was predeceased by his parents. He is survived by his daughter Amy McDaniel and her husband Bill McDaniel and their children Benjamin and Katharine of Columbia, MD; his son Lance Marshall and partner Angie Chadwick of Walhonding, OH; his brother Col. Douglas Marshall and wife Pat Marshall and their sons Kenneth and Kyle of San Antonio, TX; his former wife Janice B. Marshall of Columbia, MD; and his partner of many years Jane Trommatter of Cockeysville, MD.
Christian burial and inurnment at Arlington National Cemetery will take place on a future date. In lieu of flowers, the family requests donations to Bike Maryland (www.bikemaryland.org)