Michael Momcilovich

Cullum: 25835




Class: 1965




Cadet Company: C2




Date of Birth: September 13, 1943




Date of Death: May 5, 1968 -- in Vietnam from hostile action.




Age: 24 years, 8 months and 19 days young. - View or Post a Eulogy




Interred: West Point Cemetery, West Point, NY




Location: Sect XXXIV, Row D, Grave 173




---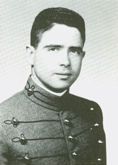 To know Mike was to know the world, for Mike loved life and shared life's goodness with all who knew him, whether passing by strangers or spending hours with lifelong friends. He was a quiet man, an unassuming solider who performed his duty as God and man taught him his duty. Mike was comfortable in the most challenging situations from daily academic recitations to the most competitive of physical endeavors. His having a broad understanding of the political military issues of the day no doubt influenced his relaxed manner. His insights were honed by his father's active duty assignments in Korea and Japan and formed a base upon which Michael's perspectives, enjoyments and understandings were created.
I recall vividly a visit he made to my home to celebrate Thanksgiving 1964, with my family, and grandmother. It was as traditional a Thanksgiving as one might hope for. Around the table, each spoke humbly about the challenges that faced us. There was no talk about Vietnam or even exciting thoughts of assignments in Germany and other bastions of global power. After obligatory training, the West Point Class of 1965 was ready to test its mettle at the branch and specialty schools. And so, leaders began to focus their efforts on the most basic skills taught at the specialty schools, where they would learn critical skills of lieutenant's and other small unit leaders. Enthusiastically, Mike headed for the rigors of Ranger School and flight training.
Mike's first assignment in the regular Army took him back to Germany, where he reveled in the day-to-day missions of the allied Air Cavalry assigned to deter the communist operations along the inner-German border. Mike's routine of border patrols was dramatically curtailed as the United States began to shift its global forces from the NATO front in Europe to the threats of communist's forces in such places as Vietnam, Korea and China.
Mike's love for flying continued as he redeployed from Germany to South Vietnam. He loved the responsibility that came with command just as he loved the heat and exhaust from helicopters returning from yet another mission. His own initiation to the realities of helicopter operations in a hostile environment began shortly after his arrival in country on 27 September 1967. Little knowing that the next six months would see dramatic increases in the combat resources deployed by both sides of the conflict. Calm and cautious Mike continued to fight the helicopter war along the South China Sea. In the Spring of 1968, Mike was selected to participate in transition training to the highly upgraded combat fighter helicopter designated the AH-1G.0. In a chance encounter on the tarmac at Tan San Nhut, Airport, Saigon, Mike extolled the virtues of the renowned APACHE to his former roommate. We spoke as dottering fathers -- of a daughter born, but not yet seen, and of a daughter yet to be born and never to be privy to the awe of a dottering father.
Michael was eager to return to his unit to test further the improved capabilities of what was then, and is now, arguably the best helicopter in the world. For Mike, the argument turned moot. While some maintained it was a routine non-combat mission, Mike turned his helicopter to Sharon Base where he would be secure for the night. His decent, however, was interrupted by hostile fire that, in a short time, consumed Aircraft AH – 1G 19500, tail number 67 – 15500. The crash site was a few miles inland from the coast of I Corps, which was the northern most of Vietnam's four major political regions. For the record, Michael Momcilovich Jr. was killed in action on 5 May 1968 from an incident that occurred while performing his duty as pilot.
On many a memorial seen across this vast land, one can see the saying, "some gave all, all gave some." Mike gave all -- certainly all that can be asked in the 24th year of one's life.
John Alger