James Ewell Echols

Cullum: 25834




Class: 1965




Cadet Company: F2




Date of Birth: December 4, 1942




Date of Death: June 27, 1970




Died in Northway, AK




Interred: Marietta National Cemetery, Marietta, GA - View or Post a Eulogy



---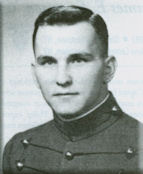 James Ewell Echols III was born to LT James Ewell Echols, Jr. and his wife Barbara on 4 Dec 1942 in Atlanta, GA. Jim's brother Ted was born in 1947 and his sister, Gail in 1953. Growing up, Jim enjoyed the military lifestyle while the family was stationed at various posts in the United States as well as Heidelberg, Germany. As a teenager in Germany, he participated in school activities, learned to ski, and absorbed the German culture and language. He and his family traveled throughout Europe, including Italy, Greece and Turkey. These foreign cultures significantly influenced him and instilled a sense of compassion for those less fortunate, but at the same time gave him a lasting appreciation for the uniqueness and beauty of the United States.
Back in the United States as a student at Baker High School, Jim excelled academically while also enjoying baseball, football and basketball. His ability to balance academics and enjoy a social life was evident when he was elected senior class president. He graduated with honors in June 1960. Jim's deep admiration of his father and an appreciation of military life already had led him to decide on a career in the Army. He wrote in his application to USMA Preparatory School that he desired "to attend West Point to obtain the background and education which I will need in order to serve my country to my fullest capabilities as an officer in the U.S. Army." At Prep School, Jim received the Good Conduct medal and made lasting friendships with classmates who would follow him throughout his military career.
In 1961, Jim received a Presidential Appointment to West Point and became a member of 'Strength and Drive', the Class of 1965. At West Point, he continued his love of sports, including skiing and sailing, and was a member of the Brigade Championship Handball Team. Something very special happened during his Yearling year when a classmate, Ed Armstrong, introduced Jim to Nanette (Smokey) Fabares from California. They were engaged the following year and married in the Cadet Chapel at West Point on 10 Jun 1965.
Following a honeymoon to Florida, Jim and Smokey arrived at Ft. Campbell, KY, for his first assignment with the 'Screaming Eagles', the 101stAirborne Division. His time there was bittersweet as Jim and Smokey rejoiced in the birth of their daughter, Michelle, but also learned of the tragic death of his 19-year-old brother, Ted. Jim and Smokey continued to make lifelong friends including MAJ and Mrs. Hank Van Gorder, who became Michelle's godparents.
In August of 1967, Jim was assigned to advise the ARVN Airborne Division on personnel matters. For his service, he received from MG De Quacc Dong the Gallantry Cross with Bronze Star. The accompanying citation stated that "through his participation in the Tran Hung Dao campaign as well as in the operation in the outskirts of the capital city, he has demonstrated courage, braved danger under hostile fire, calmly joined his Vietnamese fellow fighters in directing fire, providing effective support for the fighting units to inflict heavy losses on the enemy in lives and weapons." Jim also received the Bronze Star for his service in Vietnam.
Jim then attended the Field Artillery Advanced Course at Ft. Sill, OK, and began to develop his artistic talents by drawing and painting in pastels, charcoal and oils. He was so prolific that soon there were no empty walls for new artwork. This necessitated having art shows to sell existing works to make room for new ones and to earn money for new supplies.
Jim next received orders to the 171st Infantry Brigade at Ft. Wainwright in Fairbanks, AK Always the outdoor enthusiast, Jim decided the family should camp its way along the Alcan Highway for the entire 4,100 miles to Fairbanks. After 20 nights of pitching a tent and cooking all meals and at times experiencing rain, snow, sleet and subfreezing temperatures, the family finally arrived in Fairbanks, never to tent camp again.
At Ft. Wainwright, he assumed his duties as assistant brigade operations officer. While there, Jim was greatly saddened by the sudden death of his mother from a massive heart attack. His mother's death, along with the compassion he had always felt for those less fortunate, led him to examine his life's direction and decide to pursue a career in medicine. Jim made plans to travel to Washington, DC, to request assignment to medical school from OPM. Being the adventurous type, Jim accepted a ride with MAJ Jerry Holliday, the brigade operations officer and Jim's boss, who happened to be ferrying a Cessna 172 to Washington, DC. The two men and a third passenger left Ft. Wainwright on the morning of 27 Jun 1970 in marginal weather conditions. When they did not arrive at the scheduled stopover in Whitehorse, Yukon Territory, Canada, a two-week search began and ended without success. On July 18, a bush pilot spotted the wreckage of their plane 30 miles south of Northway, AK. The plane had crashed into the side of a mountain with no survivors. Jim was only 27 years old.
His body was escorted by his West Point classmate and friend, Bob Hill, to Atlanta, GA, where he was buried with full military honors next to his brother and mother in Marietta National Cemetery. Although his death was extremely tragic, leaving behind a loving wife and daughter who still miss him greatly, he was able in his short life to touch many people's lives with his genuine friendship, quiet enthusiasm, dry sense of humor and most of all his service to the country he loved so much.
In 2001, to honor her father, Michelle asked her "Uncle Hank" Van Gorder to give her away at her wedding in his dress blues. Michelle was touched when both her "Uncle Hank" and Bob Hill shared stories with everyone about the kind of man her father was.
-In loving memory,
Smokey Echols, his widow,
with assistance from family and friends