William Craig Bradley

Cullum: 25822




Class: 1965




Cadet Company: C2




Date of Birth: July 20, 1941




Date of Death: November 26, 2002




Died in Kalamazoo, MI




Interred: St. Joseph Cemetery, Suffield, CT - View or Post a Eulogy



---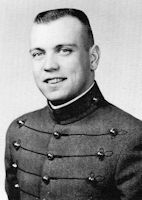 William Craig "Bill" Bradley Jr. was born in San Raphael, CA to William and Estell Bradley. Bill's sister, Barbara, was born two years later. Bill graduated from San Raphael High School in 1959. Captain of the football team, class president, student council president, honor roll student, and recipient of a scholarship to Stanford, Bill decided on West Point via the USMA Preparatory School.
Bill reported "to the Man in the Red Sash" on July 5, 1960. Fortunately, Bill's innate leadership qualities were recognized early. Late in plebe year, the Academic Department determined that Bill would benefit significantly by repeating plebe year with the Class of 1965. Bill returned in August 1961. His new classmates in Company A-2 remembered him as friendly, helpful, funny, and comfortable with his own company.
Bill incurred a knee injury in 1963. His surgeon, Captain Carl Croft, USMA '59, recognized Bill's fine qualities, and invited Bill for supper. Passing muster, on the next visit, Mrs. Croft introduced Bill to her sister, Dale Leticia "Tish" Moore.
Bill went to Company C-2 his last two years. His roommate wrote Bill's Howitzer entry: "The pride of Marin County came to West Point with an affection for books, love of food, and fondness for good music. A five-year man, and a devoted Catholic, Bill is well known for his devastating humor, directness, hard work, and outspokenness." Bill's is the only entry among 596 to mention the cadet's religion. Bill was a devout man.
Bill's family came for graduation. At the end of graduation, Bill and sister Barbara drove all the way back to California in his 1965 Volkswagen (with manual transmission).
Bill reported to Fort Benning, GA in September for Airborne and Ranger schools. Ray Woodruff and Charlie Eckart were in Bill's Ranger class and would subsequently report with Bill to the 8th Signal Battalion at Bad Kreuznach, Germany. Ray described a mishap Bill experienced in Ranger School, the intimidating "log walk-cable drop." While crossing the 30-foot high, one-log wide, over water bridge, a classmate ahead dropped off the cable into the water. The vibration from the heaving cable shook the bridge. Bill lost his balance and crashed prone and hard onto the water. Shaken, he pulled himself out, went back up the ladder, and completed the last event in Ranger School.
Bill and Tish married on November 14, 1965. Bill, Ray, and Charlie, and their wives, soon found themselves in Germany. Vietnam notwithstanding, the Soviet Union was a serious threat to NATO.
Bill was assigned as the support platoon leader. Charlie noted: "The platoon lays miles of cable each time we go to the field. A challenging platoon to lead in the field and in garrison, much of Bill's time was devoted to solving his men's personal issues. Next, Bill led the Division Main Platoon. Communications can never be established quickly enough for the senior officers. Bill's unflappable manner pulled him through with flying colors on each monthly field exercise."
Amid all this, Anne was born in June 1967. Charlie wrote: "One of my most vivid memories of Bill and Tish was when Tish brought Anne into the battalion area. There was Bill, holding his little, tiny bundle." On that afternoon, Anne was "The Daughter of the Regiment."
Ray noted, "We were all sent to Vietnam in November 1967." Bill served with MACV units and received the Bronze Star Medal and the Army Commendation Medal for meritorious service in ground operations.
Home from Vietnam, Bill, Tish, and Anne moved to Fort MacArthur, CA. Bill was assigned to the Sixth U.S. Army Headquarters. Jennifer arrived in March 1970, qualifying her, also, in sense, as a "Daughter of the Sixth Army."
Bill resigned his commission in 1970 and moved the family to Aiken, SC. Bill enrolled in the University of South Carolina, earned a master's degree in business management, and was hired by Kimberly Clark in Aiken.
In 1978, an opportunity arose with a company in Memphis that made "Super Bubble" bubble gum. A little girl at the time, Jennifer recalled how she talked with her father about the dangers of smoking his pipe. Bill listened, and he never smoked again. Bill and Tish continued to be home centered and to become bountiful gardeners and canners.
In 1981 the family moved to Bloomington, IN, where Bill was employed by Union Camp Paper Company. Tish started another garden. In 1983, Bill received a promotion and moved to a Union Camp position in Franklin, VA.
In 1985, Anne was off on her eight-year journey to become a board-certified surgeon. Jennifer followed two years later to Mary Baldwin College earning a B.A. in business and accounting.
In 1992, warmer weather and a paper company in Texas beckoned. After two years with the company, Bill sensed something was not right within the organization. Following their strong moral compass, Bill and Tish decided to leave.
With a work ethic second to none and a solid professional reputation, Bill quickly found a plant manager position with the Fletcher Paper Company in Portage, MI. Tish tended another garden.
Bill continued to be strong in his faith and active in his parish. Life was smooth for the couple until 2001 when Bill was diagnosed with acute myeloid leukemia. Bill passed away in November 2002. A sad footnote, Bill's father had passed away in California only two months earlier. After Bill's death, Tish moved to Rock Hill, SC to be near Jennifer. Tish passed away on February 6, 2016. Bill and Tish are buried side by side in Suffield, CT.
Bill is missed by his family and all who knew him.
— Jim Murphy, Ray Woodruff, Charles Eckart and Dean Loftin, classmates