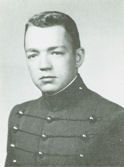 HIS FAMILY AND FRIENDS knew him by many names -- "Billy," "Bubba," "Mitch," and probably his favorite, "Daddy, Sir." William Brown Mitchell came to West Point in `96` from his home in Paris, TN, a true son of the south. From the 6th New Cadet Company, he moved to Company M-1, where he and his classmates endured a rougher-than-average Plebe year. As a plebe, Mitch excelled in boxing. He was quick and tough--in a very deceptive way--with good endurance. He did well in intramural competition and, later, won the 135-pound weight class at Buckner.
One of Mitch's Plebe year highlights was his parents' visit during Christmas. He proudly introduced his parents and his brother Joe to his classmates.
Mitch is probably most famous in the Class of '65 for a stunt that became legendary in the Corps. Mitch was no stranger to a practical joke, but brought his best to Company L-1 as a Firstie. No one could tell this story like Mitch, but the ingredients of the stunt were a trash can, a roll of toilet paper soaked in water and liberally sprinkled with talcum powder, and a cherry bomb that was set off in a classmate's room immediately before Saturday morning inspection. As Mitch put it, pieces of toilet paper were glued to the walls and the talcum powder was still in the air when the TAC and the CQ hit the door.
For Mitch, it was the Infantry and only the Infantry. His first assignment after Airborne and Ranger Schools in 1965 was with the 101st Airborne at Ft. Campbell. Mitch was very proud that he took his platoon to West Point during the summer of 1966 to help train the yearlings at Camp Buckner.
From Ft. Campbell, Mitch went to the 1st Infantry Division in Viet Nam, where he was a company commander and aide to GEN Bernard Rogers. Later, he served with the Special Operations Group under COL Singlaub. He spent a total of 29 months in Viet Nam and won two Silver Stars, two Bronze Stars for Valor, 15 Air Medals, and two Purple Hearts. After Viet Nam, Mitch was assigned to the Embassy in Hong Kong, where he met and married the love of his life, Sakina.
Mitch and Sakina returned to Ft. Benning, where Mitch was assigned to the Ranger School. At Ft. Benning, he put in for a transfer to the Air Force. As he put it then, "I can put a bigger hurt on the Cong with an F-16 than with and M-16.
When Mitch's request for a transfer to the Air Force was denied, he put on his civilian clothes, went out to Columbus, and took and passed the qualifying test for flight school. He then resigned his Army commission and immediately was sworn in as an Air Force officer and assigned to flight training. Mitch lived the words of his fellow Tennessean, Davy Crockett, "He made sure he was right, and then he went ahead," albeit sometimes using unconventional means to get to where he needed to be.
Mitch was an outstanding Air Force officer and pilot. He served in many places, with some of the more interesting being bases in Germany, Italy, Belgium, and Turkey. While stationed at Bitburg, Germany, in 1974, Mitch's and Sakina"s daughter Leslie was born. Over the years, the father--daughter relationship between Leslie and Mitch flourished in a special way that you had only to see them together, or hear Mitch talk about her, to recognize.
Mitch retired from Active Duty in the Air Force in 1993. He worked in securities marketing for a few years but decided that was not for him. Mitch found a new career. He had tremendous mechanical aptitude and had completely torn down and rebuilt a 1964 Corvette. He had developed a strong interest in Harley-Davidson motorcycles and liked to ride as often as he could. While "between jobs," he happened to be at the local Harley-Davidson dealership buying a part when he overheard the owner tell a disappointed customer that his shop would be unable to fix the man's motorcycle in time for use during the coming weekend. Mitch walked out of the dealership with the man and told him he would take a look at the motorcycle. Mitch got his tools and proceeded to repair the Harley right there in the dealership parking lot. As he was doing so, he was confronted by the angry owner of the dealership, who accused him of stealing business. Mitch reminded him that he had turned the customer away. The dealer, recognizing Mitch's candor and, more importantly his skill in repairing the Harley, promptly offered him a job. In very short order, he was the manager for the Custom Accessories Division of the dealership. During that time, he developed many friendships with bikers who, until the time of his death, had absolutely no idea of his military background.
In September 1996, Mitch started to feel poorly. He sought medical assistance and was told he either had arthritis or the flu. It was not until the spring of 1997 that, after exploratory surgery, he was diagnosed with a rare form of small cell cancer that was determined to be untreatable. Although in tremendous pain, Mitch lived out his time on this earth with the same steadfast but quiet courage that characterized his entire life.
In addition to his family and close friends, Mitch's funeral was attended by a contingent of 75 bikers who escorted him--via a column of Harleys--from Manassas, VA, to Arlington National Cemetery, where they rendered their final salute.
The 54 years he spent on this earth were used to their fullest by William B. Mitchell. From a professional standpoint, he lived life in an unconventional manner, but he got where he needed to go for the benefit of his country, his family, and his friends. Be thou at peace.
He spent a total of 29 months in Viet Nam and won two Silver Stars, two Bronze Stars for Valor, 15 Air Medals, and two Purple Hearts.