Mr. Edwin H. Klink

Cullum: 25807




Class: 1965




Cadet Company: E1




Date of Birth: May 18, 1943




Date of Death: June 24, 2008




Died in Scottsdale, AZ




Interred: Cremated. Inurner - View or Post a Eulogy



---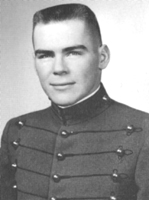 Edwin Howard Klink grew up in Delmar, a suburb of Albany, NY, the middle of three boys of Irving and Virginia Klink. He graduated from Bethlehem Central High School, where he was the typical BMOC—Vice President of Student Council; member of Honor Society; letterman in football, basketball, and baseball; King of the Junior Prom; and named "Most Athletic" in the yearbook.
Ed arrived at West Point in July 1961 with the Class of '65. After being a starter on the plebe football team and playing his yearling year, Ed decided to forgo football to concentrate on academics. While he sometimes had difficulties with the academics, his fierce work ethic always got him through. One of the most enjoyable experiences for Ed was being a Rabble Rouser (cheerleader) at a time when some of the rallies in the Mess Hall nearly turned into riots. Throughout his time in high school and at West Point, Ed dated Judy Jernigan, and they were married six weeks after Ed graduated from West Point.
After graduating from Airborne and Ranger schools, Ed's first assignment took him to Germany for nearly two years. He then deployed to Vietnam as an advisor to an ARVN Airborne unit. Just before Ed was scheduled to meet Judy and their son Doug (who was born a few months after Ed had left for Vietnam) in Hawaii, the Tet Offensive commenced, and Ed's R&R was canceled, leaving Judy and Doug in Hawaii with no idea of when or if Ed might arrive. Ed never did make it to Hawaii as the unit he was advising was airlifted into the center of Hue during the heaviest fighting of the offensive. When Ed returned to the States from Vietnam, doctors discovered that he had hepatitis, and he spent several months in the hospital and at home recovering. Following his recovery, he was assigned to Ft. Jackson in Columbia, SC, and after a fairly short stay there, he returned to Vietnam for a second tour, this time as a liaison between Army and Air Force units. That tour was cut short when Ed resigned his commission and was discharged from the Army in February, 1970.
In the fall of 1970, Ed entered Harvard Business School, where he obtained his MBA degree in 1972. During his second year, he was a Baker Scholar. While at Harvard, Ed and Judy had their second child, Ginger. Following his graduation from Harvard, Ed worked in the Boston area for a couple of years, first as a securities analyst and then in commercial real estate. In 1974, he decided that he would relocate to Indianapolis, IN, where Judy's sister lived with her husband, Mike Huston, a West Point classmate of Ed's who he had set up with Judy's younger sister on a blind date when they were yearlings at West Point.
Ed obtained a job with Curtis Publishing Company in Indianapolis and, after working there for a year, went to work for another company. During this time, Ed and Judy's third child, Betsy, was born. Ed always wanted his own company, so in 1977 he and Al Hubbard, his best friend and classmate from Harvard Business School, bought a small company in Indianapolis that manufactured and sold automotive reconditioning chemicals for car dealerships and reconditioning shops. They renamed the company Car Brite and grew it to be the industry leader in the market before they sold the company to Valvoline Oil in June 2005. During the time they owned Car Brite, Ed and Al formed a holding company, E&A Industries, which bought, grew, and then sold numerous companies in a variety of industries. They remained business partners and best friends until Ed's death.
In the mid-90's, Ed lost his passion for business but was not ready to retire. While retaining his ownership in E&A but backing away from its day-to-day operations, he began his quest for a second career. He began by taking a drawing course at the Heron Art School in Indianapolis with his new wife, Sheila (he and Judy had been divorced several years earlier). Immediately, he knew what he wanted to do in the next stage of his life. Showing the same work ethic and commitment that had gotten him through West Point and made him so successful in business, he set out to become an artist. He took numerous classes and seminars, studied with an artist in Corrales, NM, for six months, and then moved to Santa Fe, NM, to study with two artists there. He and Sheila fell in love with Santa Fe and settled there. Ed became a renowned artist, and his paintings were displayed at numerous galleries across the country. When the Class of '65 had a mini-reunion in Santa Fe, Ed and Shelia graciously hosted a cocktail party at a gallery displaying Ed's paintings and gave one of Ed's paintings to a classmate in a raffle. Before the cocktail party, all of the classmates had been told that one of them was a renowned artist and were asked to guess who it might be. Not one single classmate guessed it was Ed Klink.
Another passion for Ed in his semi-retirement was fly fishing. He made numerous fishing trips across the country and around the world. His most cherished fishing trips were those he took with his son Doug. Ed also cherished the time he was able to spend with his three children, their spouses, and his seven grandchildren.
The following passage, which appeared in the program for his memorial service held in Indianapolis, truly reflected Ed's view
of life:
In the end, all that really matters is
How well did you live?
How well did you love?
How well did you learn to let go?
Ed, we all miss you. Well done, and Be Thou at Peace.
— Michael J. Huston '65

admin