LTC Colin O. Halvorson USA (Retired)

Cullum: 25799




Class: 1965




Cadet Company: M2




Date of Birth: September 1, 1942




Date of Death: June 13, 2020




Died in: Alexandria, VA




Interred: Arlington National Cemetery, Arlington, VA - View or Post a Eulogy



---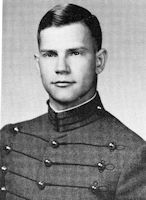 Colin Oliver Halvorson was born in Mandan, ND to Oliver and Margaret Halvorson on September 1, 1942. He was the eldest of six children. His father served in the European Theater in World War II.
Colin left us to join the Long Gray Line on June 13, 2020, his 55th wedding anniversary. He is survived by his lifelong spouse, Muriel Lindemann Halvorson; children: Holly, Steven, and Daniel; sisters, Fern Boeder and Faye Warner; and brothers: Dana, Wayne, and Dale. Speaking for his siblings, sister Fern said: "We are all so proud of our brother. He was a leader, and he was the best to us."
After graduating from Enderlin High School in North Dakota, Colin attended Concordia College in Minnesota for one year before receiving his appointment to USMA. Cadet Halvorson joined the West Point Class of 1965 from North Dakota with a smile, self-confidence, an uncommon self-reliance, and a positive attitude that remained with him for a lifetime. His classmates called him Toby. He traded the Minnesota Boundary Waters for the Hudson River and joined the West Point Sailing Team. He was an Eagle Scout who was a four-year member of the West Point Scoutmaster's Council and the Order of the Arrow. He continued these scouting activities into parenthood by mentoring his three children and many others in scout activities. In 1963, he joined his perfect cadet company, M-2, "where the smiles outshined the shoes." His Howitzer prediction included "… always ready to extend a helping hand to all those in need." Whoever wrote that knew Colin Halvorson.
He and Muriel married in North Dakota shortly after his graduation and embarked on 22-year active-duty Army career together, followed by 28 more years serving the military as a consultant and teacher.
Colin's 22-year active-duty career included five years of troop and combat duty, three years of professional schools, three years at West Point, and 11 years of staff duty in Washington.
His greatest service and impact was as a young Armor officer who saw infantry combat in Vietnam. He served one tour of combat duty in Vietnam with the 11th Armored Cavalry Regiment and second with the 101st Airborne Division. He subsequently attended the University of Colorado, the Army Command and General Staff College, the Army War College, and served a tour of duty in Germany. In the senior stages of his career, he was offered command and promotion that he declined in favor of family needs. He retired as a lieutenant colonel in 1987.
His awards and decorations included two Legion of Merit medals, two Meritorious Service medals, Bronze Star with "V" device, four Air Medals, and two Army Commendation Medals. He graduated from the Airborne and Ranger schools and earned the Combat Infantryman Badge. He was an Armor officer with infantry training and combat experience.
After military retirement, Colin used his operations research and personnel management skills to serve in various consulting and teaching roles, including 15 years with the Army Force Management School at Fort Belvoir, VA. He fully retired in 2020.
A memorial for Lieutenant Colonel Halvorson is to celebrate a man who was a lifelong teacher for his children as a Dad, his soldiers as a combat officer, his West Point cadets as a tactical officer, and his fellow Army officers.
Muriel remembers a happy life with beach trips and ski holidays. She looks back and appreciates Colin to be a Dad who gave as much as he could to make family life good for everyone.
His grown children appreciated a father who taught them practical life skills and experiences and assured each the emotional encouragement and support when it was needed.
They collectively recall a Dad who taught them how to make roller derby cars and campfires, how to bait hooks, clean and cook fish, how to change oil in the car and use every kind of tool to fix and build things. He was always there and quietly supporting what they were doing. He taught them that one had to work for things in life and take responsibility for developing skills that one wants.
His daughter said that: "He always showed up for us when he knew we needed him. He had a way of remaining calm and peaceful in the face of conflict and his groundedness allowed us and others to feel secure and content around him." And she fondly recalls that when the brothers went on scout outings, Colin always included her—providing her with a separate tent.
One son cannot forget completing a 20-mile hike for a merit badge with his Dad with him every step of the way and still remembers how important he felt accompanying his Dad to the Pentagon. And another remembers that Colin was a true light in the eyes of his children. Later in life, all the grandchildren constantly asked to visit him and were so excited when he would visit them.
Toby's classmates and Army friends cannot forget his dry wit, self- reliance, dependability, and perpetual good mood. His generosity was a trademark. Everyone knew he would rather give than receive, except in his cherished card games.
Many have enjoyed that much of his personal correspondence ended with the complimentary close of "Cheers," the perfect descriptor of the man.
Your family and the Class of 1965 salutes and thanks you, Colin Halvorson. Yours was a life well lived by the guiding light of Duty, Honor, Country. Well Done; Be Thou at Peace, and be proud of your life. Cheers!