LTC Nathan H. Kniker USA (Retired)

Cullum: 25798




Class: 1965




Cadet Company: L1




Date of Birth: January 17, 1943




Date of Death: April 2, 2020




Died in: St. Charles, MO




Interred: Jefferson Barracks National Cemetery, St. Louis, MO - View or Post a Eulogy



---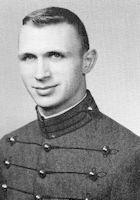 Lieutenant Colonel Nathan Hall "Nate" Kniker passed away on April 2, 2020 in St. Charles, MO after a lengthy battle with bacterial meningitis. During his seven months of hospitalization, with his spouse, Alice, always by his side, Nate was determined to beat this disease and fought a courageous battle right until the very end. When he realized that he would probably not survive, he requested that Alice let everyone know that he went down fighting, during which he never said a harsh word nor refused to do anything the doctors and nurses asked him to do.
Nate was born on January 17, 1943 in Booneville, MO, the second child of the Reverend Alvin and Wanda Kniker. He attended the local elementary school and, in 1961, graduated from Okawville High School in Illinois, where he excelled as a basketball player for four years and served as class president. Upon graduation from high school, Nate realized his childhood dream of attending West Point when he received his appointment to enter the Academy as a member of the Class of 1965. While at West Point, he was a four-year member of Company L-1, during which he participated in plebe corps squad track and several Academy extracurricular activities. He was a superb athlete and was a valuable member of numerous company intramural teams. Nate did well in all aspects of cadet life and was known for his friendly disposition and willingness to help his classmates with their needs. Nate was respected by all, and he met all challenges calmly and with resolve.
Upon graduation, Nate was commissioned into the Infantry as a second lieutenant. After he completed Airborne and Ranger schools at Fort Benning, GA, he was assigned to the 101st Airborne Division at Fort Campbell, KY. While there he served as an infantry platoon leader. Following this assignment, he deployed to South Vietnam as a combat adviser to a South Vietnamese infantry unit, followed by a second assignment to Fort Campbell. In 1969 he returned to South Vietnam and served in the 4th Battalion, 9th Infantry (Manchu), 25th Infantry Division as an infantry rifle company commander. During this tour of combat duty, he was wounded and received the Purple Heart Medal, the Bronze Star Medal for bravery with three oak leaf clusters, and the Air Medal. After he attended the Infantry Officer Advanced Course, he became an ROTC instructor at Northern Illinois University, where he received his master's degree in public affairs. Subsequently, he was assigned to Schofield Barracks in Hawaii with the 25th Infantry Division and then at Fort Ord, CA. In 1981, he graduated from the Command and General Staff College and was assigned to the St. Louis Readiness Command, where he received his MBA from Southern Illinois University. In 1986, Nate retired from the U.S. Army after 21 years of distinguished service.
During his high school junior year, he met his future wife, Alice, in their chemistry class. Their chemistry teacher encouraged Nate to ask Alice for a date to a dance, which she accepted. Subsequently, they dated each other until Nate graduated from West Point. On November 20, 1965, Nate married his high school sweetheart, Alice Dahncke, in Oakdale, IL. They enjoyed over 54 years of marriage and devotion to each other. They are the proud parents of three surviving adult children: sons Jon David and Jay Douglas, and daughter Alison Margaret. Nate is also survived by his brother, the Reverend David F. Kniker.
After his military service, Nate became the director of St. Louis Youth Services for two years, for which he assisted disadvantaged youth with their education and obtaining gainful employment. He then was appointed director of the St. Louis Bi-State Development (Metro) a public transportation agency, a position in which he served for 18 years. Once he fully retired, he continued to enjoy his family, grandchildren, reading, playing golf, and traveling, as well as attending West Point class and Vietnam unit reunions. He and Alice traveled to many foreign countries, and Nate was able to visit all 50 states.
Nate's remains were interred at Jefferson Barracks National Cemetery in St. Louis, MO with full military honors. Alice, his family, and friends were all in attendance. We who had the privilege of knowing Nate will mourn our loss and miss his calm presence and support in our lives. He was a wonderful and loving husband, father, father-in-law, and grandfather who faithfully served his community and country with distinction. Nate, we miss you and may you rest in peace.
— Bob Higgins '65