Mr. Gordon G. Letterman

Cullum: 25792




Class: 1965




Cadet Company: F2




Date of Birth: February 14, 1943




Date of Death: September 11, 2018




Died in: Nashville, TN




Interred: St. Bartholomew's Episcopal Church, Nashville, TN - View or Post a Eulogy



---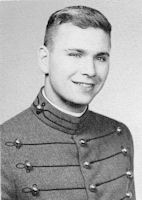 Gordon Gregory "Greg" Letterman was born February 14, 1943 in Niangua, MO, the only child of Eva Lee Hargus Letterman and Ira Spencer Letterman. Greg was a 1961 graduate of Rolla High School in Rolla, MO, where he was elected student body president, excelled in debate and played football. Greg chose the West Point appointment he received from Congressman A.S.J. Carnahan over his Air Force Academy appointment from Senator Stuart Symington because West Point seemed "solid and serious." He entered West Point in July 1961 after having traveled alone by bus without any break from Rolla to West Point. He had never met a military officer before taking his examinations and knew little about what to expect! It was some time before he had a soft bed or a hearty meal.
Greg made the Plebe Lacrosse Team, the B team the following year, and coached the post team his last two years. He remarked on the dexterity needed to march with Spanish-American War foot-long fixed bayonets while learning the complex steps of squad drill. Greg participated in the Student Conference for United States Affairs each year while at West Point and was selected for a one-on-one with General Creighton Abrams, with whom he discussed the beginnings of the Vietnam conflict at length.
After graduation in 1965 and being commissioned a second lieutenant of Artillery, Greg went to Ranger and Airborne schools. From there he served a year and a half with the 3rd Battalion, 17th Field Artillery Regiment, with six months as C Battery commander in Nuremberg, Germany and then was battery candidate advisor in the Artillery Officer Candidate School at Fort Sill, OK for a year before being promoted to captain and redeploying to Vietnam. In Vietnam Greg was assigned to the 2nd Battalion, 35th Artillery Regiment, headquartered in Xuon Loc in the rubber plantations north of Saigon. After the first Tet Offensive he was made the battalion S-1 officer and was reassigned to Hue-Phu Bai, the old Imperial Capital, and then on to Dong Ha on the DMZ with the 108th Artillery Group. On rare occasions he flew on small aircraft over North Vietnam as an artillery observer. He commented that there was nothing demilitarized about the DMZ. At the end of his service in Dong Ha, Greg was headquarters battery commander. He was awarded the Bronze Star Medal and was honorably discharged in 1969.
A 1972 graduate of the Yale Law School, Greg practiced international law in Indonesia, the Dominican Republic, and England, as well as in the United States. During his career he was international counsel for Cabot Corporation in Boston and for Datapoint Corporation in San Antonio, TX. Greg authored over 20 textbooks and publications on international law, including Letterman's Guide to International Business and Letterman's Law of Private International Business. A law school friend remembers Greg as "a leader, a witty and humorous fellow, bright, capable, imaginative...and a good friend." An international lawyer in Munich described Greg as "an outstanding international lawyer, a very good conservative American and a patriot who had strong faith that the USA would survive any dark days."
Greg's passion for life was an inspiration to his family and friends. He was a strong Christian and wrote a one-man play about the life of St. Paul. For over a quarter of a century he canoed in Canada's Algonquin Provincial Park with a close group of law school friends and passed that tradition on to his family and new friends. He authored a work of historical fiction about the mysterious death of Group of Seven artist Tom Thomson, who died suspiciously on the shores of an Algonquin lake. Greg taught international law courses at various law schools and coached and accompanied a team participating in an international law mock trial competition in Vienna, Austria.
Greg fought a long and valiant battle with Alzheimer's disease and participated in research studies knowing that they might be of help to others battling the insidious disease. He passed away on September 11, 2018. He is survived by his wife, Katherine Hawkins Letterman, whom he met at a high school debate tournament and married in 1994 and with whom he co-authored Walking Boston, detailing 20 walks in the Boston metropolitan area, published in 2001. He is also survived by her daughters, Elizabeth (Gregg) Gerken and Katherine (Mike) Haney; and grandchildren Hunter and Kate Haney and William Gerken, all of Nashville, TN. Greg's earthly remains rest in the columbarium at St. Bartholomew's Episcopal Church in Nashville, TN.
— Katherine Letterman