LTC Jerome E. Kelly USA (Retired)

Cullum: 25788




Class: 1965




Cadet Company: A1




Date of Birth: October 5, 1943




Date of Death: September 19, 2015




Died in: Alexandria, VA




Interred: Arlington National Cemetery, Arlington, VA - View or Post a Eulogy



---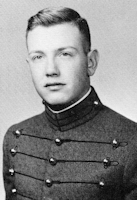 Jerome Edmonde Kelly was born in Graceville, MN while his father served as an officer in the Corps of Engineers during World War II. Graceville was the nearest hospital to his mother's family farm in Dumont. He was named after his father's best friend and colleague from the Manhattan Project, Jerome Ackerman.
It was no small surprise that he gained interest in West Point from his Dad. Jerry's pursuit of the Academy culminated in him joining the Class of 1965. Since Jerry was an only child, it was natural that he immediately felt like he had attained over 600 brothers. Thus a close comradeship with all who came to know Jerry was formed.
With his lilting smile, a strong academic background, and his willingness to always assist his classmates, Jerry made plebe year seem like a walk in the park. Ever smooth and confident in all his dealings with both upper and lower classmen, he gained respect that was a hallmark throughout his military service.
A major factor in Jerry's confidence and always-cheerful attitude was his meeting and dating of Miss Lee Halloran throughout most of his tenure at the Academy. Lee was also a military brat, so she and Jerry were understandably comfortable with the military lifestyle. She travelled frequently from her academic studies at Georgetown to be with Jerry at significant Academy events. Their marriage at Fort Belvoir, VA soon after graduation was simply a continuation of a beautiful love affair.
Jerry was commissioned in the Armor branch, the "combat arm of decision." After the standard summer courses of training (Airborne/Ranger/branch orientation), the Kellys were assigned to the 3rd Armored Division in Germany. The Cold War in Europe during the 1960s found many of the Class of 1965 in junior officer leadership positions, enduring long field training exercises at Grafenwoehr and Hohenfels, as well as in field training exercises and recons to Iron Curtain pre-war sites. Jerry and Lee took this all in stride.
As were many of his classmates stationed in Germany in 1968, Jerry was ordered to Vietnam. Based on his record in Germany, he was chosen to command a troop in the 2/11th Armored Cavalry, the "Blackhorse Regiment." He proved to be a skilled combat commander, and his troop consistently was selected to operate independently or to work with other units.
After several months of near continual combat operations, a tragic fateful event occurred that would redirect Jerry's life in a monumental way. In response to a North Vietnamese mortar attack, Jerry was directing his troops from the ground. Explosive fragments severely injured Jerry in the head. Jerry was rushed to a field aid station for triage and subsequently evacuated to the military hospital in Japan. Jerry was awarded the Bronze Star for Valor and a Purple Heart for his actions, which were credited in saving the lives of many of his men.
From this point on, Jerry entered an entirely new life of which he knew virtually nothing. His memory loss was so severe that he did not know who he was; did not know where he was; and knew nothing of his Academy or military training. Classmates who were initially unaware of Jerry's severe injury were confused by his seemingly distant nature when trying to re-live the days before Vietnam. Most tragically, he did not know Lee or his daughter.
Thus commenced many months of psychological reconstructive therapy. Only through expert military medical personnel, lovingly assisted by Lee, herself a trained registered nurse, did Jerry begin to recover part of his recent life, bit by bit. But Jerry's perseverance, aided by his natural intelligence, made huge advances in his recovery. This resulted in the Army sending him to Law School at Washington and Lee University. He was subsequently admitted to the District of Columbia Bar and transferred to the Judge Advocate General Corps.
During the ensuing years, Jerry continued to serve the Army as a distinguished attorney with tours of duty in the United States and Korea. He retired from military service in 1986. Jerry continued his service to the nation as a civilian employee with the Department of the Army at Fort Belvoir until his second retirement in 2006.
He and Lee finally were able to enjoy retirement in northern Virginia, where their three children and seven grandchildren lived nearby. Jerry was a devout Catholic who loved his family, friends, and pets. He was an avid fisherman, bird watcher, and football fan. Always kind, polite, and humble, his smile radiated the innocence and joy he found in life. He had a great sense of humor and was happiest while reading with one of his beloved pets nestled in his lap.
It was a too-short, eight years later that a second devastation was visited upon Jerry. This was a cancer like an enemy that held no prisoners. Jerry fought the good fight. After a year and a half, Jerry died peacefully with his family around him.
Jerry's perseverance in facing, without complaint, the increasingly debilitating effects of his war injuries and cancer was a source of inspiration to family and friends. He was a hero to his family first and his nation second. We are all better men and women to have known Jerome Edmonde Kelly.
— Family and classmates