LTC Rance H. Rountree USA (Retired)

Cullum: 25787




Class: 1965




Cadet Company: A1




Date of Birth: December 15, 1940




Date of Death: February 28, 2014




Died in New Smyrna Beach, FL




Interred: West Point Cemetery, West Point, NY - View or Post a Eulogy




Location: Sect XXXIV, Row AA, Grave 010



---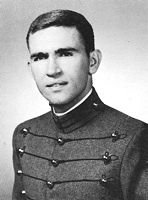 Rance Hendrix Rountree, the eldest of Gordon and Frances Rountree's three children, was born in Oxford, GA. An eighth generation American, his history traces back to early-16th century Yorkshire, England, where likely Norse ancestors took their name from trees growing on their granted estates. Over time, Rowantree became Rountree, with Thomas and Eva Rountree emigrating from Ireland to North Carolina in the late 1700s. Their son, John, subsequently established the family's roots in Emanuel County, GA.
As a boy, Rance delighted in playing "war" with friends and his younger brother. His early passion for military history transformed those childhood games into a lifelong interest in soldiering.
He attended school in Madison, GA through the 9th grade, playing on the Morgan County football team that won the Georgia State Championship in 1955. When his father, a prominent banker, moved to Cumming, GA, Rance transferred to Forsyth County High School, where he continued to excel academically and athletically, especially in football and basketball.
His dream of attending West Point was deferred in 1959 when no appointments were available. He enrolled, instead, at North Georgia Military College in Dahlonega, GA. After two years of study, Rance finally received his appointment from Congressman Prince Preston. Unwavering determination, an enduring interest in military history and two years of hard work had paid off.
Rance was sworn in at Trophy Point on July 5, 1961. Older and more mature, he quickly established himself as a disciplined and serious student who welcomed the challenge of academics and who routinely did more than his share of duties.
As his readings into military history matured, he concluded that Winston Churchill's wartime speeches made him the great orator of the 20th Century. This was a high compliment from someone who was present for General Douglas MacArthur's, USMA 1903, moving farewell to the Corps of Cadets in Washington Hall on May 12, 1962.
As a firstie, Rance visited Gettysburg College with classmate Ross Wollen, who interviewed former President Dwight D. Eisenhower for the Pointer. A photograph taken that day records the visit. And when, on June 9, 1965, the Class of 1915 gathered at West Point for its 50th Reunion with Dwight Eisenhower, Omar Bradley, James Van Fleet and Joe McNarney, among others, in attendance, the Class of 1965 crossed the Plain in formation for the last time, and Rance was commissioned into the Signal Corps of the United States Army.
Assigned initially to the 101st Airborne Division at Fort Campbell, KY, Rance underwent Airborne and Ranger training at Fort Benning, GA. Ranger buddy Art Mark recalls Rance's knack for always getting his sleep, and how Rance described "eternity" as the long wait, hanging over Victory Pond after having slapped the Ranger Tab, before receiving permission to drop into the water.
From combat in Vietnam as a battalion communications officer in the 25th Infantry Division (1967 to 1968); to assignments at Fort Bragg, NC as a company commander, battalion operations officer and Corps staff officer with XVIII Airborne Corps, where he also earned his senior parachutist wings (1969 to 1972); to service with 7th Signal Brigade in Sandhofen, Germany (1977 to 1980); to a last overseas tour in Seoul, Korea at HQ, Combined Forces Command (1983 to 1984), Rance lived his boyhood dreams as a Soldier.
Graduate schooling in engineering at Georgia Institute of Technology (1972 to 1973) and service as an engineer plans officer in Combat Developments Command; Fort Ord, CA (1973-to 1977) enabled a final assignment as the Deputy Commander, Seattle District, Army Corps of Engineers (1985 to 1989).
Lieutenant Colonel Rance Rountree retired from active duty on June 30, 1989 after 24 years of faithful service to the Nation. His many contributions were recognized with awards of the Bronze Star Medal, Defense Meritorious Service Medal, Army Meritorious Service Medal and Army Commendation Medal.
Rance had the immense good fortune to have deeply loved two wonderful women. He married Charlotte Giles in Oxford, GA on January 15, 1966. Their 29 years together included his 24 years in uniform. Their daughter, Leigh, was his greatest joy—"the perfect child." Leigh remembers a witty dad who would page through any atlas he could lay his hands on, and who considered The Wind in the Willows and anything written by William Faulkner or John Steinbeck to be literature worthy of his time. Immensely proud that his brilliant daughter had followed him into engineering, he was even more proud of Leigh and David Bangs' daughters, Kayleigh and Laurel.
A gourmet cook, Rance learned his kitchen skills as a boy, impressing and entertaining his siblings, Rhonda and Corley, whenever their mother left the house. In retirement, he sampled catering briefly, meeting Eileen Blake McWilliams in 1998 during one of her business trips to Atlanta. There was a remarkable spark, and they married in Micanopy, FL on March 25, 2004. In their 15 years together, Rance and Eileen were inseparable, enjoying traveling, cooking, sailing and the sheer joy of each other's company. Their good-natured banter became a special language all its own. An avid runner until his knees gave out, Rance then became an avid cyclist, often riding 100 miles a day during workouts.
A good man—generous, loving and easy to love—Rance was also a spiritual man who found meaning in this version of an ancient Irish-Scottish farewell:
All the comrades that e'er I had were sorry for my going away.
And all the sweethearts that e'er I had would wish me one more day to stay.
But since it falls unto my lot, that I should rise and you should not,
I'll gently rise, and I'll softly call "good night and joy be with you." —The Parting Glass, Unknown.
Eileen inscribed his headstone with these favorite words—"Goodnight and joy be with you."
Well Done, Rance. Be Thou at Peace.