LTC Carl W. Gentine USA (Retired)

Cullum: 25782




Class: 1965




Cadet Company: D2




Date of Birth: July 25, 1943




Date of Death: June 29, 2019




Died in: Tuscola, TX




Interred: Texas State Veterans Cemetery - View or Post a Eulogy



---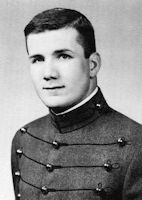 Carl William Gentine was born in Fort Monmouth, NJ on July 25, 1943 to Chief Warrant Officer Paul and Helen Gentine. The family moved every few years, typical of the military, and Carl finished his high school career in Tustin, CA, a small town in Orange County. He was a direct admit to the United States Military Academy, joining the Class of 1965. After a long and distinguished Army career, followed by sensitive positions in the civilian cyber area, he and wife Suzi settled in Tuscola, TX.
Carl had played football and baseball in high school and continued with football at West Point. He was active in the Handball and Ski clubs during his college career. He is remembered fondly by his classmates, many of whom refer to Carl as the big "Teddy Bear." Carl was known to practice his infantry "low crawl" techniques on staircases. Throughout his four years at West Point, Carl was known to be a level-headed, calm individual who was always willing to help a classmate troubled by academics and to offer encouragement to the newer classes as well. As an Army brat, Carl was able to pass along military knowledge to his colleagues as well.
Classmate Jim Seaburn recalls: "Carl was absolutely unflappable and imperturbable—steady as a rock. The early signs were obvious in Beast Barracks. And, over time, those who knew him realized that this attitude was less due to innate optimism than to an abundance of confidence that, no matter the nature or complexity of a situation, he could set it right or provide significant help to do so." Classmate Jack Blau recalls Carl"s ability to "seemingly glide easily through the rigors of academics and military life."
Carl experienced a variety of living accommodations at West Point. The first two years he lived in relatively new barracks in Company I-2, next to the Lost Fifties, a prime location not far from the gym and the mess hall. Plebes in I-2 were a happy group, whose "smiles shined brighter than their shoes," Jack says. Carl was reassigned to a new company after his first two years. This was Academy policy at the time. He moved to Company D-2, in the confines of Central Area. These rooms dated back to MacArthur"s time and had seen little in the way of upgrade since. Typically, Carl was unfazed by the drop in suite status and instead was happy there were only four floors to climb versus the previous five. Living closer to most academic buildings was another plus. Most importantly, remaining in the prized Second Regiment was the primary benefit.
Carl navigated West Point right in the middle of the class academically; typical of him, never too high nor too low, just easy-going and no issues. One classmate recall stopping by Carl"s room occasionally just to get a quick dose of encouragement to keep going.
Commissioned in June 1965 in the Signal Corps, Carl was soon deployed to Vietnam for the first of two tours. In between those assignments, Carl earned a master"s degree in operations research from UCLA.
In the "80s, alert mutual friends in Northern Virginia recognized that Carl and Suzi, both single, had potential as a couple and arranged for them to meet in DC. The two hit it off quite well, as evidenced by a courtship and marriage that lasted 39 years. To friends, Carl described Suzi as his soulmate.
After marriage, Carl"s other postings included a tour in South Korea and serving as professor of military science at the University of California, Santa Barbara. He and Suzi thoroughly enjoyed the weather and beach access at Santa Barbara.
Carl retired from the Army in 1985 as a Lieutenant Colonel. His many awards and decorations include the Bronze Star with two oak leaf clusters, the Army Commendation Medal with oak leaf cluster, the Republic of Vietnam Cross of Gallantry with Palm, and the Legion of Merit.
Carl went on to earn a Master of Business Administration degree from Amber University in Texas. He was hired by Compaq Computers and Raytheon; his work at the latter company was very secret in nature, and his family never really understood what he was responsible for. Carl finished his working career as an adjunct professor at Embry Riddle Aeronautical University, the largest accredited university system specializing in aviation and aerospace.
Suzi and Carl moved to Abilene, TX to be closer to family and in fact took on the raising of three grandchildren there. Carl was very active in "GAP" (grandparents as parents), much different than the "GAP" (great American public) Carl was used to at West Point. His love of sports moved him to hold season tickets for Dallas Cowboys football games for 20 years.
Carl passed away on June 29, 2019 in Tuscola, a suburb of Abilene. He is survived by his wife, Suzi, and daughters Kristin Gentine and Stephanie Oxford and son Thad Oxford. Carl was blessed with several grandchildren and even great-grandchildren. He was a lifelong lover of animals, and Landry, Prince, and Blossom miss their master. He was preceded in death by his parents and a daughter, Kerri Gentine, along with his two brothers Marc and Paul. Sadly, all three brothers died with six months of each other.
Carl was buried at the Texas State Veterans Cemetery in Abilene with full military honors rendered by an Honor Guard from Fort Hood, TX. The Class of 1965 is proud to call "The California Golden Bear" a classmate and revered friend.