COL Robert W. Mace USA (Retired)

Cullum: 25779




Class: 1965




Cadet Company: B1




Date of Birth: July 13, 1942




Date of Death: December 27, 2020




Died in: Raleigh, NC




Interred: Cremains inurned Astoria, IL - View or Post a Eulogy



---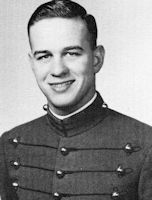 Robert William Mace, born on July 13, 1942 in Peoria, IL, was the older of the two sons of Jack and Alice June (Hess) Mace. Bob spent his childhood in Canton, IL but, during his early years, also enjoyed time on his grandparents' farm, especially recalling being entrusted to "drive" the horse-drawn hay wagon to the barn.
After graduating from Canton High School, where he was an easy-going but good student and participant in several sports and activities, Bob attended Canton Community College for one year. Throughout his teen years, he balanced school with significant part-time work. The local assistant to U.S. Congressman Robert Chipperfield was attracted to Bob's reserved, dependable character and recommended him for an appointment to West Point. Thus, Bob joined the USMA Class of 1965 on July 5, 1961.
His West Point classmates remember Bob as a quiet individual with a dry sense of humor. He served on the Ring and Crest Committee and participated in the debate council and forum. Early in plebe year, Bob learned that another resident of Canton, Judith Ellis, was a freshman at nearby Vassar College. Even though they were not previously acquainted, Bob soon invited Judy to West Point for a football weekend, and their relationship blossomed to engagement in firstie year. After graduation on June 9, 1965, Bob was commissioned in the Signal Corps, completed Ranger School, and then was posted to the Korean DMZ as a platoon leader in the 127th Signal Battalion, 7th Infantry Division. Upon return from Korea, Bob and Judy were married on December 27, 1966 in Canton, undaunted by a Midwestern plains blizzard.
After short assignments at Fort Sill, OK for a training course and at Highlands, NJ as the communications officer for an artillery air defense site, Bob was posted to Fort Monmouth, NJ from 1967 to 1968, where he attended the Signal School and then served as a company commander in the Signal School Brigade. While at Fort Monmouth, Bob and Judy welcomed son James to their family. In November 1968, Bob was assigned to the 1st Infantry Division in Vietnam as the division radio officer. During this tour, he returned to Canton in August 1969 to attend his mother who was gravely ill, coincidentally arriving within hours after the birth of daughter Katherine. Following the funeral of his mother, Bob returned to Vietnam to complete his tour as a company commander in the 121st Signal Battalion, 1st Infantry Division.
Upon return from Vietnam, Bob attended the University of Michigan and earned an MSE degree in computer information and control engineering. His military career then became focused on computerization within the Army with his next assignments as an ADP officer in the U.S. Army Computer Systems Command, initially at Fort Belvoir, VA and then at Fort Shafter, HI. In 1977, Bob completed the Command and General Staff Officer Course at Fort Leavenworth, KS, followed by assignments at the U.S. Army Signal Center and School at Fort Gordon, GA as an instructor and later as the special action officer for the commanding general in the areas of software support and officer education for Army automation.
While at Fort Gordon, Bob was recruited by Margaret Hamilton and Saydean Zeldin, the women who had developed the software for the Apollo 11 lunar landing, to join their start-up company, Higher Order Software (HOS), in Cambridge, MA. This irresistible opportunity lured Bob to resign from active duty in 1980 and begin the ascent to vice president at HOS. After several years with HOS and Computer Sciences Corporation, Bob and Judy relocated in 1989 to Durham, NC, a part of the Research Triangle, where he could pursue senior-level opportunities with information technology start-up companies.
As he advanced in his civilian career, Bob continued in the U.S. Army Reserve, managing projects that introduced computers into the military until he retired as a colonel in 1996. His military awards include the Bronze Star Medal with oak leaf cluster, the Meritorious Service Medal with oak leaf cluster, the Air Medal, and the Army Commendation Medal. Bob's civilian career culminated as the project manager of a major system installation for the city of Durham in 2009, notably completing that final effort ahead of schedule and significantly below budget.
In retirement, Bob and Judy, inspired by memories of childhood days, made frequent trips from Durham to oversee their farm, her Mummert family's sesquicentennial farm near Astoria, IL, particularly enjoying the woodlands. However, Bob favored nothing more than spending countless happy hours with his much-loved granddaughters, Caroline and Amanda, who lived nearby in Durham.
Bob died on December 27, 2020, having for nearly a year endured with Ranger-bred stoicism the effects of widespread neuroendocrine cancer. Notably, the date of his death marked the 54th anniversary of his and Judy's marriage. His cremains have been inurned in the Mummert section of the mausoleum in the Astoria Cemetery, thus closing the loop of his life in Illinois.
Growing up in Canton, Bob felt destined for only a community college education followed by employment within the local industrial community. However, his unexpected opportunity to attend West Point was a life-changing event. He became a well-educated career Army officer, a successful businessman in civilian life, the loving and devoted husband of Judy, the proud father of Jim and Katherine (Foley), and the adoring grandfather of Caroline and Amanda Foley. Throughout his life, Bob maintained his quiet nature, adhered to the life-guiding values attained in his formative years, and lived Duty, Honor, Country.
Well Done, Bob; Be Thou at Peace.
— Classmate, Tom Kovach